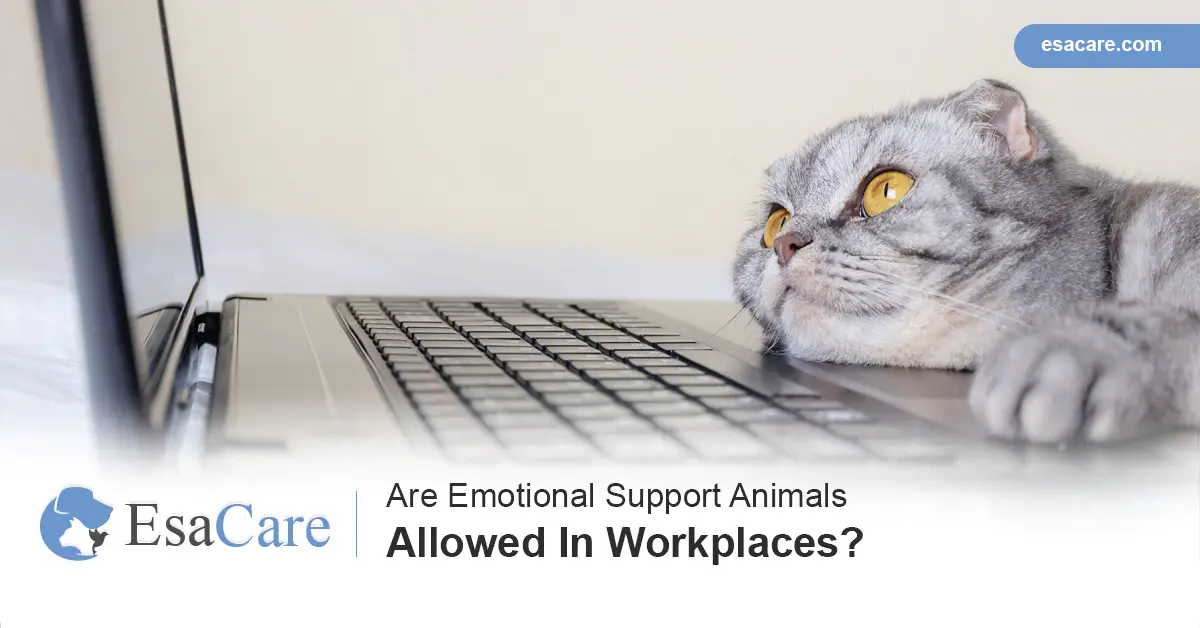 People who rely on the help that emotional support animals (ESAs) provide them with may wonder how an ESA fits into the workplace environment, especially if they are transitioning back into the workplace after time away. After all, many work environments are not well-suited to animals and, of course, pets are customarily barred from the workplace. However, emotional support animals, although legally different from service animals, may fall under the definition of reasonable accommodation if you require one to stay properly focused when at work.
How ESAs Are Protected Under Federal Disabilities Laws
ESAs enjoy separate legal status from both pets and service animals. The Americans with Disabilities Act (ADA), requires employers to make reasonable accommodation for disabled workers, as long as the accommodation does cause undue hardship for the employer. Because the ADA does not define what a service animal is, employers might be able to accommodate an emotional support animal. If you are an employee who requires special accommodation, you will need to make a request. There are certain things that must be done: The request should be made in writing to ensure there is a record of when the request was made and what was requested. You should provide a certified ESA letter and other disability-related information that documents the need for an emotional support animal. You will need to think of how the emotional support animal will provide assistance. You will also need to think about your plans to care for your ESA while you work.
Why an Employer Might Deny a Request for an Emotional Support Animal
Merely having an ESA does not, in and of itself, give an owner permission to bring their animal to work. Your employer may deny your request if it causes a significant cost or burden, beyond believing the animal would be disruptive or not allowing animals in the facility. Some of the factors used in determining whether an emotional support animal might be an undue hardship include:
Costs associated with making accommodation for other employees, especially if accommodation involves having to substantially remodel part of the work area.
The resources and size of the employer, with the size of the company being a factor that requires careful consideration when making adjustments.
The type of business that the employer is, with some businesses, such as restaurants or supermarkets, being ill-suited to emotional support animals.
The nature of the accommodation being made, depending on how much flexibility the employer has in making changes to the facility is owned by a third party.
Some of the other factors to consider include:
ESAs being clean, well-groomed, and pest-free, making them easier for your fellow employees to coexist with.
Dogs being able to go outside for bathroom breaks to reduce the chances of having an accident inside the facility.
Emotional support animals being under your control and not disturbing your co-workers while completing other tasks.
ESAs not disrupting the workplace through barking or other noises, especially in settings where a lot of calls are being made.
Animal allergies are a concern that employers often need to make allowances for when an employee benefits from an ESA and the workplace includes allergy sufferers. Some examples of special accommodations that might be used if relatively few employees have severe allergies include:
Scheduling access to public spaces to keep employees with allergies away from the emotional support animal or making use of outdoor public spaces, as appropriate.
Keeping the ESA in a separate place during meetings or other interactions or making use of online meeting technology.
Using a private workspace with a door you can close, which also reduces distractions that could make an animal decide to wander.
Installing air filters that help reduce allergens, usually an easy task for building maintenance.
What to Do if Your Employer Denies Your Request
If you think you've been denied a reasonable emotional support animal accommodation, you will want to consider filing a complaint with the U.S. Equal Employment Opportunity Commission. You can call (800) 669-4000 to get the contact information for your local EEOC office. Getting in touch with your local office will help you on your journey.
Getting the ESA Letter You Need from ESA Care
Disability-related information is necessary for your employer to decide whether they can make reasonable accommodation, under federal law. The best documentation for your circumstances will come from a licensed mental health professional or your doctor. When you are making a reasonable accommodation request, a certified ESA letter from ESA Care may help.
Our staff at ESA Care includes mental health professionals who are able to give you the documentation that you need. A professional will be in touch to see if you meet the qualifications after filling out the ESA questionnaire. We send certified ESA letters to those who qualify within 2 to 5 days.