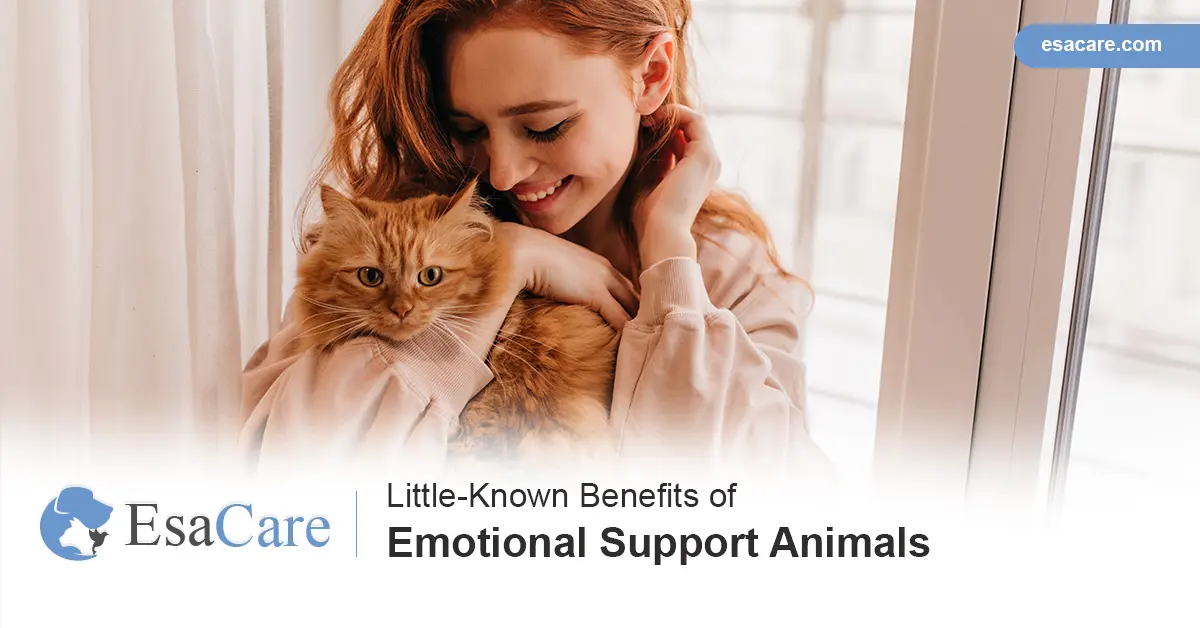 An emotional support animal (ESA) is a pet that provides comfort, support, and companionship to a person who struggles with a mental health disorder. They are usually just regular pets that have the ability to help their owners better cope with the symptoms of their condition and live more normal lives. Many different types of pets can be ESAs including cats, hamsters, ferrets, and more. The most common type of ESA is a dog because they are often emotionally connected to their owners and are fiercely loyal. Some people who struggle with disorders such as anxiety or depression feel that their ESAs help them feel more comfortable and confident in their daily lives, releasing them from the grip of their mental illness. 
Get your ESA letter if you have or more qualifying conditions by clicking the button below.
The love and companionship of a pet can help people create deep, trusting relationships that are vital for overall well-being. When people struggle with social anxiety, the presence of their pet can take the fear out of the situation and help build confidence. Some people even train their ESAs to do deep pressure therapy to help alleviate stress during mental health episodes. ESAs can provide help for countless different types of people who struggle with mental health symptoms. The federal government recognizes the value that ESAs provide, so they are given more rights than a standard pet. 
Housing – Landlords Can't Charge Pets Fees and Pet Deposits (Protected by the FHA)
The Fair Housing Act (FHA) is a federal law that protects ESA owners from being discriminated against when they are searching for housing and during the tenancy. It was created so that no mentally disabled person would ever be at a disadvantage when seeking housing due to his or her animal. Overall, it protects an ESA owner's right to live with their animal. The law says that landlords and property managers cannot deny housing to ESA owners, even if they have a "no pets" policy in effect. It also prevents them from charging any additional fees for the pet to live with its owner. The FHA also waives any breed or weight restrictions that are in place so that the ESA owner can live with their pet worry-free. This means that housing should be as accessible to ESA owners as it is to people who do not have pets. 
Airlines – Airlines Have to Allow ESA to Fly in Cabin and Can't Charge a Pet Travel Fee
Bringing an animal on an airplane can be a nightmare with all of the restrictions and rules. Often, they require that the animals travel in the belly of the plane along with all passenger luggage. The Air Carrier Access Act (ACAA) states that ESAs may fly with their owners in the main cabin of the airplane without any additional fees. This law was created to ensure that ESA owners are not discriminated against or prevented from flying because their animal could not fly with them. It requires that airlines allow ESAs to fly alongside their owners in a non-discriminate part of the plane with no pet travel fees. Airlines reserve the right, however, to request that notice of the animal's presence on the flight be given ahead of time or for some additional documents to be filled out. This law means that people with ESAs should be able to travel by airplane as people traveling without pets.
Click on the button below to enjoy all the benefits of emotional support animals.
The Bottom Line
ESAs are a wonderful way to help people with mental health disorders live more normal lives. The animals provide such clear help for their owners that they are legally considered "assistance aids" and are entitled to legal protection. If you struggle with mental health issues and feel that your pet may help you cope with your symptoms, you may be eligible to get an ESA letter. If you already have a pet that you feel could be your ESA, all you need is a recommendation letter written by a professional to make them official. If you don't, that's okay! Almost any pet can be an ESA, so take some time to find the one that is the right fit for you and your situation. 
Getting an ESA letter is easy, if a Licensed Mental Health Practitioner (LHMP) believes that you would benefit from an ESA, they will write a letter that will allow you to fly and live with your pet regardless of normal restrictions. If you do not currently have an LMHP, there are services that will help connect you with one online that can write you an ESA letter if you qualify. If your pet helps you better cope with your symptoms, take advantage of the legal protections that come along with getting an ESA. With a legitimate ESA letter, you can live with your pet in "pet-free" housing and travel with them by airplane.
Get your Emotional Support Animal Letter today by booking an appointment at ESACare.