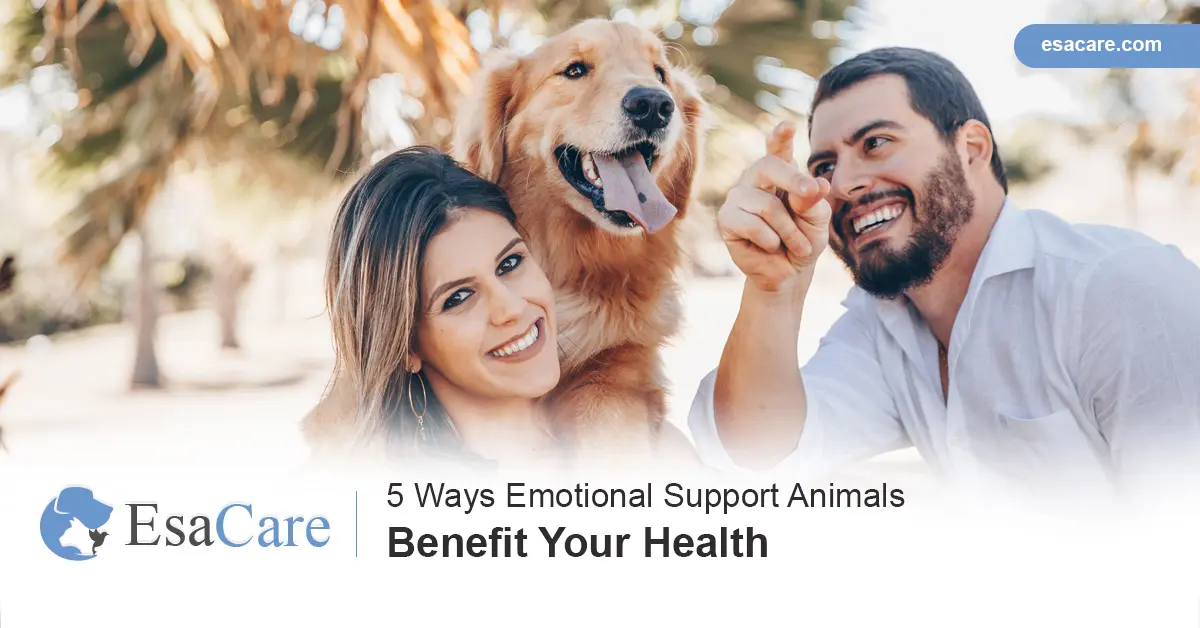 An Emotional Support Animal (ESA) helps the owner overcome or deal with a given disability. These concerns could be; mental health issues, physical conditions, and/or lifestyle diseases like diabetes.
ESA's can be beneficial in alleviating other problems. For instance, through helping people struggling with mild to severe anxiety, social shyness, or depression overcome these concerns.
These animals not only give support but also provide companionship, thus considerably easing many concerns of the disabilities.
Get an ESA letter today to enjoy the perks of having your emotional support animal close to you!

Types of Emotional Support Animals
Common types of emotional support animals include dogs, cats, miniature horses, and some birds. Exotic, barnyard animals are not yet widely perceived as emotional support animals. Examples of such animals include ducks, monkey, turkey, and peacock.
Benefits of Emotional Support Animal
Why would anyone choose to use an animal for emotional support? Well, most pets have a positive effect on human mental health. Support animals can provide several significant health benefits. This is because ESA's foster emotional connectivity, which helps the owner cope with adversity.
Here's how:
1. Increases physical activity
Physical activity promotes good health. However, depression and other mental illnesses often keep people from engaging in physically exerting activities.
While it might prove hard to find a reason to wake up for a morning jog, a support dog, for instance, will get you out of bed. This daily activity gives you a sense of purpose.
Walking a dog increases the feel-good hormones in the body. And as studies at Harvard University have shown, petting a dog lowers blood pressure and improves cardiovascular health. What's more, there's a correlation between the pet and lower triglyceride levels.
2. Increases mental simulation
Emotional support animals can be used to help the owner in recalling memories that hold significant meaning to them. It also helps them to sequence temporary events. This discourse is true, especially for patients with chronic and head injuries such as Alzheimer's disease.
Support animals also act as catalysts during therapy sessions. This approach allows the patient to relax and break the ice with the therapist. Also, an emotional support animal can help in the initial resistance episodes accompanying therapy sessions.
3. Reduces anxiety and stress levels
Today's lifestyle predisposes us to a lot of extreme anxiety and stressful situations. Research has proven emotional support animals can counteract the effects of stress and anxiety.
As one interacts with the support animal, stress levels often drop. The subject's become more peaceful, composed, and in control of their emotions. This strategy reduces or prevents panic attacks.
Reports of passengers bringing their support animals onboard flights are becoming more common because the ESA helps them control anxiety concerns during the trip.
Similarly, petting a support animal elicits an automatic relaxation that slows down breathing. These simple actions produce hormones, including serotonin, prolactin, and oxytocin—elements with properties playing significant roles in improving mood.
Improve your mental health by getting your ESA Letter today!

4. Offers companionship
For emotionally distressed subjects, relating with people can be complicated. And this is even harder when someone is coping with acute depression and doesn't feel the urge to socialize.
Emotional support animals provide safe, secure, and loving companionship—a bond that's simple, genuine, and not necessarily demanding.
ESA's allow owners to relax and be themselves without feeling pressured or having to act pretentiously to please others.
5. Nurtures bonding and socialization
People suffering from depression are frequently victims of social isolation. Regardless, owning an emotional support animal can help them make new friends.
Dogs often draw people's attention because they're social animals. And as the support dog becomes the focus of attention, the owner can engage in conversations.
Children with conditions such as autism feel a deep bond with animals and relate better with them than with humans.
Mostly, their demeanor also improves significantly, and they may learn language skills considerably quicker with the support animals incorporated into their treatment plan.
Use of Emotional Support Animal in Treatment Programs
Doctors have noted tremendous improvements in patients who use the emotional support animal in their treatment regime. The help of support animals includes:
Boosting a subject's self-esteem and self-worth
Increased social interaction
Patients feel more safe, secure and comforted
Increased intrinsic motivation
A decrease in the symptoms of the illness being treated or managed
Increase in the sense of purpose
Reduced loneliness
Overall, the health benefits associated with an emotional support animal are therapeutic. Anyone coping with mental illness, or struggling with other conditions such as physical disabilities or life diseases ought to own a flurry friend to make their life a little more fulfilling.
Don't wait anymore – get your ESA letter in a few easy steps!

Requirements for Owning an Emotional Support Animal
The Federal Fair Housing Act in America covers an ESA. And you, therefore, need a recommendation letter for air travel with your support animal, or to reside with it in an apartment housing setting.
At EsaCare, we understand what your animal means to you. We can help you get an ESA letter within a relatively short time after an evaluation process.
Also, our team of qualified health professionals and counselors are always available if you need someone to talk to when in need.