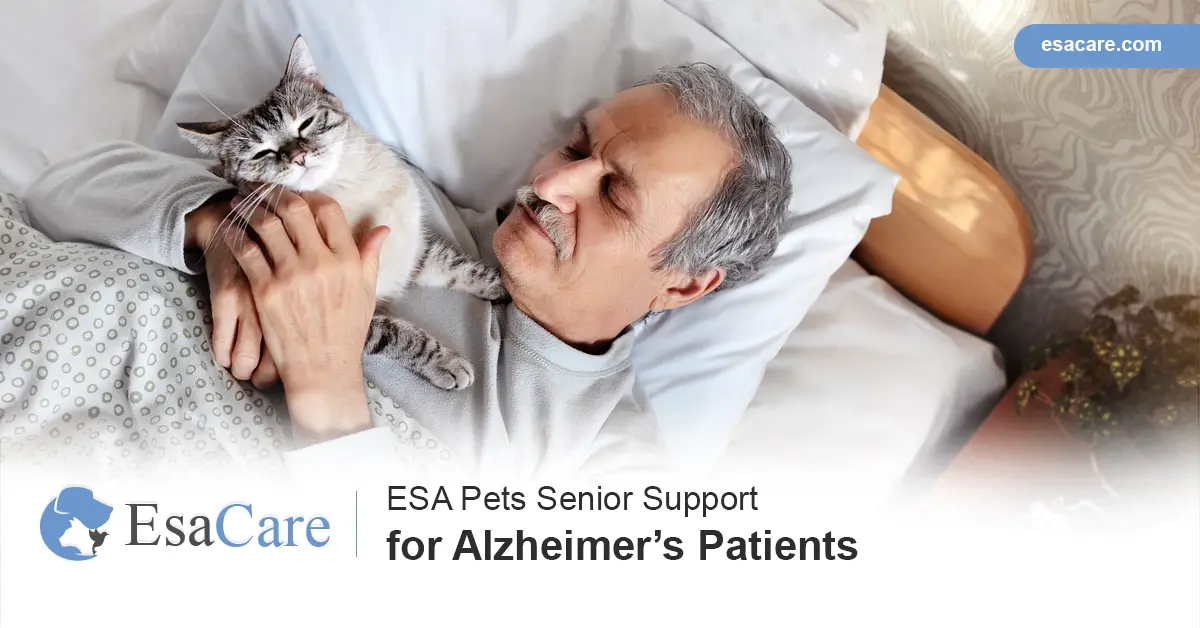 Over 5 million Americans are living with Alzheimer's, while millions more have some form of dementia. Alzheimer's is the leading cause of dementia, and the vast majority of people living with it are seniors. Although researchers are trying to find a medical cure for Alzheimer's, conclusive results are yet to be found. Fortunately, other studies have been looking at how Emotional Support Animals (ESA) can help Alzheimer's patients, and the results are promising.
Pets have always been present in human lives for thousands of years. We have a deep connection with them, and we rely on these friendly animals for so many things. Animals such as dogs have been used by people with blindness, deafness, and other special needs to help them in their day-to-day tasks. Thanks to research and testimonies from patients, it has also been found that our furry companions offer tremendous emotional benefits that can help improve symptoms of some conditions and increase one's quality of life. If you or your loved one suffers from Alzheimer's, the guide below will help you understand how pets can offer quality comfort and support.
Dogs can be an incredible support system – get your ESA letter today!

Research Supporting Assistance Animals
There is evidence going back to the first century A.D showing that dogs used to be trained to guide people with disabilities.  However, when it comes to dogs that can assist Alzheimer's patients, it's an Israeli social worker and her partner, a dog trainer, who developed the concept. After realizing the benefits dogs could offer, they assembled a team and created a special guide for training dogs to help people who have Alzheimer's.
More recently, a group in Scotland launched a study to explore additional benefits dogs may offer to dementia patients. Different types of dogs were assessed to learn whether they can qualify to be care animals. Those that qualified were matched with families that have a person who has dementia. Although the study is ongoing, most families have said the dogs offer significant benefits.
Which Pets Can Offer Support
It's not only dogs that can offer emotional support to Alzheimer's patients.  Most animals have a positive effect on human mental health. By their nature, they are non-judgmental, compassionate, and patient, making them a perfect companion for individuals with Alzheimer's. Apart from dogs, patients can also benefit from other pets such as a cat, rabbit, hamster, bird, miniature horse, or even a fish aquarium. These pets can gift a person with Alzheimer's unconditional love and plenty of social support.
Choosing a Therapy Animal
Although all pets can provide a source of support, experts recommend that the pet should have traits that are a suitable match for the patient. Even if you don't acquire a specially trained dog for your condition, the pet you choose should be friendly, calm, and have a great temperament. The pet should behave well around kids, follow basic commands, shouldn't be easily distracted by strangers or other pets, and be obedient to the leash. It's essential that a dog possesses such qualities to ensure it isn't disturbed or agitated by the frequent mood swings that come with Alzheimer's disease.
Avoid fake ESA letters by getting from us by clicking below!

Benefits of Pet Therapy for Alzheimer's Patients
Alzheimer's assistance animals can help patients in different ways. Below are some of them.
1. Communication Outlet – Alzheimer's Patients may have trouble communicating as the disease advances. This can be quite frustrating, and the individual may even feel ignored by those around. Thankfully, pets are good and patient listeners, and they can be a great partner to talk to.
2. Mood Enhancement – When one is battling a condition such as Alzheimer's, it's common to feel lonely and isolated, which can lead to negative feelings. Pets can help promote feelings of happiness and playfulness and bring patients out of withdrawal.
3. Calm Effect – When a patient gets agitated, a pet can peacefully calm them down. The agitation can cause mental languishing, and sometimes even a caregiver can't calm the patient down. Petting an animal can distract the patient and lift their mood during moments of frustration.
4. Companionship – Pets provide unconditional companionship and friendship for their partner, regardless of the condition they are in. They can help the patient get a sense of being wanted and needed. The person also gets a sense of purpose when performing responsibilities such as feeding, walking, and grooming the animal. All of this can help boost an individual's quality of life.
5. Exercise – A pet can increase the mobility of the person living with Alzheimer's. They motivate them to take part in physical activity such as play, petting, and walking outdoors. Exercise boosts the production of feel-good hormones and keeps many health complications at bay.
Your emotional support can make traveling more fun – click below to get your ESA letter now!

Requirements for Owning an Emotional Support Animal
If you already have a pet that helps you minimize the effect of your condition, or you want to get one, you will need an original ESA letter to travel anywhere and stay in an apartment without restrictions, discrimination, or extra costs. To get the letter, you will require a recommendation from a qualified mental health professional.
At EsaCare, we understand how special and supportive your animal is to you, and we can guide you on how to get an ESA letter that will ensure your furry companion will always remain beside you. If you want to apply for an ESA letter, visit our contact page or call us on 1-800-273-8255!
Book an appointment now!