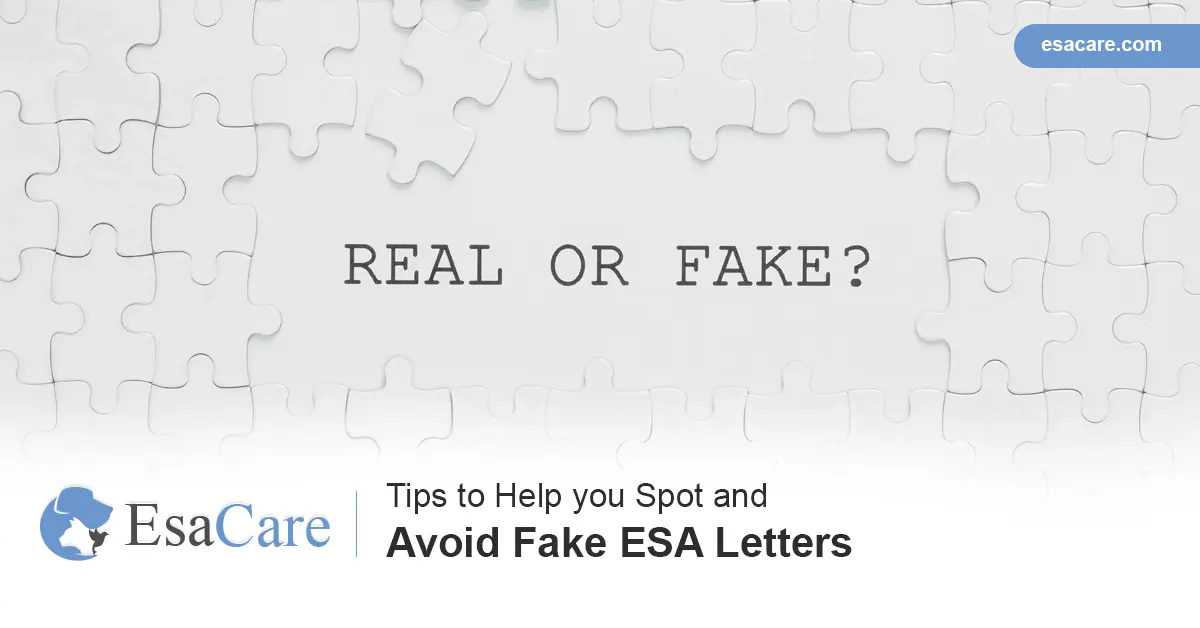 An Emotional Support Animal Letter is a necessity for anybody with an ESA. This official document certifies that your animal is vital for your mental well-being. With the letter, your ESA will accompany you to stores, airlines, restaurants, rented houses, and other areas where animals are not allowed.
However, as the use of emotional support animals keeps rising, so is the number of scandalous entities who sell fake ESA letters. Since property owners, airlines, and store managers will not give you access to their premises with a fake letter, it is important to know how to spot and avoid one.
Get an ESA letter today to enjoy the perks of having your emotional support animal close to you!

How can you spot a Fake ESA Letter?
Your provider promises an instant turnaround without assessment
Scandalous mental health practitioners, more so those who operate online, often promise to give you an ESA letter immediately you make payment.  You should be suspicious of such service providers since a reputable health professional will need to assess your mental health condition and determine if an ESA is essential.
Missing contact information on the ESA letter
A legitimate ESA letter should have the contact number, address, and license information of a licensed healthcare worker. Airlines, landlords, and other agencies use the information to confirm the authenticity of your document. Thus, if your ESA letter lacks such information, there are chances that it is fake.
Letter not issued by a licensed mental health practitioner
A genuine ESA letter is issued by a psychologist, counselor, psychiatrist, registered nurse, licensed doctor, or any other licensed mental health practitioners. Also, these healthcare professionals should be licensed to practice in your state. If they are not, then your ESA letter isn't legitimate.
Ideally, your relationship with your ESA letter provider doesn't end after issuing you with the document. Instead, your therapist should be available to support you whenever you need their help.
That way, you will never get in trouble when property owners and other agencies want to confirm your letter's authenticity. Therefore, it is imperative to keep off ESA letter providers whose customer support will cease immediately they give an ESA letter.
The provider insists on registering or certifying your ESA instead of issuing an ESA letter.
Ideally, an ESA letter is the only documentation that will let you bypass animal restriction laws. Airlines, property owners, or store managers will not consider registration or certification numbers as authentic documentation to prove that an ESA is important for your mental well-being.
Don't wait anymore – get your ESA letter in a few easy steps!

How Can You Avoid a Fake ESA Letter?
Get the document from your mental health professional.
If you have been living with a mental health condition, the chances are that you have a mental health professional who has been supporting you.  Instead of getting the letter from someone else, ask your therapist to prescribe you a signed ESA letter. That way, you will minimize the chances of getting scammed.
Get your ESA letter from a reputable online source.
Sometimes, it can be impossible to get an ESA letter from your regular mental health specialist. Perhaps, you lost contact, or your therapist is quite busy to assess your situation, and then issue you with an ESA letter when you exactly need it.
In this case, you will need to search for an online provider who will sort you out quickly. However, while online is a convenient place to find a reliable mental health practitioner near you, it can expose you to scammers.
So how can you tell that an online is legitimate? A reputable online ESA letter provider will let you fill a detailed mental health questionnaire to assess your situation. Also, professionals may arrange for a phone or video call to assess your condition further.
Avoid mental health professionals who ask you to fill out a simple online questionnaire, pay a fee, and instantly get your ESA letter.
Check out if your provider is licensed.
Before you pay for your ESA letter, confirm that the ESA letter issuer is licensed to operate in your state. How? Request them to show you their license. Many reputable licensed mental healthcare professionals will never mind showing you their license.
Pay after confirming that your ESA letter is legitimate.
If you suspect your ESA letter issuer's legitimacy, request them to let you pay after you have received and confirmed that the letter is genuine. An authentic ESA letter should have:
The professionals' contact address.
The location of your licensed mental health expert's practice.
A statement confirming that you are under their care.
A proof that you are living with a mental condition.
A statement showing that an ESA is indeed necessary for your health.
An ESA letter is essential for anybody with an Emotional Support Animal. It lets you move around with your furry friend without trouble. However, before you get one, make sure that it is written, signed, and issued by a licensed mental health practitioner. Otherwise, property owners and airlines will consider it as unauthentic.
Improve your mental health by getting your ESA Letter today!

Do You Want a Legitimate ESA Letter? Speak to a Licensed Doctor from Esacare
Esacare collaborates with licensed mental health professionals who will help you get a genuine ESA letter online. Besides, we work with licensed physical clinics like EZCare Medical Clinic based in San Francisco and Mango Clinic based in Miami. Contact us to process your ESA letter now.