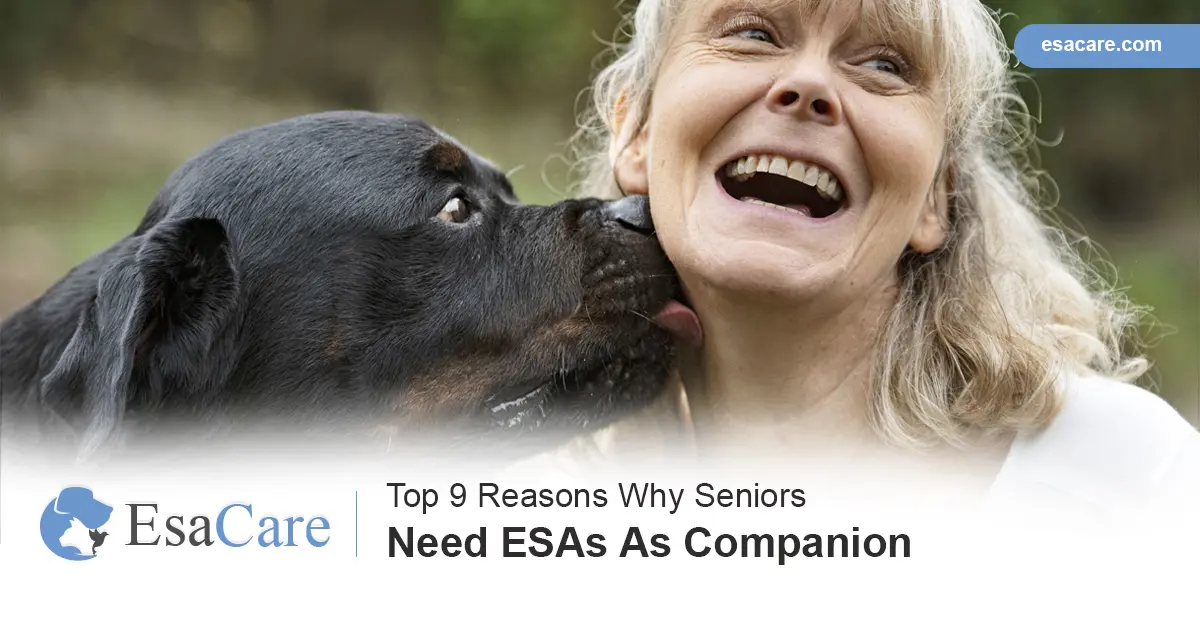 Retirement is inevitable if you live a long life. This is one of the phases of life that you must go through. When the time comes to start your retirement, everything else will look like the usual annual vacation. 
Unlike the ordinary vacation, your retirement will not come to a stop soon. Instead, it will serve as a passage of time as you age gracefully. This aging process is not always as rosy as a normal vacation. It is normally characterized by difficult moments as you transition from one stage of your old age to another. 
Feeling Emotionally Unstable? Click the Button Below to Make an Appointment and Get the Best Service Dog for Elderly.
How Can Your Senior Age Affect Your Mental Health?
In most cases, your senior age might get depressive and make you emotionally traumatic. This gradual change in lifestyle comes with its own share of problems. You may start developing different health issues as old age catches up with you. 
Worse still, your life may become more difficult if you have ongoing mental health problems. Also, your age will most likely exacerbate the symptoms of mental health. While this statement may make you feel petrified and worried, there is also light at the end of the tunnel. 
To make it clear for you, researchers have found a working solution to your retirement woes. And the solution comes in the form of a companion, which is a pet. Getting yourself a nice pet will help you with your mental condition. Your new companion will certainly give you hope and help you get on with your life. 
At the same time, your loneliness and sadness will be gone before you know it. That is why we are introducing to you your future companion known as Emotional Support Animals (ESAs), which will serve as pets as well. ESAs play a significant role in helping seniors with mental conditions to enjoy their lives to the fullest. 
Here are nine reasons why ESAs are a great choice of companionship for seniors:
Number One:

ESAs are a Great Source of Motivation in Your Old Life

At a certain age, you are likely to experience drastic changes, both physically and mentally. Physically, your body will undergo some changes, and that is normal. But mentally, you will lose interest in most of the things you were doing while younger or simply lack the desire to pursue your interests. 

For instance, you may not feel like going out to have fun with friends or loved ones. Also, you may discard your hobbies, adventures, or other pleasurable activities due to a lack of strength and the will to do so. In summary, you will have no more motivation left in you because of your old age. 

With lost motivation, your life can become meaningless, leading to all sorts of mental problems. This is not a good thing to happen to you when you are a senior. 

On the other hand, you may experience amnesia as you age. Meaning that you will have a high chance of forgetting things, let alone being able to process vital information, or execute your plans accordingly. The inability to process certain concepts and failure to execute your plans can lead to a loss of motivation. 

Likewise, when you achieve each one of your goals in life, you tend to develop a feeling of accomplishing all your tasks in life. So you subconsciously feel that there is nothing else left for you to accomplish. This feeling causes a lack of motivation as you grow older. 

It is not a bad idea not to have any more plans in your old age. But you can look for a trusted friend to keep you going and make the rest of life interesting.

Your new pal will also give you new goals that will keep your mind occupied throughout. This way, your life will become more meaningful than when you don't have someone or something to fall back to. In this case, an Emotional Support Animal will do better to provide you with some company and keep you busy at the same time. 

An ESA will see you through your difficult moments and even help you age happily. Your life will take a new turn, and you will find yourself taking everything positively. As a result, you will have a completely new aim in life rather than living with nothing to motivate you. 

You will also go on with the rest of your life as a happier and optimistic older person. This is because your emotional supportive pet will definitely give you a sense of purpose in your life.

In addition to giving you some company, ESAs will become part of your responsibility. These lovely animals have needs that you have to fulfill to make them happy. Through the fulfillment of your new friends' needs, you will realize that you have a purpose in life, which is to look after your pet. You will take the responsibility of ensuring that your ESA gets the right food, has a comfortable place to sleep, among other things. 

Apart from that, you will find yourself setting new goals. With new goals in place, your life will not be the same again. You will find yourself enjoying a completely new life away from loneliness and sadness. 

Rest assured that your new-found furry friend will take away your worries by providing you with the utmost attention and care you need at such an advanced age. But the question that might be lingering on your mind right now is how an ESA can help you live a happy and meaningful life. If that is that case, then you should trust that this new friend will keep you on the edge of your seat with all manners of entertainment and responsibility. 

With responsibility in your mind, your emotional support animal will motivate you into performing chores aimed at helping you pass your time peacefully. Most of the tasks will be aimed at making your pet happy, comfortable, and well-taken care of. 

All the time you will spend with your ESA will give you motivation for a brighter future full of happiness without stress or loneliness.

Click the button below to get the ESA letter and avail the benefits of service dogs for seniors!
Number Two:

ESAs Will Provide a Perfect Companionship

It is human nature to need a companion for different reasons. In your case, you may need someone or something that will drive away boredom and loneliness in your life. These two factors can contribute to a mental breakdown, especially among the elderly. This is due to the fact that they take a huge part in your life, leaving you feeling rejected and neglected. 

In fact, loneliness can directly be associated with a number of mental illnesses among the elderly. So, how does it affect you in your old age? By the time you get old, your children will have moved out of your house to start their new lives elsewhere. Also, you may have lost your life partner or spouse, forcing you to lead a lonely life. 

But a solitary life is not the best option for anyone, including seniors. This is attributed to the fact that human beings are social animals, and staying alone can bring a lot of problems. One of the problems that result from staying alone a bit longer is hallucinations. Worse still, prolonged loneliness can have a profound effect on your cognitive abilities. 

Once your cognitive ability is compromised, you are likely to experience mental, physical, and emotional issues that are of no good to your old age. Similarly, growing old will affect your body in general. Some of your body parts may become inefficient, especially your brain. 

Speaking of the brain, this is one of the most important organs in your body that you should take note of. The brain performs a number of vital functions, starting from your toes all the way to your head. In any case, if the cognitive ability is affected negatively, your ability to perform crucial tasks is also affected. 

Your memory, coordination, decision making, and other key functions will be compromised, leaving you less efficient in everything you do. That said, you need to find yourself a companion that will keep you not only happy but also busy. 

Your companion should be in a better position to engage you in all aspects of your life. This is where emotional support animals come in to save the situation before it gets out of hand. You can have an animal or pet as your companion, and that is the best choice that you can make. A pet can provide you a lot of emotional support because it will spend most of the time with you at home. 

In other words, it will help improve your emotional stability by keeping you entertained, accompanying you while taking care of your small house chores, and making you a responsible person by looking after it. Through the responsibility your ESA provides, you will develop a sense of purpose in addition to becoming self-confident. 

Being in close contact with an emotional support animal will also alleviate your situation during hard times. For example, your ESA will play with you, jump around, try to hug or cuddle you to make you cheer up. 

Additionally, it will always be by your side to provide you with the company that you so much wish to have as a senior. This animal will certainly take away your loneliness and bring everlasting happiness to your life. Most importantly, your ESA will not complain about your old age or your prevailing situation.

What is a companion dog certification? Book an Appointment and let us guide you about the companion animal certificate!
Number Three:

Your ESA will Help You Overcome Stress

As mentioned earlier, aging is inevitable for everyone. But aging comes with another factor, and this is stress. This aging factor is caused by many reasons, such as:
Expenses

Retirement

Medical bills

Physical restriction.
These are some of the most common factors that influence stress when someone gets old. This state of mind can affect you in many different ways. 
Furthermore, stress is never good for your overall well being, especially if you are a senior. It may have a negative impact on your brain and other important body organs. As a matter of fact, it can slow down the functionality of your brain cells or even make you behave abnormally. 
To know that stress is catching up with you at that advanced stage, you should look out  for the following signs and symptoms:
Being unable to focus

Feeling worried all the time.

Sudden changes in your appetite

Feeling overwhelmed throughout
Experiencing stress at your old age comes with its share of problems. Whenever you have stressful moments, you will remain in that condition for a very long time. This is because your brain mechanism will not be able to take necessary action on stress-causing factors as soon as possible.
Normally, the brain manages stress well by simply regulating all stress managing hormones. If your case is something to do with chronic stress, your brain will be unable to stimulate or manage stress-causing hormones. This phenomenon is usually associated with old age across different societies. 
The main reason why your brain cannot help manage stress well is that any moment you experience some stress, your heartbeat increases. As a result, it increases your blood pressure, which in turn affects the link between the hippocampus and the prefrontal cortex (a section of your brain that generates a response to stress). 
When this happens, your ability to control stress is impaired. To overcome your stress, you will need a workable solution. And the solution will come in the form of an emotional support animal that will serve as your companion. But how does an ESA help in lowering stress levels in an individual? 
You should know that your ESA will not only keep you company but will also help you manage stress properly. This friendly animal will help you stay calm all the time while keeping away stress in the process. 
With a sense of calmness in you, nothing will bother you anymore because this moment will trigger the brain to release endorphins. These are feel-good hormones that will make you happy and stress-free for so long. 
The abundance of endorphin hormones will help your body to minimize stress effects. In the end, you will feel relaxed, happy, and in a good mood. While in this happier state, your health will improve, and you may feel as though you are still young. 
To add to that, your ESA will take away much of your time, denying you idle moments that might make you feel stressed. This is the reason why you need emotional support animals to help you lead a happy life.
What is a companion dog?  Get your ESA letter today and get yourself such a dog to avail the benefits!
Number Four:

Your ESAs will Make You Stay Active

Another problem associated with old age is physical inactivity. This is something you should expect as you grow older. The more you become older, the harder it is to maintain your physical strength. 

Don't forget the benefits that come with keeping yourself physically fit. If you spend most of your time sitting on the couch without taking part in any physical activities, you are possibly lowering your muscle tonicity. 

And with decreased muscle toning, you are at risk of experiencing some hardships when doing even the simplest tasks you can think of. This calls for some solution before the situation gets worse. In this regard, you must make some movement from time to time to keep yourself fit and healthy.  

But the question is, why should you bother with keeping up your physical activity? The answer to this age-old question is simple and straightforward; keeping yourself active helps you maintain your bodily strength and keeping vital organs in motion. 

If you don't become active at your old age, you may find yourself fighting a number of health-related diseases. Lack of physical activity can contribute to the following problems:

Besides battling out with the above-mentioned health problems, being inactive physically can negatively impact your mental health. This problem can escalate into depression or make you more anxious. As a result, your mental health will deteriorate more and make you lazier as you grow older. 

You also need to understand that staying physically active is really difficult, even for young individuals. But if you make an effort of keeping yourself fit, you will reap the following benefits:
Maintaining your heart health.

Keeping you fit most of the time

Being in a position to control stress

Release of feel-good hormones (endorphins)
For you to reap these great benefits, you will need some company to keep you engaged and your mind busy. The best company for you will most likely come from a loyal friend in the form of an emotional support animal. This type of pet is a special case in such a way that it will help you forget your sorrows, loneliness, and boredom by simply giving you the best company ever. Your ESA will also enable you to stay physically active. 
Your new friend will motivate you to create time for your activities to maintain your physical fitness. This is because such friendly animals will demand your attention and time such that you will find yourself active and busy without even realizing it. 
Keep in mind that your pet is an active creature that needs to jump from place to place, eat, or drink at specific times. So, this will compel you into creating a nice schedule to fit you and your companion's needs. 
One of the needs could be going out for a stroll or jogging at specific hours. With time you will realize that you are gradually becoming physically stronger than when you were lonely and inactive. 
Soon or later, you will experience moments of calmness and peace from within. Also, your emotional support animal will motivate you to carry on with your physical activities to stay healthy and enjoy a happy life at your old age.
Stay Healthy with your ESA Pet!
Number Five:

Your ESA Will Take Away Your Depression

Depression at old age can be the most difficult health condition to handle. It can even get worse if you have mental health issues. Unfortunately, some people think that depression is just a normal part of growing old. This is not always the case because there are underlying causes of this condition regardless of age. 

Depression can be detrimental to aged people. This is due to the fact that when you get old, you are likely to stay alone. It can even get worse when you are retiring from your work or social life. 

A loss of your loved one can also add mystery to your lonely life, causing depression in the process. Unless you find a quick solution early enough, depression can make you start having negative thoughts. 

With depression, everything around you will look useless, and you may lose interest in your hobbies. This type of negativity can push you to blame yourself for anything that goes wrong in your life. The more you will get depressed, the further your levels of hormones fluctuate. Remember that some hormones are responsible for maintaining your stress levels and keeping away any depressive thoughts. 

Here are hormones that make you less stressed:

Any slight changes in levels of these hormones can affect you emotionally. Signs and symptoms associated with depression in older people:
Excessive anxiety

Feelings of hopelessness

Feeling tired all the time.

Thoughts of committing suicide

Being restless most of the time

Withdrawal from certain activities

Inability to concentrate or pay attention

Sudden changes in your sleeping patterns
In case you find yourself experiencing any of these signs and symptoms, you should find the solution as soon as possible. Seek help from the mental health providers at the right time to save yourself from depression. 
While medication may give a quick remedy to depression, there is also another problem. Certain types of medications have side effects. They can cause more problems for you if you are a senior. Therefore, you must think of an alternative solution to this issue. 
Emotional Support Animals can offer a good remedy to your depression. These friendly and lovely animals can provide you with love and attention. They can also help you to overcome your mental health problem better than using certain types of medication. 
Your ESA will transform your life from worse to better in a matter of days. On top of that, this animal will serve as your permanent companion in many days to come. It will take away your loneliness and give you everlasting happiness as you lead a stress-free life. With time you will come to realize that depression is something of the past as you age gracefully.
Number Six:

Your ESA Will Provide You a Platform To Interact With Different People

If you were a social person during your youthful days, you are likely to experience moments of loneliness and emptiness upon your retirement. This sudden change in lifestyle can make you mentally disturbed. This is because retirement comes as a permanent change from your busy lifestyle. It also changes your schedule in addition to limiting your social life. 

With limited sociability, it is tough to meet your former friends or make new friends all along. That is not a good way of spending your retirement time because it will make you feel awkward. 

As you may have guessed, old age comes with unpleasant things like:
Increased stress

Changes in moods

Changes in your sleeping pattern

Some changes in your gastric motility

Getting irritated over anything that displeases you
The changes mentioned above serve as a reminder of what you may go through in your old age. These cases can be brought about by your loneliness and lack of interaction with people you are not used to. 
Social interaction is crucial for the elderly, as it will prevent Alzheimer's Disease. It will also make you feel good, not to mention feeling less isolated. 
Being on your own does not make you a happy person at all. It only makes you feel that interacting with your friends or neighbors is something of the past. This kind of feeling is referred to as social anxiety, a disorder associated with nervousness when interacting with a group of people, or addressing strangers. 
You can overcome this problem by looking for a nice emotional support animal to fill the gaps left by your friends or workmates. These animals are usually recommended by a licensed mental healthcare provider (also known as LMHP) to older people suffering from mental health issues. Your ESA will provide a rich platform to interact with different people. 
Through interaction, you will be able to overcome most of the problems associated with old age. In addition to that, your life will get back on track, and you will enjoy your retirement moments to the maximum. 
The main reason why this pet will motivate you to socialize with other people is that it will need your attention as well. You will also find yourself taking it for grooming or booking an appointment with a vet to have it examined. In the course of taking care of your emotional support animal, you will also find yourself talking to several people, strangers included. 
Although this task will be challenging at the beginning, with the time, you will get used to everything that your pet puts you through. Consequently, socializing will be part of your retirement life, and you will find everything working in your favor.
Get an authentic ESA Letter!
Number Seven:

Your ESA Will Help You Stay Alert and Focused

When you become old, you are likely to experience a lot of problems. One of these problems is the inability to stay focused. The most likely reason why you cannot maintain your focus anymore is that you no longer perform complex tasks. Thus the thought process section of your brain remains idle. This explains why it is difficult to pay attention to certain things. The same problem also affects your cognition, which is a vital functional unit of your brain. 

The cognition part of the brain performs the function of taking in the information or anything happening around you, processes it, and then sends the signal to your brain. In return, the brain uses this information to take the necessary action. 

For instance, if your friend greets you with a smile,  you will also smile back, and if the same person gives you a frowning face, your response will be different. Maybe you will also frown or shrug at the person. This is considered an abnormal response because your cognitive could not process the information as required. That is why a wrong signal was relayed to your brain, prompting you to frown back.

Staying focused can tell a lot about your state of mind. If you find yourself in a situation where paying attention to detail is a problem, especially in your old age, you should find a quick solution. If not, your inability to focus could lead to other mental health problems. 

To save yourself from more problems associated with your inability to focus, you should look to an emotional support animal to add value to your lifestyle. This pet will help you to overcome your mental condition by keeping you mentally and emotionally active. In simple terms, you need such helpful animals to keep your life on the fast lane even at your old age. 

These little creatures are naturally playful and ready to follow your commands at any given time. As a result, you will find yourself playing along with your ESA throughout. By doing so, your mental abilities will start to process complex ideas. 

You will also become alert most of the time. Most importantly, your emotional support animal will give you some peace of mind because it will always be close to you. Its company alone will help you regain your mental stability. After some time, you will get over your mental condition and lead a fruitful life while focusing on the most important things around you.

Keep your ESA pet legally – click the button below!
Number Eight:

Your ESA will Cool Down Your Agitation

Old age can cause you to be agitated. Typically, agitation is a common thing with the aged people and for several reasons. You can be agitated due to the following reasons:
A Change in the environment
A sudden change in the environment is the worst thing that can happen to an older person. An old environment has good memories that you can find extremely difficult to let go of just like that.
A Change of your caretakers
Once you get used to someone who looks after you, you create an attachment with the person. When the same person is transferred or replaced with someone else, you will feel that a part of you has gone away. So it will be difficult to accept your new caretaker at the beginning. But it will take some time before you can get along well with your new caretaker. 
Fatigue
Fatigue is a situation that describes a kind of mental exhaustion you can experience as an elderly. This phenomenon is common when you come across new people or new things. Even though you will get used to your new setup, your mind will take a while to process everything to make you comfortable with your surroundings. In the meantime, you may experience mental exhaustion if you are an older person.
These three reasons explain clearly why you can get agitated at your old age. But if the agitation progresses, you can develop a medical condition known as Alzheimer's disease. 
Alzheimer's is an intensifying disease whereby your brain cells start to degenerate and die. With the death of your brain cells, you will experience changes in behavior, social skills, and thinking ability.
But the good news is that you can get over your agitation by seeking help from relevant healthcare providers. Most likely, your help will come from an emotional support animal. The presence of a friendly animal in your life will provide you with effective and therapeutic solutions to your agitation problem. This particular pet will spend most of its time with you to keep you calm. 
Regardless of any changes that will be taking place in your life, your ESA will be by your side. In fact, its presence alone will give you a sense of pride and encouragement as you lead your retirement life.
Number Nine:

Your ESA will Help You Overcome Signs of Dementia

Almost one-third of the United State's elderly population is affected by dementia. This is a kind of mental disorder that is associated with memory loss. Besides, this mental condition contributes to other mental problems such as depression, anxiety, difficulties in speech depression, and poor decision making.

Dementia will also make you fail to perform your usual duties because you will not be able to remember some details. For example, you may forget to pay some bills, fail to honor a special appointment, or make important decisions. In most cases, this mental condition is brought about by the following:
Substance abuse

Huntington's disease

Traumatic brain injury

Excessive consumption of alcohol
Any of the above-mentioned cases can cause injuries to your brain cells. If dementia becomes a progressive disease, you can take care of its signs with the help of an ESA. 
During the hard times or when undergoing through a depressive phase, your emotional support animal will rescue you by keeping you company most of the time. At least, you will feel happy and relaxed despite your old age. 
The presence of your pet will most likely stimulate your brain to release the feel-good hormones or endorphins. In the process, you will feel happier than when you were just alone. This information is supported by numerous studies that suggest that animals are capable of helping those who have dementia lead a normal life.
But to get an emotional support animal, you need an ESA Letter. This letter acts as a legal document that verifies your desire to acquire an emotional support animal. The letter is usually issued to you by a licensed professional after the assessment of your mental state. What is more, the letter safeguards your rights as well as your ESA's rights.
Below are steps to follow when looking for an ESA Letter:
Filling out an online application form
The first step in acquiring an emotional support animal is to fill out an application form. This means that you will have to access the website dealing with an Emotional Support Animal Letter provider to submit your details. On the website, you will come across an online application form. Read through the instructions and fill the required spaces stating your aim on that application form. The form will require you to submit your basic information and the type of pet you are looking for. There will also be a requirement on the same form to enter information concerning your medical history. Make sure that the information you will provide is accurate to avoid the last-minute disappointments.
Booking an appointment with LMHP
Booking an appointment with the LMHP is the second most important step when looking for your perfect ESA. Look for an appropriate date and time that will fit in your schedule and ask for an appointment to speak with LMHP officials. Keep in mind that your appointment will be online. So you will have to prepare yourself adequately to have a word with those in charge of providing emotional support animals.
Consulting your physician 
The final step in your quest for your ESA is consulting the doctor. When the appointment comes, officials from LMHP will get in touch with you. They will ask you a few important questions aimed at assessing your mental state. The LMHP may go the extra mile to request you to take some additional tests just in case. After the test results are out, you will be issued with an emotional support animal recommendation letter to give you the green light to go ahead with your acquisition of a pet. The letter will come between two and five business days. That is all you need to do in order to have your ESA.
It is easy to get your hands on an ESA letter. Get yours now by clicking the button below.
Final Word
So far, so good! If you are looking forward to a peaceful and happier retirement time, you should look for an emotional support animal. This pet will help you transition from your busy life to your retirement life and even keep you going as you age. Just before you decide to look for your own ESA, there are steps to follow, as highlighted above. Don't feel lonely in your retirement years when you can find some solace from a supporting companion in the form of an emotional support animal.