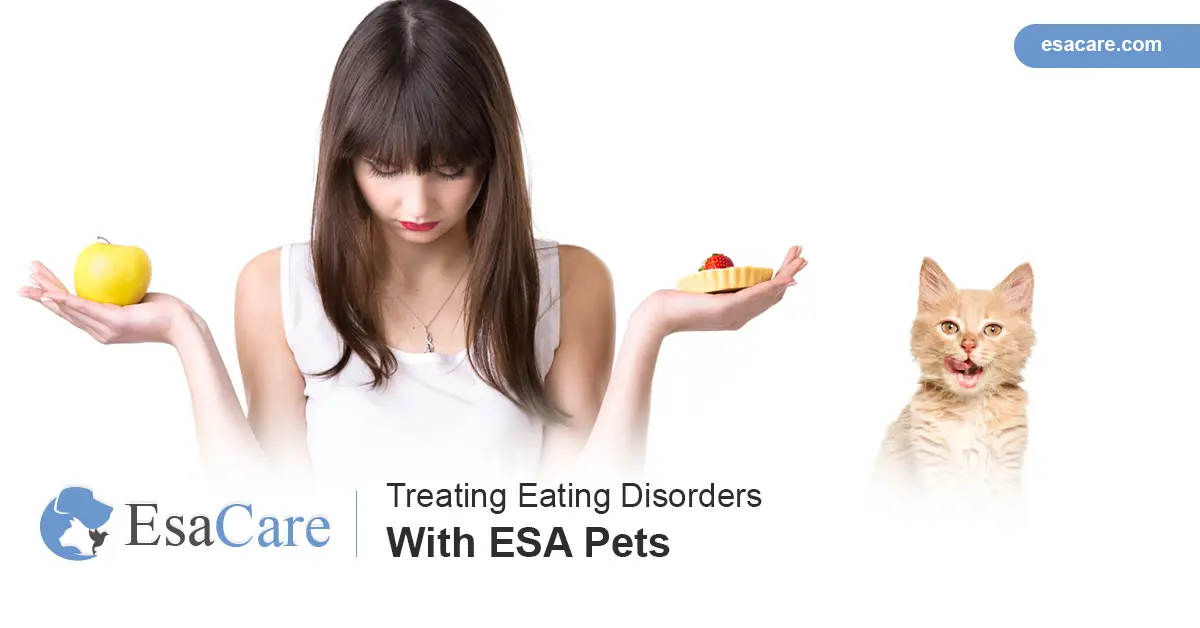 As animal-assisted therapy grows in popularity globally, it is hard to ignore how animals are spreading their paws, hooves, and wings into modern therapeutic modalities. One place where animal-assisted therapy has proven effective is in the treatment of eating disorders. Eating disorders are serious mental health disorders with severe and life-threatening medical and psychological consequences. Anorexia, bulimia, and binge eating offer an illusory sense of protection, while in reality, they are damaging a person's mental wellbeing. According to the National Eating Disorders Association, over 30 million Americans battle eating disorders, with 23 people succumbing to the direct effects of eating disorders. Animal-assisted therapy was identified based on the bonds and relationships that animals and humans form to help improve the overall quality of life and health well-being of patients suffering from mental disorders.
Your mental health is as important as physical health – get your ESA letter today!
Adopting Emotional Support Animals In Therapeutic Modalities 
When ESAs were first introduced as treatment options for persons with mental disabilities, the rules were unstructured, leading to abuse of the law. The number of people who owned ESAs rose unprecedentedly in airports, rental homes, and college campuses, undermining the purpose of animal-assisted therapy. Later, rules and systems were put in place to ensure that only people who genuinely need the support of an ESA can get it. Today, the decision to have an ESA in your treatment programs is based on evaluations by a qualified physician who writes a letter backing your need to have an ESA. 
How ESA Pets Help Persons with Eating Disorders
The effects of eating disorders manifest uniquely amongst individuals hence the importance of a personalized therapy program. In most cases, the treatment plan will comprise of several methods that will help treat and support the individual in the best possible ways. For many individuals recovering from eating disorders, engaging positively with animals as part of their treatment program can be life-changing. Farm animals and domesticated pets are the most commonly used animals in animal-assisted therapy and can be used in a variety of ways to help patients suffering from eating disorders in their recovery journey. 
Preventing and Interrupting Maladaptive Behaviors
ESAs are trained to perform interruptive maladaptive behavior to prevent patients from performing destructive behavior such as binge eating, purging after a meal, and ritualistic exercises. The animals are trained to identify such actions and interrupt them by physically interrupting the person's efforts towards urging by pawing at the door and barking or purring aggressively to alert family members of the handler's behavior. 
Reminding the Patient to Perform Tasks
Petting an ESA when you have an eating Disorder helps to perform tasks that would otherwise go unattended. Often, persons with eating disorders lose their sense of self-worth, thus finding it difficult to engage in meaningful relationships as they disconnect from other people and withdraw from daily activities.  With eating disorders, such tasks may include taking a snack, meal, or medication. An effective way to condition the animal is to create a daily routine that involves performing a task that the animal looks forward to at a specific time. The animal will be prepared to perform the behavior that will alert the patient that it is time to take their snack. After that, the animal will receive a reward such as a meal, walk, or game.
Your ESA Pet can help you reconnect with people – Click the button below!

Medical Alert and Response
ESAs such as service dogs can be trained to perform alerting and response behavior. Alerts are the behaviors animals can act before the onset of a medical crisis and warn the patient of its occurrence. This allows the handler to take appropriate action to prevent the problem by getting into a safe situation to handle the situation once it occurs. Responses are behaviors animals perform after a medical emergency occurs. Some individuals with eating disorders experience synoptic episodes, which the animal can detect, and alert the handler or seek help from another individual once it occurs. 
Providing Support and Comfort in Times of Distress
Support and comfort are unmatched services that emotional support animals can provide to patients with eating disorders. Oftentimes, patients experience heightened anxiety, which occurs before, during, and after meals. Through Deep Pressure Therapy, animals can help reduce anxiety levels by performing a combination of behaviors such as cuddling, which elicits an automatic relaxation by producing prolactin, serotonin, and oxytocin hormones that improve a person's mood.  
Get your ESA letter by clicking on the button below:

Finding Healing with ESAs
Participating in animal therapy as part of your eating disorder treatment solution can aid in your healing and recovery journey. The simple acts of engaging with an animal, caring for it, or the mere act of being in the presence of a nurturing animal can help you feel safe and express the need to reconnect with oneself. Contact us to get your ESA letter and commence your journey to healthy living with animal-assisted treatment.