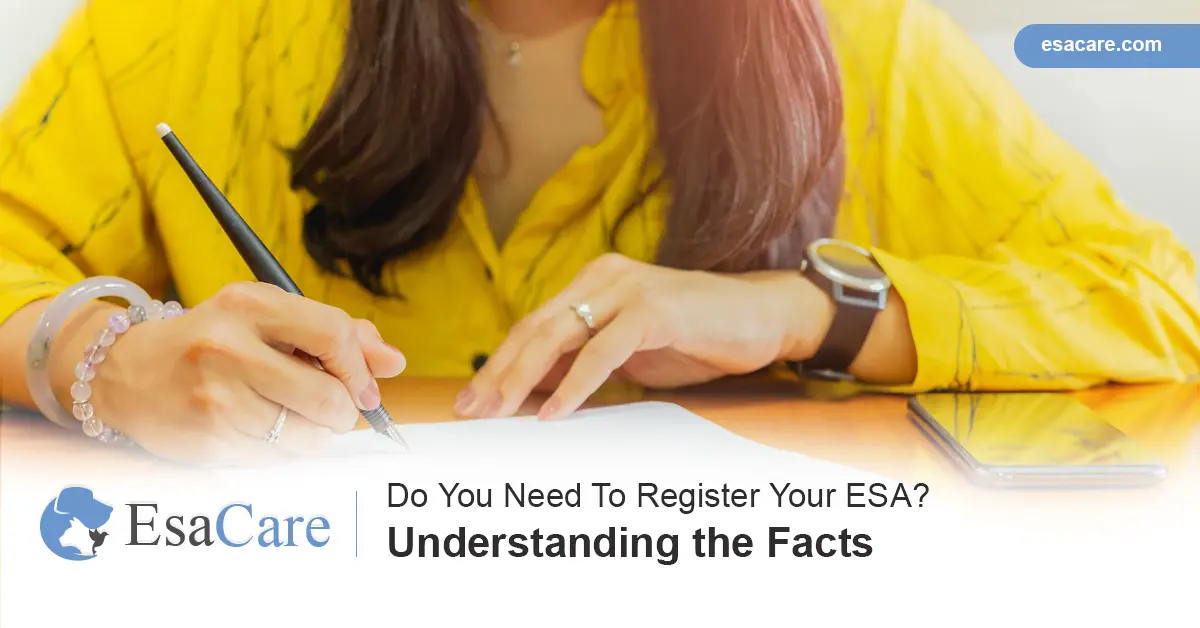 The companionship that emotional support animals (ESAs) provide helps alleviate some symptoms of various mental and emotional conditions such as anxiety, different types of phobias, panic attacks, depression, and PTSD. A qualified health service provider will determine whether yours is a condition that qualifies you to get an ESA and whether the presence of this animal will improve your condition.
Improve your mental health by keeping your ESA pet close by – get your ESA letter today!
The most common ESA is the dog, and you have every reason to choose a man's best friend as your ESA. There is no restriction on the breed you can choose, but you do need to consider some factors when making this selection. If you live in an apartment block, for example, then you may want to go for a smaller breed that doesn't need as much space to roam around in and exercise.
Given that your ESA's primary role will be providing companionship and comfort, you won't have to specially train your canine companion to perform many tasks, unlike service dogs.
Registering Your ESA Dog
Should you register your ESA dog? The short answer is no. You are not required by law to register your emotional support dog. As it is, there exists no official registry for ESAs.
That said, there are so many websites that run their own ESA database or registry. You will be required to pay some amount to have your dog listed on there.
It is worth noting that landlords, hotel owners, and airlines don't usually look up these online databases but will instead only require that you present your ESA letter. That is to say that having your ESA on these online registries without actually having a valid ESA letter is of no value and will not qualify your dog to enjoy the rights accorded to an ESA.
Getting an ESA Letter
Obtaining an ESA letter is the only legal way to qualify your canine companion, or any other animal for that matter, as an ESA. With this letter, your ESA dog will be able to enjoy the rights and privileges afforded to ESAs under the law in both housing facilities and while traveling with various airlines.
The process of obtaining this letter is pretty straightforward and involves the following easy steps:
Meet the Pre-screening Requirements
There are certain conditions that you must meet before you can be issued an ESA letter. The screening process is quite similar for both in-person and online assessments. A licensed mental health service provider will ask you some questions or have you fill in a questionnaire, to determine whether you need an ESA and whether the ESA can help with your condition.
ESA can treat your anxiety – Click the button below!
Consider which pricing plan works for you after evaluating what each one offers. The premium package includes exclusive customer support. Once you have identified the right plan for you, you can proceed to make the payment.
If you successfully pass the pre-screening assessment and make your payment, it shouldn't take more than a couple of days to have your ESA letter approved. You will get a soft copy of the letter in your email once it's ready, and you can download it for immediate use where it may be required. You can also have the hardcopy of the letter mailed to you, and this, again, shouldn't take more than a couple of days.
ESA Letter Validity
Work with trusted online operations with a team of licensed mental health service providers to get your ESA letter. You can be sure of a genuine letter, complete with all the elements that landlords and airlines look for when verifying your letter. You should also know how to identify fake letters.
A genuine and valid ESA letter will have the name and license number of the issuing mental health care provider. The content of the letter will be to state that you suffer from a qualifying mental or emotional disability or condition and that having the ESA dog is essential for your wellbeing. The letter will be signed and dated accordingly.
Your ESA letter is valid for one year. Once this time lapses, you will only be required to renew it instead of going through the assessment process once again. What your health service provider will do is simply review your original assessment.
Be sure to renew your letter in term since landlords and airlines reserve the right to deny your ESA dog the rights protected by the letter are not current. Having out-of-date documentation for your ESA dog may see your canine companion denied entry into housing facilities and an opportunity to fly with you.
Having an Emotional Support Animal is a sign of strength – Click the button below.
Get Your ESA letter
Want to qualify your dog as an ESA and protect its rights as provided for under the law? Get your ESA letter today in three easy steps. Our licensed therapists are here for you, providing you with a convenient and affordable way to apply for and get your letter.
Book an Appointment by clicking the banner below.