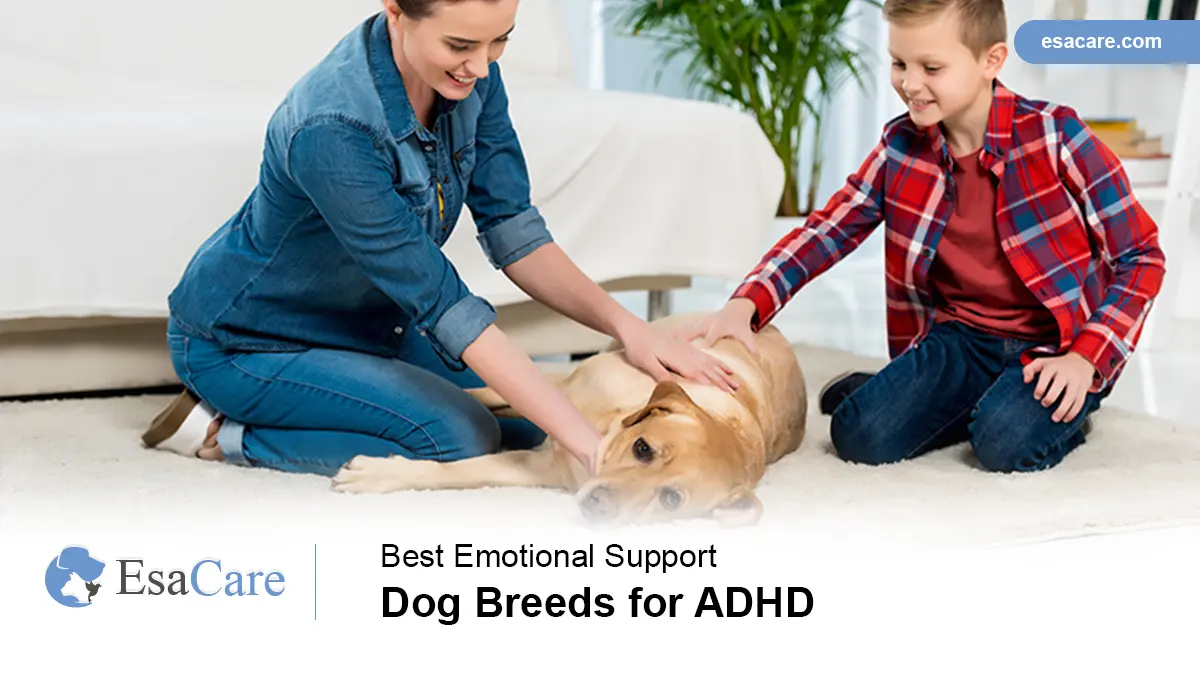 Attention deficit hyperactivity disorder (ADHD) affects many people early and could persist into adulthood. The condition has several symptoms that may manifest in someone, including hyperactivity, difficulty maintaining focus, and impulsive behavior. Such symptoms and other issues could cause the affected persons to struggle with relationship issues, self-esteem problems, and even have trouble at work or school.
To get your ESA letter, you can get in touch with licensed medical practitioners by clicking the button below.
However, did you know that you can alleviate some of these symptoms if you acquire the best emotional support dogs? This guide contains all the relevant information you need about dogs and how they can help people with ADHD. Dogs will quickly help these people create essential and healthy habits that burn off energy. They also provide these people with a nonjudgmental companion.
Does ADHD Qualify for an Emotional Support Animal?
Under the ADA guidelines, for a person to have an Emotional Support Animal, they must have some psychological condition or disability such as depression (PTSD), post-traumatic stress disorder, ADHD, or personality disorder. Emotional support animals are companions that offer emotional and mental support to their owners.
The ESA provides support to ADHD patients in different ways. Most people who have ADHD bear many mental health and physiological manifestations. That means creating an organized system helps them a lot. The only way you can help this person have a schedule is by finding them the best emotional support dogs.
The dog needs to be fed and walked at specific times of the day. That creates a schedule that the ADHD patient should follow. The dog will help them maintain that schedule because if it is not fed, it will find a way of letting the owner know. For those hyperactive, the dog offers them an opportunity to chase, swim, run, walk, or engage in other activities with them to keep them active.
What is the Best Dog for Emotional Support?
Finding an emotional support dog should not be a hard-to-crack nut. Dogs not only make the best pets but are also suitable for people dealing with mental issues. In addition, they improve the quality of life and overall health of people who have ADHD. However, it is crucial to understand that not all dog breeds are ideal for emotional support. If you are looking for the best emotional support dogs, then here are a few species to try out:
Labrador Retriever
Labrador is among the gentle dog breeds you will come across. That makes them a perfect breed for emotional support animals. The other bonus with this breed is that they are food motivated. These dogs have a high affinity for food which makes them easy to train using food. Labradors are all-rounders and a good dog breed to have for emotional support.
Beagle
Beagles are also one of the best emotional support dogs as they are utterly adorable. These dogs have an endearing nature that makes them an easy target for ESA. Beagles may also come with different personalities, such as cuddly and calm or energetic and active.
Yorkshire Terrier
If you are looking for sweet lap dogs, then the Yorkshire terrier is what you are looking for. These tiny precious things do not need massive space or exercise activities. They are the best emotional support dogs for people living in apartments with insufficient room for exercise. This dog breed is ever happy, especially when perched on the owner's lap. They are super affectionate dogs and can make amazing ESA.
Corgi
Corgi is a loyal, obedient and stable dog breed. They have adorable fluffy butts. Even though they are short, this dog breed has a pretty impressive personality. Corgi can make a super emotional support animal.
Your ESA dog can be your best companion – Click the button below!
ESAs Assist with Hyperactivity
The best emotional support dogs encourage the person to do various activities like swimming, running, and walking. Physical activity increases dopamine and serotonin levels. These decrease anxiety and depression, thus allowing you to cope better with different situations. Most people who have ADHD see themselves as failures since they cannot do a lot of things. They also seem to make mistakes and do not seem ever to achieve their goals.
However, having an excellent emotional support dog offers them an opportunity to thrive in life. They get emotional assurance and support from the animal, which helps shape their lives. The animal motivates them more in life and helps build their confidence.
Does a Dog Help with ADHD?
Yes, a dog will help you a lot if you have ADHD. One of the significant symptoms of this disorder is not being able to stay organized. You are also not able to plan. It would be best if you tried to alleviate these issues long before they become catastrophic. One of the effective ways is by having an ESA.
Good emotional support dogs allow you to formulate a schedule. The owner must walk the dog, play with it and even feed it, which requires a routine. These routines with the best emotional support dogs offer a distraction from some triggers and stress. It also helps improve the memory of the dog owner. Emotional support animals are a good distraction for people who have ADHD.
The person will always focus on their dog, which means they would not quickly encounter situations that exacerbate symptoms. ESAs will also encourage consistency in your daily life and help you achieve goals you would otherwise deem unachievable.
How Do You Prepare the Family and Your Child for the Arrival of the Pet?
Surprising the family and your kid with an adorable pet is fun even though it is not the best idea. That is true, especially for kids who have ADHD; these kids have an issue with transitions. The child may appear thrilled when you bring a kitten home, but then they might lose interest in that animal that needs affection and attention.
It is advisable to let your kid be part of the entire process. That may include focusing and even planning together with them. Please make sure you research for the best emotional support dogs together with them. Write down what you need to purchase for the animal and even where it will live.
There are different types of emotional support dogs, so it is important to choose with your kid. First, they should pick the dog they love most. Then, hop into a training class with them and train the dog together. Finally, develop a robust schedule that indicates who walks, feeds, or cleans the dog.
Some parents even have contracts for their kids to take care of their pets. If the commitment is overwhelming to the child, you could team up and help them. Have a backup plan for feeding, cleaning, and walking the dog if the kid slips up. Some kids insist on working on their pets alone but remember that they may not be as perfect or focused. There are times you will have to come in and help.
What Is the Best Dog for a Special Needs Child?
Before worrying about where to buy an emotional support dog or adopt an emotional support dog, first think about what breed of dog is suitable for your kid with special needs.
Below are some of the best emotional support dogs for kids with special needs:
Golden retriever

Saint Bernard

Labradoodle

Beagle

Labrador retriever

Collies

Poodles

Great Dane

Cocker Spaniel
Final Thoughts
If you are looking for the best ESACare, then we are here for you. We offer quality care to your emotional support animals and provide you with an ESA letter. With our ESA letter, you will avoid unfair airline fees, unfair pet deposits, and even bypass breed restrictions.
Contact Us today at EsaCare and start your remarkable journey to mental stability and fulfillment or click the banner below to book your appointment.