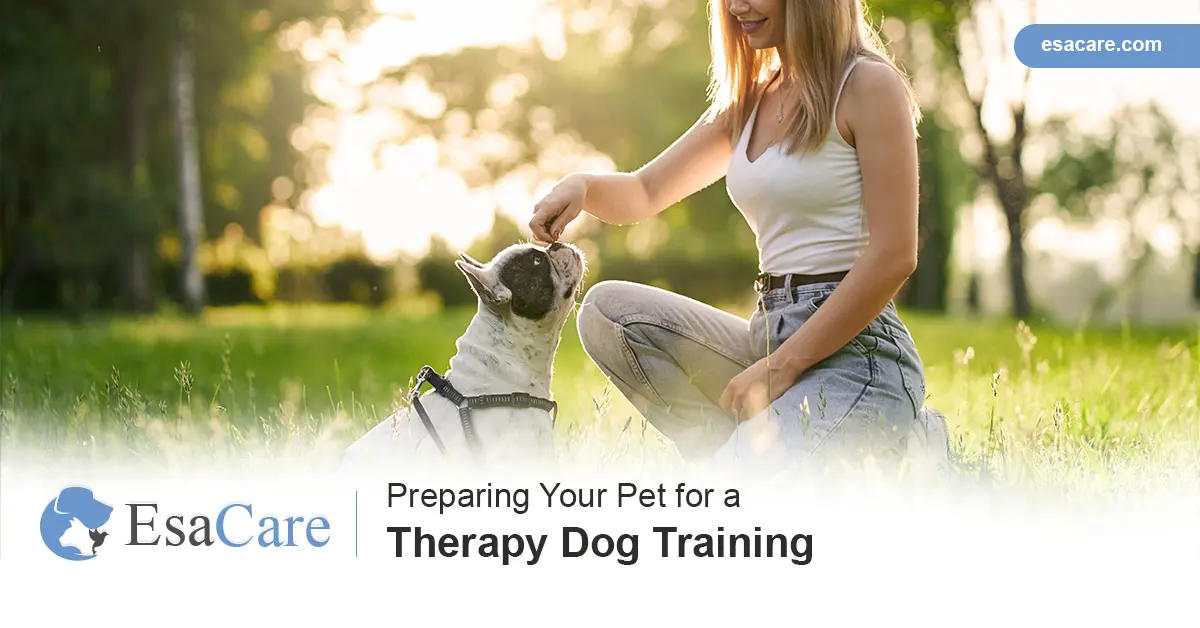 People are starting to realize the health benefits a dog can offer, and as a result, there has been a peek in the public interest for therapy dogs. Man's best friend is genuinely becoming a jack of all trades, from acting as a friend, a guard, and now to providing therapy comfort. Animals are not judgmental, and this makes them the perfect partner for therapeutic comfort.
Your ESA Dog can be your best companion – Click the button below!
What are Therapy Dogs and Therapy Dog Training?
A therapy dog provides comfort, love, and affection to individuals dealing with emotional or physical problems in facilities like hospitals, schools, or nursing homes. Therapy dogs should not be confused with emotional support dogs or services dogs. Service dogs are trained dogs that provide specific services to people with special needs, like blind people. Emotional support dogs don't need any special training, and patients need only obtain a medical recommendation.
Therapy dogs only offer comfort services when required but stay with their trainer or original owner. The owner/trainer and the therapy dog are considered a package deal. The two of them visit nursing institutions to work with people providing short-term therapeutic comfort.
What are the Benefits of Therapy Dog Training?
Therapy dogs offer many emotional and physical benefits to the people they visit. For example, they help lower heart rate, patient anxiety, blood pressure and increase oxytocin and endorphin levels. Apart from health benefits, therapy can soothe and improve empathy in the people they visit. 
Refrain from thinking it's a one-way street; it's more like a symbiotic relationship. Studies show that therapy dogs also benefit from the work they do. For example, the rate of oxytocin and endorphin levels is higher for therapy dogs than ordinary home pets.
What Type and Breed are Good for Therapy Dog Training?
All dog breeds can give unconditional love and support, but that does not necessarily qualify them as a good fit for therapy work. The same case applies to people; just because you are an understanding person doesn't mean you are qualified to be a therapist. So with that thought in mind, it begs the question, what makes a good therapy dog?
Many organizations don't allow puppies below one year to work as support dogs; they prefer adult dogs. In addition to age, organizations require therapy dogs to pass the AKC Canine Good Citizen (CGC) test of obedience. In contrast, others prefer a specific therapy test that stands in place of the CGC test. 
The qualities learned from this test present crucial elements required by any therapy dog while out in public. Dogs that can't obey commands or interact in a friendly manner won't make it on the list.
Here are some qualities therapy dogs need to possess to make it on the list: 
Confidence: 

The dog should not portray fear or anxiety when people interact or smother it.

Ability to resist the chase: 

The dog should be composed enough to resist walking by another dog, person, or animal without chasing them.

Obey commands:

 A 

support dog

 needs the training to understand and obey commands when required.

Ability to connect emotionally:

 Therapy dogs are trained to obey commands, but you cannot teach a dog to have an emotional connection with individuals; that's a trait the dog has to have on its own.

Gotten used to different walks of life: 

This includes environments, diversity in people, and activities.
Other than the qualities presented above, the breed of the dog doesn't matter. However, there are a few dog breeds that are commonly sort out for the job, for example:
Labrador Retriever – 

Labradors are the most commonly used therapy dogs. This is due to their gentle and happy nature. Therapy training of Labrador is a breeze since they tend to be affectionate and wise, making them great for people with anxiety or depression.

St Bernard – 

They might be big dogs, but their size fits all the love they can share. St Bernard dogs are termed, gentle giants. They present a calm nature and have an oh-so cuddly soft fur that children like to nuzzle into, and this dog breed appreciates the attention.

Pugs – 

For people who prefer smaller dogs' pugs are an excellent option to consider. Pugs have a social and playful character that is well received and surprisingly entertaining. If you are feeling down, this dog can turn that frown upside down.

Poodle – 

This breed is another good choice for people who prefer small dogs. You can't deny that poodles are cute, and you want to hold them. Apart from their lovely appearance, they are among the most obedient and intelligent dogs. These fluffy creatures are loving and friendly, making them the perfect fit for the job.
Having strong mental health is the key to a happy life – Maintain it by getting your ESA letter today!
General Ways of Therapy Dog Training?
You can decide to train a therapy dog by yourself or with assistance. If you seek assistance training a therapy dog, it's advisable to look for a formal organization that ranks quality-educated trainers. If you are wondering where you can get therapy dog training near me, go online and find official websites that are licensed. Luckily, you will find a dog training service offered near your region.
Older dogs can make excellent therapy dogs since they are less playful and obey commands. First, however, you can start training your pup to prepare it for future therapy work. The first step of training a therapy dog is to assess whether it possesses the qualities mentioned in the upper section of this article.
The AKC website suggests that there are 10 tests on therapy dog training within the Canine Good Citizen program. So, as promised, here is how to train your dog to be a therapy dog:
Accepting friendly strangers:

 This test shows whether your dog is hostile to people who approach it out in public. To train your dog to get friendly strangers to pet it, you need to socialize your dog or puppy with new people. Take your dog for a walk in the park or other places and allow your dog to socialize or get pet by friendly people.

Sit for petting:

 Assess whether your dog can sit still and accept strangers petting it. For It's hard to allow strangers to pet your dog, but it's required to pass the taste, and if it's going to be a therapy dog, petting by strangers is a given.

Appearance and grooming

: This involves training the dog to allow individuals other than the owner to check ears, feet, or fur just like a vet would. Also, a therapy dog needs to be groomed appropriately since no one would like to pet an unkempt dog.

Out for walks

: A therapy-fit dog should have the ability to walk on a loose leash with the owner. Taking your dog on regular walks will make it used to the feeling and help it avoid chasing after people or other animals.

A walk through the crowd

: This test shows if your dog can cope with walking through groups of people without an adverse reaction. 

Sit and stay on command

: This test checks to see your dog's obedience and whether it can be loyal to commands.

Coming when called: 

Support dogs should be obedient and responsive to calls.

Reaction to different dogs: 

This tests whether your dog can remain focused on the job or be distracted by other dogs.

Reaction to distractions: 

Therapy dogs need to learn how to avoid distractions.

Separation from the owner:

 The last step is to test if your dog can cop without the owner for some time.
Once your dog passes all the tests, you can then register with the National Therapy Dog Organization to start providing therapy comfort to people who need it. That is how to train a therapy dog effectively.
Ways of Therapy Dog Training for Anxiety?
A person experiencing an anxiety attack presents stressor symptoms like racing heart, foot-tapping, shortness of breath, muscle tremors, or more. You can train your dog to read this sign and provide comfort to the individual. But how do you do it? 
Start by teaching your dog an alert behavior like a nose nudge. Record the behavior and reward your dog with treats. Next, repeat the technique and add a command while you change positions in training your dog.
Identify different anxiety cues, act them out while giving the verbal command, and see how your dog reacts. If your dog responds positively to your order, reward it with treats. Repeat the technique for some time and then try it out without a command, and if your dog replies with a positive result, reward it. Practice this technique over and over while changing position until your dog is perfect at it.  
Therapy dog training doesn't take a long time. However, it can take up to a year or more, depending on the ability of your dog to handle training. Ensure you train your dog for a total of 30 minutes in a day. Remember, dogs are not good at generalizing, so don't pick a specific time to train the dog; always switch times between the days for training.
ESA can improve your overall mental health. Click the button below to get your ESA letter.
Final Remarks 
When training a therapy dog, you need to be patient, don't rush to move forward with training, and stick to what works. Wouldn't it be nice if you could take your pet wherever you go? If the answer is yes, get yourself a certified ESA Letter from EsaCare so you can live and move freely with your pet. 
Contact Us at ESACare and book an appointment with us.