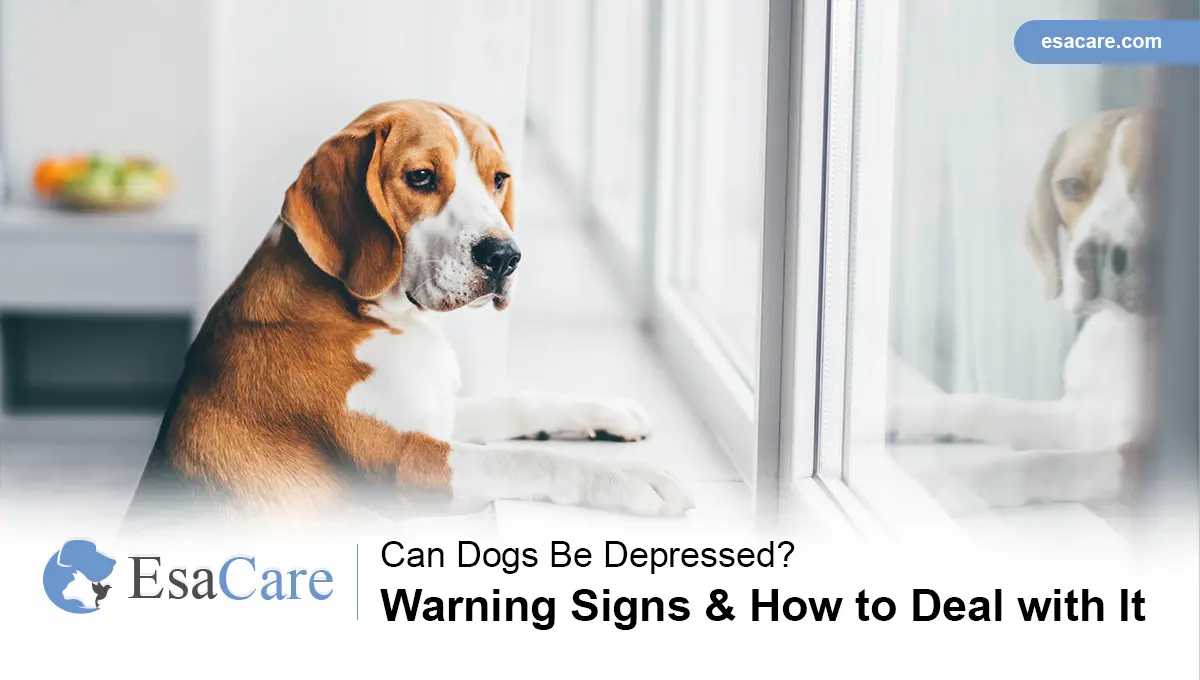 As a dog lover, has your dog ever showed signs of feeling depressed or sad? Maybe your beloved pup doesn't seem to be in the mood or isn't cheerful when you get home. But while depression isn't a condition typically diagnosed in dogs, it is important to know the possible signs and what to watch out for.
Your ESA Dog can be your best companion – Click the button below!
So, can dogs be depressed? Well, yes! Dogs, like humans, can also suffer from depression. But with the proper treatment, you can help your furry friend through his period of low mood and have him cheerful and playful again.
Even dogs get the blues sometimes. That's because they share many similar neurochemicals that humans do. They are also exposed to stress hormones like cortisol and adrenaline. Therefore, it follows that your dog may sometimes experience depression as you do.
Can Dogs Be Depressed? Why?
Again, dogs share certain personalities as humans. So, it is reasonable that they may feel upset or depressed for different reasons. But there are some conditions and environments that may trigger depression in your dog.
So, the next time you ask yourself, "can a dog be depressed?" you want to watch out for any of the changes mentioned above. It is also worth noting that dogs can pick up on your emotions. They know what you look like when you are happy, sad, or angry, and they will change their mood too.
Is My Dog Depressed? Signs of Depression in a Dog
The moment you start thinking, "my dog is depressed," you probably know that something isn't right with them. And because depression in dogs can mimic many illnesses, it is important to take your pup to your local vet to be sure.
It is always better to verify what exactly is making your dog look moody and sad. You may assume that he is just sad and that it will go away when he might be sick and should be treated with medication. So, what are the symptoms of depression in dogs?
1. Changes in Behavior and Mood
One of the more direct ways to tell if your dog is depressed is by paying attention to his behavior and mood. You can also check how he acts. Suddenly, he isn't interested in the things that usually excite him. You should know your dog well enough to tell when he isn't okay as a dog owner.
So, the next time someone asks you, "can a dog be depressed?" the answer is a sure yes. Look for specific things in your pup's behavior that will almost instantly indicate he is depressed. And if he is not, then it might be something else that needs to be addressed.
2. Appetite Changes
A depressed dog will probably also stop eating or maybe even eat more than he did before. It all depends on your dog. Again, it is always best to look for any sudden or extreme changes in your dog's appetite.
3. Paw Licking
The incessant paw licking might also mean that your dog has the blues. However, it would be best to keep in mind that there are some psychological reasons for dogs licking their paws. Sometimes, it might not even be because he is depressed. Instead, your dog might have a bacterial infection, eczema, dry skin, or joint pain.
But if your dog is licking his paws and showing one or showing more signs like the ones mentioned in this post, he is likely licking his paws because he is depressed. Can dogs be depressed? Paw licking is one of the easiest ways to know.
Having strong mental health is the key to a happy life – Maintain it by getting your ESA letter today!
4. Sleeping Often
An average adult dog sleeps for around 12 to 14 hours of a 24-hour day. However, puppies may sleep for up to 20 hours. This can make it even more difficult to know the exact number of hours your dog regularly sleeps. But when your adult dog starts sleeping for longer hours, it's more likely he is depressed.
5. Hiding
Your dog never seems to be around anymore. You rarely see him. And when you do, it's only for short periods. This is one of the common signs of depression to watch out for. Dogs are pack animals. Therefore, they will always want to be a part of the family. But when they retreat and start spending more time alone, you will know something is wrong.
Can Dogs Become Depressed? How Can You Help?
How do you cheer up a dog when he is depressed? Unfortunately, not many people know how to fix their dog's depression. After all, your dog cannot verbally tell you that he is depressed. Therefore, it is always a challenge to know exactly what he is going through.
But once you have determined that your dog might be going through depression, it is important to know the best solution to help him. Seek advice from your local vet immediately you notice sudden behavioral and mood changes that your dog doesn't always exhibit.
Here are some solutions on how to treat dog depression to consider:
1. Offer Your Dog Some Attention
One way you can help a sad pup is by giving him more attention. Giving your dog added attention will allow him to deal with his feelings at his own pace. Just remember to do so in moderation.
2. Keep Your Dog Active
Like humans, spending some time in the fresh air can uplift your dog's spirit and boost his mood drastically. But walking your dog regularly is one sure way of helping them both physically and mentally.
3. Keep a Regular Routine
Keeping your dog on a routine is another excellent strategy always to keep them active and engaged. In addition, a routine allows your dog to know what to expect at certain times of the day, which will help them in their recovery process.
4. Socializing
As aforementioned, dogs are naturally social animals. They are at their best when interacting with other dogs or their owners. Therefore, if your pup is feeling down, a little socializing might be what they need to get back on their feet.
Keep your ESA pet close – Click the button below!
How to Cure Dog Depression
So, the answer to your question is, "can dogs be depressed?" Well, yes! However, identifying dog depression is the more important step. ESACare will teach you how to cure dog depression and avoid future instances where your dog is sad or depressed.
Dogs are excellent emotional support animals and provide the social connections you need. Therefore, it is only right that you return the favor and care for them when they look depressed. Our team of professionals can also help you get an ESA letter.
Get your Emotional Support Animal Letter today by booking an appointment at ESACare.