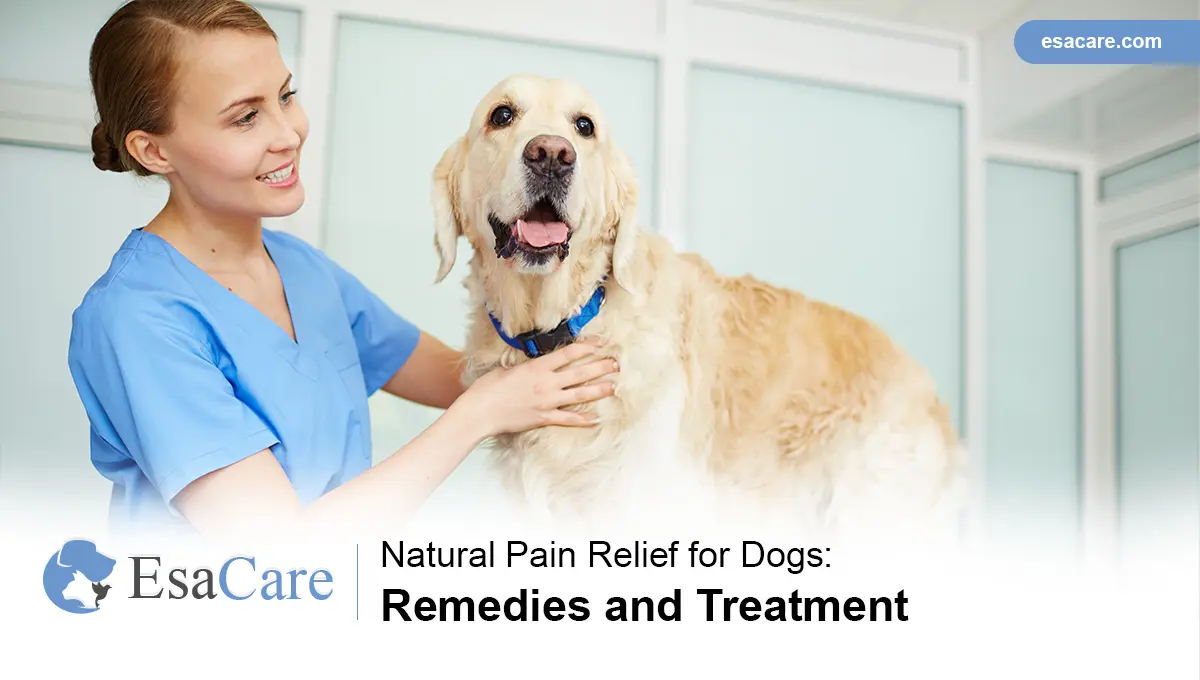 As a dog's owner or handler, you've probably come across many vendors supposedly offering natural pain relief for dogs. Even so, you should beware of such solutions. Not all remedies with the word natural are safe. Some are potentially harmful. And with no limits in choosing a remedy, you need to be careful when selecting a pain reliever for dogs.
Stay mentally fit with your ESA pet! – Click the button below.
Commons Signs of Pain
Dogs have their way of communicating with you to inform you about their issues. Some of these cues may not be obvious as they vary from one dog to another. Below are signs to watch out for pain in your dog.
1. Vocalizing Unusually
When dogs are in pain, at times, they tend to be more vocal. You'll notice this when they're snarling, yelping, and growling.
2. Agitation
Discomfort is another indicator of pain. If your dog appears to be pacing back and forth with comfort difficulties, you know that it's time for natural pain relief. It can also show signs of agitation through sleeplessness.
3. Shaking
Usually, shaking in dogs is associated with cold and old age. At times, this can be an indicator of pain. In worse scenarios, it can be a symptom of kidney or pancreatic diseases or poisoning.
4. Grooming Excessively
Constant paw licking is an indication of being in pain. When a dog gets injured, e.g., a cut, it will lick that particular wound. Sometimes the pain it's experiencing can be emanating from inside.
Natural Pain Reliever for Dogs
Now that you understand how to identify when your pup is in agony, it's time to ensure that misery is taken care of. Natural reliever methods and remedies, such as using turmeric, are cheap and readily available.
You'd be surprised that the best dog pain relief home remedy is often sitting on your kitchen counter. So, what can I give my dog for pain relief? Below are remedies for relieving pain in your dog.
1. Vitamin E and Omega 3 Fatty Acids
Fatty acids such as Omega-3 and 6 are essential nutrients that the body can't make itself. These nutrients can only be supplied on a dog's diet, such as meat, poultry, whole grains, and vegetable oils.
Omega-3 is a fatty acid –the only pain reliever for dogs between the two. The fatty acid has anti-inflammatory effects capable of managing curtis, colitis, sonic arthritis allergies, among other pain-related issues. The best way for a dog to take omega -3 fatty acids is to consume fish oil supplements.
Fish oil contains two primary sources of omega-3, i.e., Docosahexaenoic acid (DHA) and Eicosatetraenoic acid (EPA). Ensure that you supplement the fish oil with vitamin E. This is due to the depletion of the vitamin in the fish oil. Plus, it's vital in preventing damage as a result of oxidation during fat metabolism.
2. Frankincense (Boswellia)
Boswellia has been in use for many years because of the many advantages it has linked to wellbeing. Apart from improving blood circulation, Boswellia increases lubrication of the joints and the shrinking of inflamed body tissues. It's primarily used for pain relief in dogs due to its anti-inflammatory effects.
Boswellia may be used for pain management of illnesses in dogs such as cancer, asthma, anti-inflammatory bowel disease (ABD), and many others. Boswellia is considered safe for dogs though it can be dangerous to other dogs as it might cause side effects such as abdominal pain, diarrhea, and nausea.
3. Turmeric
Turmeric is a common anti-inflammatory remedy popularly used in the treatment of joint pains. It has an active ingredient known as curcumin. This ingredient is a powerful antioxidant that neutralizes free radicals associated with joint pains that otherwise lead to arthritis.
As much as it has benefits, it has to be administered correctly; otherwise, it might cause health complications in your dog. Consult your vet on the appropriate dosage amount. The dosage recommended by many vets is 1/4 to 1/8 of a teaspoon daily for every 10 pounds. Curcumin supplements such as Thera cumin provide consistent dosage than turmeric. 
Having strong mental health is the key to a happy life – Maintain it by getting your ESA letter today!
Other Alternative Natural Pain Relief for Dogs
Let's say for some reason you don't have access to the above home remedies for your pup, or the remedies fail to yield the best results, here we detail other ways on how to help a dog in pain.
1. Acupressure and Acupuncture
Acupuncture is another effective home pain relief for dogs solution you can opt for. This holistic method is a Chinese method of pain relief involving inserting needles on specific parts of the body surface known as meridians to aid in accelerating the healing process.
This is commonly used on dogs struggling with arthritis and other diseases such as liver dysfunction and epilepsy. Acupressure, on the other hand, requires applying pressure and not the needles on the meridians. To pull this off, you must be trained personnel who know how to work these methods.
2. Hemp Oil Spectrum
This is a cannabidiol product with properties that significantly help dogs feel comfortable. The use of hemp is also a widespread natural pain relief for dogs. The hemp oil on full-spectrum has terpenes, flavonoids, and various Phytocannabinoids that assist dogs with arthritis.
Since the purity of this product is essential when considering potential side effects, its purity analysis is guaranteed as safe although vague. It helps when you gauge possible occurrences of unexpected health complications. Remember, even though hemp oil comes from the same plant as marijuana, it's not similar to administering marijuana to a dog.
3. Cold Laser Therapy
Another crucial natural pain relief for dogs entails cold laser therapy. Used as a healing promoter, this procedure is also effective in pain relief and anti-inflammation. The procedure has several lasers, with class IV cold laser therapy being at the lowest level.
Class IV cold therapy laser is the most popular with additional options for treatment and supports in managing chronic joint conditions such as disk disease. The procedure is also used to treat extremely severe pain like cruciate ligament tear and for healing wounds.
The therapeutic procedure is conducted by rolling a handpiece over the inflamed area. The beams are focused on this area for cell stimulation.
4. Physical Therapy
As much as it may sound simple, this option is an effective natural pain relief for dogs. This is a common solution for dogs suffering from arthritis and hip dysplasia. It's advisable to seek medical advice on the best physical routine to adopt for your dog to relieve pain.
Physical therapy is necessary to keep the dog on the move. This is important in increasing joint functionalities and hence eliminating pain over time. Canine hydrotherapy such as swimming strengthens the muscles and joints without straining, which would otherwise cause pain.
Keep your ESA pet close – Click the button below!
Leave It to the Pros
Today, natural pain relief for dogs among other remedies has become the norm for managing pain and other inflammation on canines. It's not easy to determine which method is temporary pain relief for dogs. It's best to consult a vet. Here at ESA Care, our mental health professionals can link you to an expert and help you get the right natural pain relief for your dog.
Get your Emotional Support Animal Letter today by booking an appointment at ESACare.