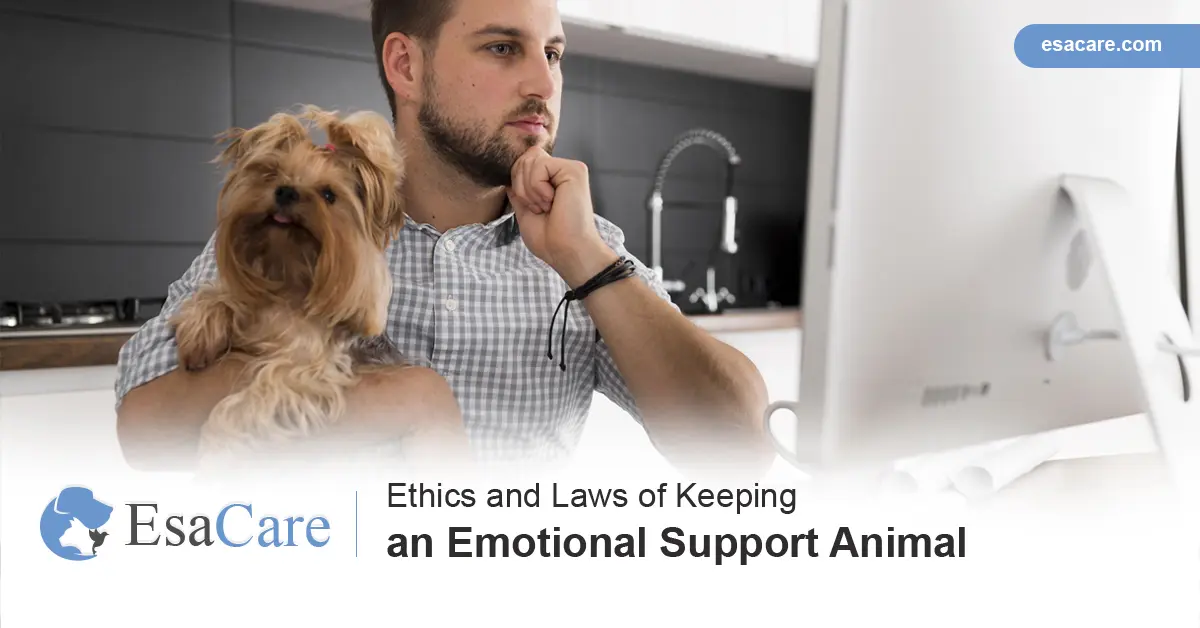 Though well-known for providing companionship and joy, animals also provide emotional support to patients battling mental health issues. The animals, in this instance, are called emotional support animals (ESAs). Their popularity has recently grown with the realization of their benefits, including improved physical health, reduced anxiety, and trauma support, among others. The increase of ESAs has informed the introduction of legislation that governs their use and ensures they do not get in other people's way.
Your ESA pet can improve your lifestyle – Click the button below.
Furthermore, there has been an ethical challenge for mental health specialists when asked to certify the use of an ESA. The specialists are caught between writing an ESA letter for a patient who might not truly need to use the animal or denying the request then losing a patient.
Below are tidbits on the laws and ethics that govern the keeping of an ESA.
Laws Governing ESAs
Two laws govern the keeping of an ESA. These are the ACAA (Air Carriers Access Act) and the FHA (Fair Housing Act).
The ACCA applies to flights within the U.S, U.S airlines, and flights departing from or coming to the U.S. The Act allows passengers to fly with their ESAs in the airplane's cabin for free. The Department of Transport guidelines on how passengers and airlines should comply with the ACCA from time to time. Airlines also have their policies on ESAs. You thus should check in advance and comply with them to ensure you are not inconvenienced at the last minute. Contact the airline not less than 48 hours before your flight and submit any necessary documents that allow you to travel with your ESA to make the necessary arrangements.
The following are some of the rules that apply to flights with an ESA:
Airlines must accommodate cats, miniature horses, and dogs as ESAs.

Airlines can limit ESAs to only one per passenger.

Airlines are prohibited from banning an ESA because of its breed, but they can do so if there is evidence that the ESA poses a health or safety risk to other passengers.

There should be no weight limit by an airline for an ESA, but it can determine if the animal will be too heavy or big for accommodation in the cabin.

Airlines can deny boarding for ''unusual animals'' used as ESAs, including snakes, ferrets, spiders, or rodents.
Don't wait anymore – Get your ESA letter in a few easy steps!
The FHA is designed to keep housing providers from discriminating against a tenant because he/she needs an ESA. ESAs are recognized under this Act as assistance animals that are ''reasonable accommodations'' for people who qualify for them. They are not ''normal pets'' and are exempt from the restrictions that housing providers might place on pets. The HUD issues periodic guidelines for this act. The agency also investigates complaints of discrimination against people with ESAs.
Below are some of the rules for housing providers under the FHA:
They cannot impose weight, size, and breed limitations on an ESA.

They cannot charge deposits or fees because of the ESA.

They cannot request detailed information on the medical history or condition of a tenant with an ESA.

They can deny accommodation if the ESA poses an undue financial burden on them or a health risk for other tenants.
Ethics of an ESA
Some patients might become angry when a doctor or therapist turns down their requests for an ESA letter. This causes an ethical issue for professionals. Is it ok to write an ESA letter even if the patient does not need the animal? Should they try and convince a patient to try other therapies for their conditions without making them feel like the expert does not understand their needs? Since there are no guidelines on the exact patients that qualify for an ESA letter, several sites and clinics have cropped up providing the letters without much screening. This abuse of the law makes some airlines and housing providers demand the submission of an ESA letter in advance to consider the credentials of the professional that issued it. It is best to work with certified doctors and therapists to ensure that they will only recommend treatments that help you.
Don't wait any longer to get an ESA. Click on the link below and get an ESA today!
Thanks to these tidbits, you are now conversant with the ethics and laws that govern an ESA. However, you can only enjoy the protections that the two laws governing ESAs extend if you have an ESA letter. Do not be fleeced by the many clinics or providers claiming to offer authentic ESA letters. Get your letter from a certified and ethical service provider so that you are sure that you have the law on your side when living or traveling with an ESA. EsaCare is one of the best online sites for an authentic ESA letter, and the letter is only issued to those who truly need an ESA.