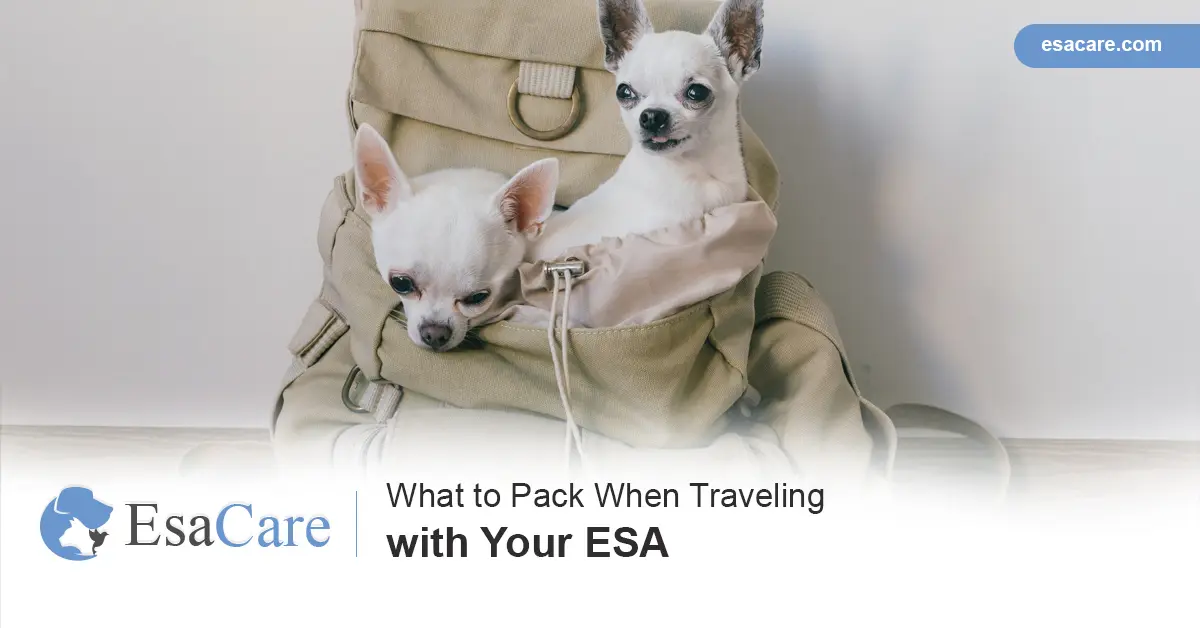 If you have a mental disability such as anxiety, depression, or any other psychological disorder, an emotional support animal (ESA) can offer you therapeutic benefits through comfort and companionship. However, if you travel often, you may be wondering whether you can travel with your ESA without additional costs.
Overcome anxiety with your ESA pet  – Click the button below.
If your companion has been registered as an ESA and you have an ESA letter, you can legally travel with them. The Americans legally protect you with the Disabilities Act, and this means that your ESA can accompany you in places where other pets are forbidden. Although you can travel with your ESA anywhere, there are some essentials that you should remember to carry.
Signed documentation by a medical professional
Your psychologist, psychiatrist, medical doctor, or a licensed clinical social worker treating you for an emotional or mental disability should sign the doctor's note. Additionally, the note should include the following:
Certification of animal's health from a veterinary
Generally, if you have an ESA, you should always carry a copy of your animals' recent vaccination records. Most airlines will require you to have a form filled by the animal's primary care provider, whereby they will include their name, date, license number, contact information, and signature.  
Your vet will also have to provide their professional opinion about the animals' state and whether it can be trusted to behave in hectic or crowded environments. Even if your vet believes that your ESA won't pose any direct threat to others' safety and health, they have to recommend measures that should be taken to transport your pet in the aircraft cabin safely. Some of the measures include:
Keep in mind that not all airlines will require this certification. However, because most airlines offer a thorough ESA request form, you can print out one and take it to your vet. Alternatively, if you plan to use multiple airlines, you may want to carry a non-branded veterinary form, which is typed or written on the official letterhead.
The vet form should include all the relevant information, including:
The type of animal
The animal breed

The weight, especially if it's over 20 pounds.

The last time your ESA received rabies and distemper vaccination, if applicable.
Get an authentic ESA letter by clicking the button below!
Signed confirmation of training
Some air carriers have some vague policies whereby they conduct a pet's physical observation to assess their behavior. They then determine whether the animal is well-trained before they can allow you to travel with it. This evaluation is amorphous, but it will often depend on the carrier.
That said, most airlines will ask for a more concrete statement that confirms that your ESA is trained to behave appropriately in public and take direction after a command. While they won't ask for an actual certificate or the trainer's name, the forms are designed to push you personally responsible.
A leash
Depending on the species of your ESA, a leash may be essential. Airports, bus stations, and ferry terminals tend to be crowded, and your pet can easily get anxious with all the movement and noise. A leash will also help you to maneuver your pet through large crowds.
Travel carrier
While this may seem obvious, if you have a small animal used to go with you, you may easily overlook packing a travel carrier. While not all ESAs will need or even fit in a travel carrier, sometimes you may need it, and you will be happy to have one in hand.
Traveling can be stressful for both people and pets, especially if it's your first time traveling with your ESA. However, it's a good idea to have a travel carrier for the first few times you travel with your pet to get them used to a train station or an airport's unusual environments.
Bedding or blanket
While you may be used to traveling, it may be a traumatizing first experience for your ESA pet. Therefore, you may want to make them as comfortable as possible. This is especially important if you're taking a long flight. During this time, a blanket or bedding will help them to catch a nap easily.
It is easy to get your hands on an ESA letter. Get yours now by clicking the button below.
Bottom Line
The worries and stress of everyday life can sometimes be overwhelming. For you to cope with these feelings, your doctor may have recommended that you get an ESA to provide you with comfort and other therapeutic benefits. However, because an ESA is not like an ordinary pet, you're allowed to travel with it without any restrictions, even to places where pets are forbidden.
But for you to travel with your pet comfortably, there are some essentials that you should carry, including the ESA letter, which is very important. If you don't have an ESA letter, we will evaluate your situation and prepare one for you.
Contact us today to book your appointment!