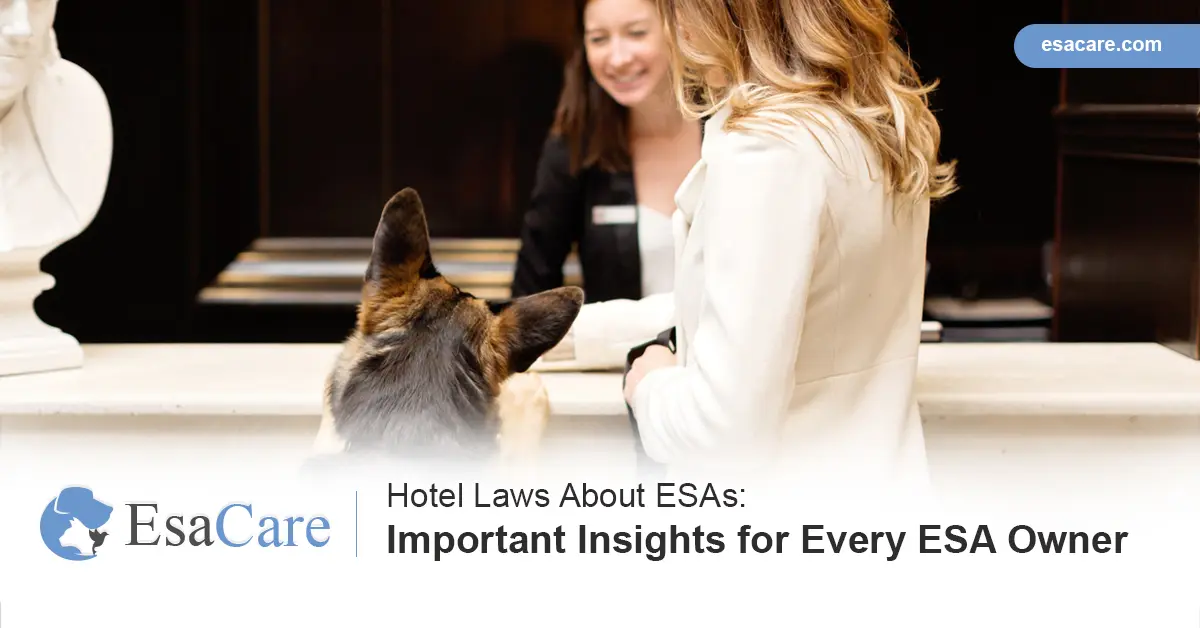 More and more people are becoming increasingly aware and sensitive to the crucial role that emotional support animals (ESAs) play in their owners' lives. This sensitization has led to the formulation and implantation of laws policies around allowing ESAs into certain areas, including hotels.
Your ESA pet can improve your lifestyle – Click the button below.

Can you take your ESA to a hotel? What, if anything, would you need to have your ESA accompany you to a hotel? There are no doubt some of the questions you may have as an ESA owner, and we will delve into answering them so you know what to expect.
Are ESAs Allowed in Hotels?
The short answer is no. There are no provisions in the ESAs hotels laws. This is because hotels and motels rightly belong in the category of temporary accommodations and not dwelling, as provided in the Fair Housing Amendments Act (FHAA.)For dwellings and permanent residences, your ESA would have access to the right to housing. The owner of the property would be legally required to allow your ESA into the premises.
With hotels, it all falls on the policy of the hotel. Some hotels are pet-friendly and can accommodate your ESA, while others have a strict no-pets policy. Those who take a hard stance against allowing ESAs into their premises reason that the animals do not provide physical support and may pose a safety threat to other hotel guests, especially young children. These hotels do not recognize the emotional and mental support provided by ESAs as an essential, arguing that you can stay without your animal for at least the duration of your stay at the hotel.
Thankfully, more and more hotels are becoming accepting of ESAs, thanks to, as already pointed out, the wealth of information that is out there on what it is that these animals do to help support the emotional and mental wellbeing of their owners.
Even among pet-friendly hotels, there may be restrictions on the type and size of animals they allow into their premises. While some hotels may allow dogs, others may not, so you will want to check the specifics beforehand.
Depending on the policy in place, you may need to pay an extra fee to have your ESA allowed into the hotel. The extra cost may be to cover setting up a better resting place for your animal and cleaning up after your ESA.
Finding a Pet-Friendly Hotel
These days, since more hotels have become accepting of pets, you are more than likely to be spoilt for choice. A simple internet search should return a list of hotels that allow pets. Some of the big names in the hotel industry, such as Best Western, Comfort Inn, Fairmont Hotels and Suites, Four Seasons Hotels and Suites, and Holiday Inn, have explicitly expressed their acceptance of ESAs in their premises.
You can also work with recommendations from friends and family who have stayed in hotels with their ESAs and other pets. After compiling your list of hotels, you can then review their pet policies' specifics online or over the phone. Enquire about any breed or size restrictions in addition to whether or not the pet accommodation will cost you extra.
Don't wait anymore – Get your ESA letter in a few easy steps!
Be Prepared
Making a decision on which hotel suits you best should be easier after reviewing the policies. While the hotel may not necessarily ask for it, you can never be too prepared and carry the relevant documentation.
Get an ESA letter and ensure that you carry it with you, just if the hotel may ask to have a look for verification purposes. The letter will contain all the pertinent information, including your doctor's details and why you have an ESA prescribed for you. You want to make sure that your letter is up-to-date, so ensure you take care of renewing it as need be before presenting it to the hotel's management.
Having your ESA wear a vest that identifies the animal as such also helps. Hotels recognize these vests and other items in the ID kit, and you can skip having to explain anything.
In Summary
No hotel is under any legal obligation to allow your ESA into their premises. Some will and others will not, under any circumstances, allow your animal into their hotel.
You should always carry your up-to-date ESA letter with you when you go to the hotel. Some may need to verify your details, and that is why the letter is important. Ensure you have enough to cover any extra costs that may apply to your ESA's accommodation, although not all hotels impose this extra charge.
Travel with your pet with an authentic ESA letter – Click the button below.
Get Your Letter
In 3 easy steps, you can get an ESA letter for your support animal. Your experience of checking into the pet-friendly hotels that allow ESAs should be fairly smooth with the letter.
Please Book an Appointment or Contact us at ESACare. To get an ESA Letter today!