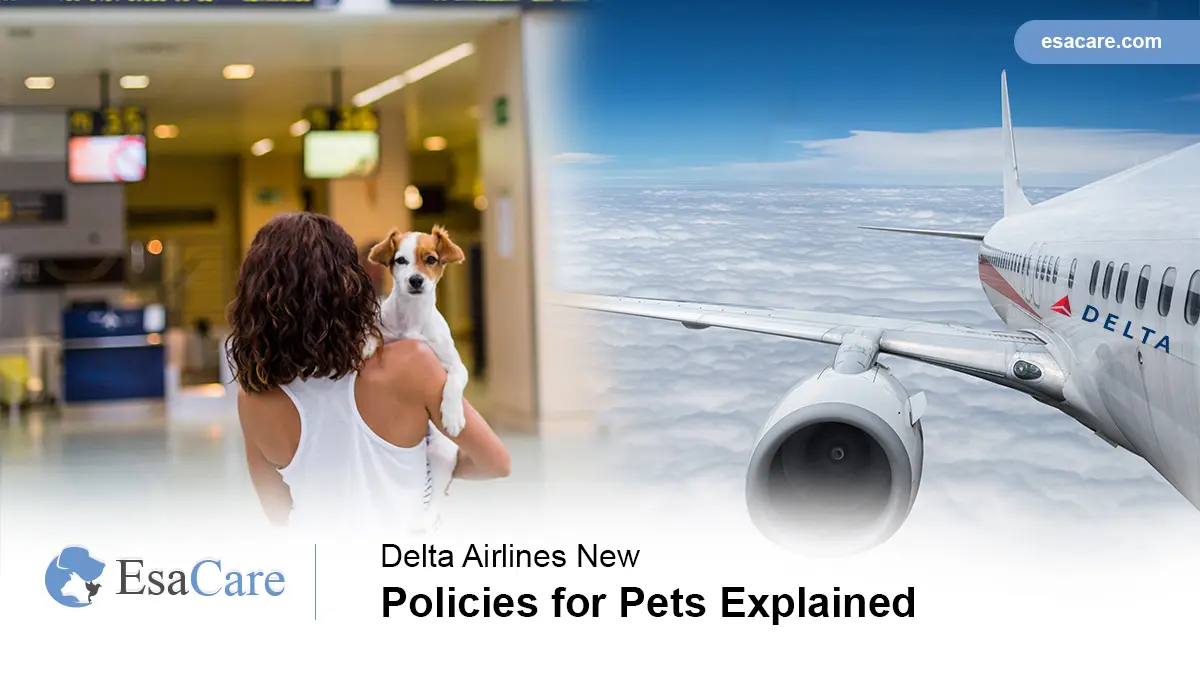 When flying with Delta Airlines, you can rest assured that the airline's priority is your health, comfort, and safety throughout the flight. However, the Delta traveling with pets policy has undergone numerous changes in the past year. Therefore, it is important that you carefully review the new Delta flying with pet guidelines to understand where the airline stands regarding pet travel.
Traveling with your ESA has never been easier – Experience it through our services.
As per the final directive issued by the U.S. Department of Transportation, Delta Airlines, among other airlines, added new restrictions and guidelines on pet travel.
Beginning January 11th, 2021, the airline would only accept confirmed emotional support animals and trained service animals that are dogs. More about this in the post.
The New Delta Traveling with Pets Policies
Pet travel has always been a significant issue with many airlines, with some airlines banning all pet travel altogether.
However, on Delta flights, you could travel with your trained service animal or confirmed ESA. Your dog would be expected to sit in the floor space under your seat or on your lap for the entire trip. However, whether you are traveling with your pet within the U.S. or other international destinations, the airline strives to give you and your pet a smooth travel experience.
As per the new Delta traveling with pets policies, the fees and rates for pets traveling with their owners within the U.S. or internationally vary, depending on the size of your dog and the length of the trip.
Update from the CDC
Effective July 14th, 2021, the CDC temporarily suspended dogs' travel from high-risk countries into the United States. The temporary suspension was placed for all countries that the CDC considers high-risk for dog rabies. This also included dogs arriving from countries not declared high risk, but the dogs had been in a high-risk country within the past six months.
Shipping Your Pet
Traveling with an emotional support animal on a plane can be a great experience, depending on the airline you're using and the type of service you receive. For example, Delta traveling with pets provides passengers with a special shipping service, allowing you to take your favorite friend with you on your travels.
Depending on your pet's size, Delta Airlines flying with pets allows you to travel as a carry-on or shipped as a special cargo.
Traveling with a Trained Service Animal or ESA Guidelines
You can travel with your trained service animal or emotional support dog in the floor space below your seat or seated on your lap on Delta flights. However, the size of your dog must not exceed the "footprint" of your seat.
Get Your ESA certification by clicking the button below.
Trained Service Animals
Delta flying with dog services are exempt only for dogs specifically trained to assist you with your disability. You may travel with no more than two trained service dogs at a time.
However, you must submit a filled DOT Service Animal Air Travel Form to the airline to validate your dog's health, training, and behavior. With larger trained service animals, the airline may need to re-accommodate you to avoid violating FAA regulations.
It is also important to note that some locations like the United Kingdom, Hawaii, and other island nations require additional requirements and quarantine laws that permit you and your dog entry.
Emotional Support Animals
You will need an ESA letter for flying per the U.S. Department of Transportation final rule for confirmed emotional support animals, effective January 11th, 2021. The new Delta traveling with pets policy prevents customers from reserving transport for their pets. The airline promised to honor all existing emotional support animal travel bookings on or after January 11th, 2021.
According to the airline's Pet Travel Policy, customers who want to travel with their pets can do so.
What Paperwork Do You Need When Flying with Your Dog on Delta?
Understanding the risks involved with pet traveling can help you better understand making your dog comfortable while traveling. Exposing your dog to unfamiliar environments, movements, and people can be a stressful experience for your dog. In addition, some animals may get injured, ill, escape, or die while traveling. Thus, the reason for placing new Delta Airlines flying with pets policies.
While obtaining a health certificate, make sure you discuss the risks involved with air travel. These include your dog's age and medical history of any pre-existing conditions. The breed of the animal may also be exacerbated during travel.
You also need a health certificate when shipping your dog as cargo. A licensed veterinarian must issue you a health certificate within ten days of transport.
Inappropriate Animal Behavior
Another critical Delta traveling with pets policy touches on animal behavior while traveling. While we understand just how important your dog is to you, we refuse to transport untrained service animals that may engage in aggressive or disruptive behavior.
Carry an authentic ESA letter to travel with your pet – Click the button below.
The Takeaway
These Delta Airlines travel with pets policies are meant to guide you on the proper steps to take when traveling with your dog. It's always a good idea to learn more about your rights to travel with your dog as a passenger.
You will need an ESA letter to prove you need an emotional support animal to travel with you on your flight. At ESACare, we have trained professionals to do a virtual assessment of your support animals. Get your emotional support animal letter by booking an appointment with Us today. Contact Us for more information on Delta traveling with pets policies.