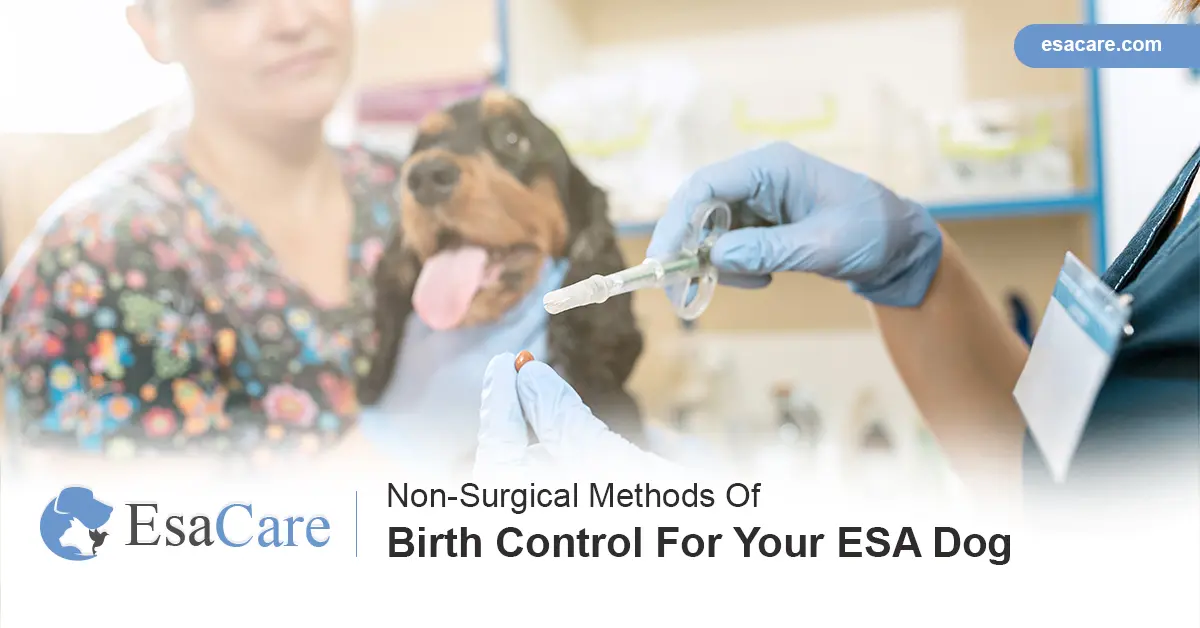 Birth control for dogs is a serious consideration when you have an Emotional Support Animal (ESA). You need your ESA 365 days a year so you don't want to bench your female dog to have puppies or deal with a male dog distracted by females in heat. The most common form of birth control for dogs is surgical sterilization via spaying or neutering. However, surgical birth control may not be ideal for every dog, especially because it requires anesthesia, adequate recovery time, and carries the risks inherent in any surgical procedure. Also, the procedure can entirely prevent a male or female dog from being able to fertilize or become pregnant. 
Stay mentally fit with your ESA pet! – Click the button below.
If you want your ESA to maintain his/her reproductive abilities or just don't want to subject him/her to an invasive procedure, you may want to consider non-surgical methods of birth control.
How Long Does a Dog's Heat Cycle Last?
In a female dog, puberty or sexual maturity occurs around 6 months of age, when the dog has reached 80% of her adult size. Smaller breeds may go into "heat" or estrous earlier and some bitches can have their first cycle as early as 4 months of age. Conversely, it can take up to 2 years for large breeds to come into heat for the first time. The estrous cycle is a recurring period of sexual receptivity and fertility, at which mating and pregnancy may occur.
On average, a heat cycle occurs every 6 to 8 months, although it varies from dog to dog. Small breeds get more regular cycles than larger breeds. It's common for some females to get 3 or 4 heat cycles in a year. Very large breeds may only have one estrous cycle every 12 to 18 months.
How long a dog is in heat varies but average 2 to 3 weeks for most dogs. While in heat, a female dog will experience a swollen vulva, more frequent urination, vaginal bleeding, or vaginal discharge. It ends when the vulva has returned to its normal size and the discharge has ceased.  A female dog in heat will be especially attractive to male dogs because she releases a pheromone known as Methyl p- hydroxybenzoate, which sexually arouses intact male dogs that pick up the scent.
Non-Surgical Birth Control for Your Emotional Support Dog
Dog Birth Control Injection
Male dogs can be sterilized using Zeuterin, an intratesticular injectable product containing zinc gluconate neutralized by arginine. This product is injected directly into the testicle where it causes testicular sclerosis, fibrosis of the testicular tissue, and permanent sterility. The product also destroys the sperm in all stages of development, making the dog infertile. 
Zeuterine was the first drug approved for the sterilization of companion animals. This dog anti-pregnancy injection has the advantage of being permanent after one administration and anesthesia is not needed. And since there's no noticeable difference in testicular size, this is a great option if you want your furry companion to retain his "masculine" look. The ideal candidates for this procedure are between 3 and 10 months.
Improve your mental health by keeping your ESA pet close by – Get your ESA letter today!
Dogs can also be given birth control pills. While this may work the same way as birth control pills used by humans, they are different. Dogs do not require monthly cyclic pills because they don't have a monthly cycle. Known as Megestrol, the birth control pill is administered at the beginning of the heat cycle for eight days. This will postpone the cycle and the ability to fertilize. 
The pill can be given in some meat whole or crushed up and added to a meal or snack, but the whole pill must be taken. What's more, you must give the pill to your ESA at the same time every day failure to which the cycle will start again. Dog birth control pills might be ideal if surgical risks are a concern, your ESA has experienced an adverse reaction to anesthesia, or you're undecided about whether you want your furry companion to have puppies in the future.
Dog Birth Control for Dogs Implants
Male dogs can be provided with an implanted contraceptive known as Suprelorin. This device is placed under the skin between the shoulder blades. It releases a hormone that prevents the production and release of testosterone. This stops the male hormone cycle and prevents sperm production, causing infertility while the implant remains in place. It also minimizes libido, so your emotional support dog will become less interested in bitches in season. This contraceptive method lasts for up to about 6 months and a new one must be inserted once the 6-month period is over. This is essentially a temporary chemical castration.
Compared to hormonal birth control products for female dogs, this device has few side effects. Currently, there's no implant device design for female canines because their hormonal cycle involves multiple hormones produced at different times.
Dog Birth Control Liquid Drops
Medical drops are a form of oral liquid contraceptives. These do not require to be administered over a long period of time. If you choose the Mibolerone liquid birth control solution, you'll be giving your ESA a daily dose of medication. Instead of elevating the hormone progesterone, his contraceptive works to keep estrogen levels low. Since the heat cycle is triggered by residing estrogen levels, Mibolerone works by keeping the cycle from starting. The heat cycle will begin after the treatment is discontinued. Typically, estrogen levels will naturally rise when estrogen levels are not suppressed by the medication. This is why the fluid should be administered every day.
Apply the fluid in your ESA's mouth or add it directly to her food. The administration should be done 30 days before the beginning of her cycle. The 30-day period is the minimum application time.
Bottom Line
You can fully enjoy the unconditional love and presence of your emotional support dog when you've reduced or eliminated reproduction-related distractions and behaviors. ESA Care can help you get a good ESA and an authentic ESA letter to ensure you obtain the best therapeutic benefit from your companion animal.
Contact us or book an appointment to get started.