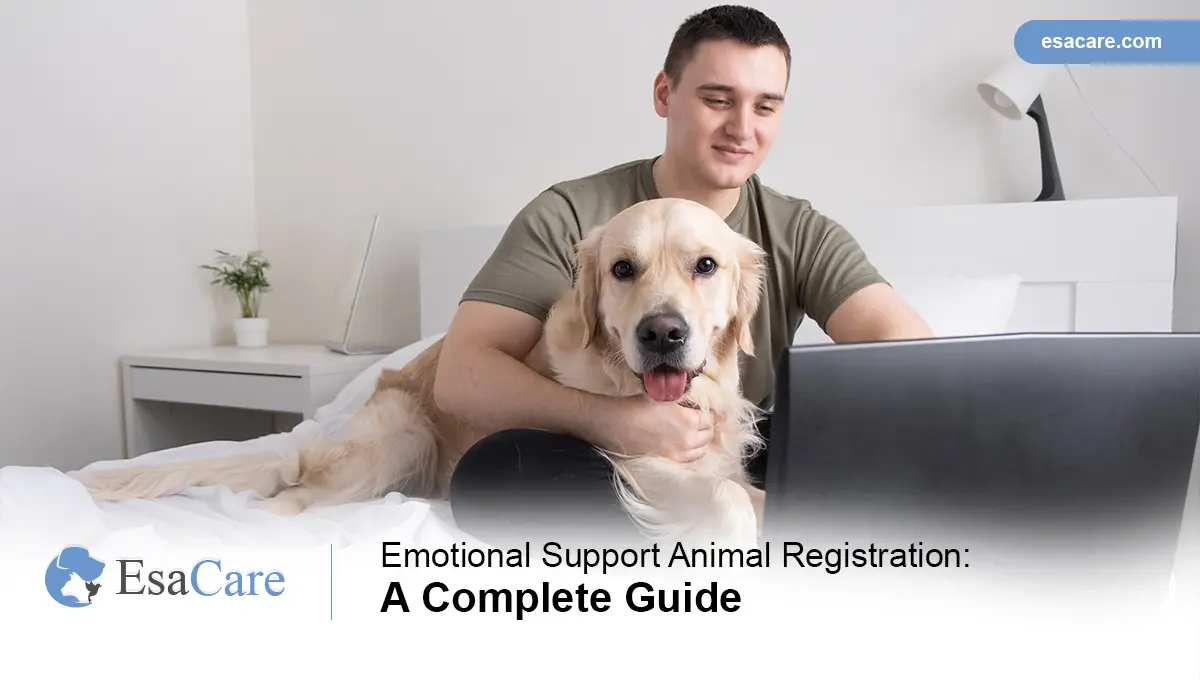 Do you need to fly and can't leave your pet at home?
If this is the case, you can register your pet as an emotional support animal. An ESA letter is your gateway to the best emotional support animal registration and to obtain one. In addition, you must have a diagnosis of mental illness. Many people think they need to register their pet as an assistance animal to be protected by federal law. However, this is not the case at all. 
If you're having mental health issues, get yourself an ESA Letter today!
If you're unsure where to begin and need a speedy answer, we've simplified the process of emotional support animal registration for you. 
1. Basics of Emotional Support Animal Registration
To start with your ESA registration, you must know what ESA registration is and the right way to register your pet as an ESA?
Legitimate Emotional Support Registration 
An emotional support animal letter signed by a licensed mental health professional (LMPH) is the only method for someone to be a legitimate ESA owner. If you are curious to know if you qualify for an ESA, read the Emotional support animal requirements below.
How Do I Register My Pet As ESA?
 There is no such thing as emotional support animal registration. The only way to register your dog or other pets as an emotional support animal is to get an ESA letter. You'll get your ESA letter from a health professional if you are diagnosed with a mental illness.
This letter must include the following information:
An official letterhead

The name of the licensed mental health professional (LMHP)

The name of the practice

Phone number of the practice

The type of medical license

Medical license issuance date

The state of the health professional's jurisdiction

The type of animal (e.g., dog or cat)

They are your health provider and currently treat you for a disability recognized in the Diagnostic and Statistical Manual (DSM).

Letter issuance date
How to Register an ESA Online?
ESA registration isn't something that exists. If you see any sites for online emotional support animal registration, they are misleading because you don't need to certify your dog as an ESA. As discussed earlier, the best way to register a cat/dog as an ESA is to obtain an ESA letter from a licensed mental health professional, including those who offer virtual services.
So, when seeking online ESA certification, please don't confuse it with ESA letters. According to the Fair Housing Act (FHA), an ESA letter is a must-have document for ESA registration. You can obtain an ESA letter online from the licensed mental health professionals working remotely, and it is as valid as seeing a health professional in person.
How To Register Your Dog As An ESA?
It is clear that to get a dog registered as a support animal now. But, first, you have to get an ESA letter. You can only get one through a qualified or licensed mental health professional. They are the ones who can approve you as an ESA owner and only them. 
Also, keep in mind that registering a dog as a service dog is different from emotional support dog registration. Service dogs assist people with physical impairments and psychiatric disorders. Therefore, the registration processes for a service dog and ESA are different.
Registering your dog as an ESA provides you with the following benefits: 
Recognize that you are a patient under the care of a licensed mental health professional for a mental or emotional disability on a case-by-case basis. 

Verification that you are significantly constrained by a mental impairment, such as depression or another mental health issue. 

Prescription for an emotional support dog, also known as a companion dog, is a vital reinforcement for your mental health.
2. Legal Requirements For Emotional Support Animals
To understand the benefits of the ESA letter, you must know the emotional support animal laws.
Emotional support animals are common in the U.S. and Canada. You can get ESA registration for America by applying for an ESA letter for housing, flying, or both. Learn more about the laws for emotional support animals below. 
U.S. Federal Laws
US ESA registration is protected by two following federal laws. 
Fair Housing Act (FHA)
The U.S. fair housing act provides specific accommodations under federal law to people living with emotional support animals. According to this act, people can not be discriminated against for a disability when obtaining housing. In addition, for people with valid ESA letters, rules such as pet bans or limitations are waived, and they cannot be charged a pet deposit for having the ESA reside with them. Exceptions are made based on if the emotional support animal is harmful to the property or others. 
Air Carrier Access Act (ACAA)
Discrimination against passengers is prohibited under the Air Carrer Access Act (ACAA) legislation. Therefore, if you need your animals to help relieve symptoms associated with your emotional or mental disability, airlines are required to accommodate passenger needs. 
However, The U.S. Department of Transportation (DOT) overhauled its rules for traveling with emotional support animals. According to the recommendations made in March 2021, ESAs can not fly in planes free of cost or be in a carrier. If you have to fly with your ESA, there's a chance they'll be subjected to the airline's standard pet restrictions. As a result, the airline may treat your emotional support animal as a pet, and you may be charged a pet fee.
So, while an airline must accept your valid emotional support animal letter to fly, you may be required to produce further documents. These documents could be veterinary health records or short records on animal behavior. But, again, it is entirely dependent on the ESA policy of the airline.
Get your Emotional Support Animal Letter today by booking an appointment at ESACare.
3. Rights of Emotional Support Animals
The use of animals for therapeutic benefit is well-established. However, the variety of animals that provide support and services to individuals with different disabilities has grown over the period. Legal rights protect the use of animals for emotional support. The federal laws help ensure individuals with service and emotional support animals can live with dignity, free from discrimination in housing, employment, and public places. Not all the perks of ESA are directed towards a person; your emotional support and animal also need to be looked after and protected. The owner of an ESA is responsible for providing necessary care for their pets' health and other necessities.
4. What Is An ESA Renewal?
ESA letters have a validity period of 12 months. When it is time to renew your ESA letter, you can ask the same therapist or doctor to write a letter considering your condition. The renewed letter will also have an issuance date and will be valid for one year from the date. The mentioned data is essential because when you apply for housing or have to fly, the date on your prescription letter is the first thing officials notice. Moreover, if you are renting a house, your landlord has a right to ask you for a new letter for your ESA. 
5. Prerequisites and Procedure of Getting An ESA Letter 
Remember, you can only qualify for an ESA letter after diagnosing a mental health condition. This part will assist you in knowing if you are eligible for an ESA letter or not. You'll also get answers to any other questions you have about applying and obtaining an ESA letter. 
ESAs can help you to deal with PTSD. Click the button below to get your ESA letter.
What Conditions Qualify For An Emotional Support Animal?
If a psychologist, therapist, psychiatrist, or other officially licensed or central health professional certifies you as emotionally disabled, you can qualify for a support animal.
Conditions that are eligible for emotional support animal include;
Depression 

Bipolar/mood disorders

Panic attacks

PTSD

Personality disorders

Fear/phobias

Other emotional/psychological conditions
6. Do You Qualify For an Emotional Support Animal?- Quiz
If you are not sure about your decision to get an ESA letter or emotional support animal, below is a quick and straightforward quiz for you. If you answered "yes" to more than four of the questions, you might be eligible for an ESA. 
Are you getting treatment for a mental health disorder?

Is your mental condition well documented?

Does your mental illness affect your life and emotions?

Do animals or your pet provides you with emotional support or serve as a stress reliever for you?

Do you know the difference between a service dog and an ESA?

Do you have a recommendation letter written by a mental health professional?

Does your ESA letter note the need for your emotional support animal?
How To Ask Your Therapist For an ESA Letter? 
If you are diagnosed with a mental health disorder by a mental health professional, you can ask your health provider to write an ESA letter for you. Your ESA letter will act as a prescription for ESA. You can make a start by telling your therapist about how your pet or an animal companion has been a great support for you to deal with your current state. Many health professionals specialize in emotional support animals and acknowledge their importance.
How Long Does It Take To Get an ESA Letter?
If you are currently visiting a licensed mental health professional(LMPH), getting an ESA letter as soon as feasible should not be difficult; it is usually a process that takes only one or two days. Furthermore, online platforms that provide authentic consultation are the most convenient to interact with a registered health practitioner. Online visits can help you acquire an ESA letter from your doctor in a matter of days. However, the online platforms that automatically generate your ESA paperwork without your doctor's consultation are scams and a waste of time. 
7. FAQs About Emotional Support Animals
Do you have to pay pet fees for ESA?
Any emotional support animal must be exempt from pet costs under federal fair housing legislation. So, you don't have to pay a pet fee for housing with your ESA. However, you might be subjected to a pet fee when flying with your ESA. 
How do I register my cat as ESA? 
Registering your cat as an ESA is the same as registering your dog or any other pet. Firstly, contact a health professional and then qualify for an ESA letter from a health professional. 
ESAs can improve your overall mental health. Click the button below to get your ESA letter.
Can I register my dog without papers? 
An ESA letter from a health professional is your only paper for registering your dog. In addition, the ESA letter is the only valid proof you'll need to take advantage of the privileges that ESA owners are entitled to under the legislation. 
Is a vest or collar required to distinguish my emotional support animal?
No, a vest or a collar is not necessary to distinguish your emotional support animal, but you can use it at your personal choice. For example, you can print emotional support animals on your pet's vest, or you can digitally download an ESA letter to your mobile phone to show it when required. 
The EndNote
The bottom line is that registering your emotional support animal will not safeguard your rights to live with them or fly with them as an ESA owner. You have to get an ESA letter from a licensed health professional. However, remember that getting an ESA letter will not be possible unless you are diagnosed with a mental illness. 
Only a licensed healthcare professional can determine whether an ESA would benefit you and whether you would be eligible for one. So, connect with a registered healthcare expert to explore your potential need for an emotional support animal in a quick, straightforward, and confidential manner.
ESACare is the doorway to connect you with the professionals who understand this field. ESA care consists of teams of licensed professionals familiar with ESA requirements under the Fair Housing Act and guidelines issued by the U.S. Department of Housing.
Reach us at ESACare at (833)916-0637 and book an appointment right now for approval.