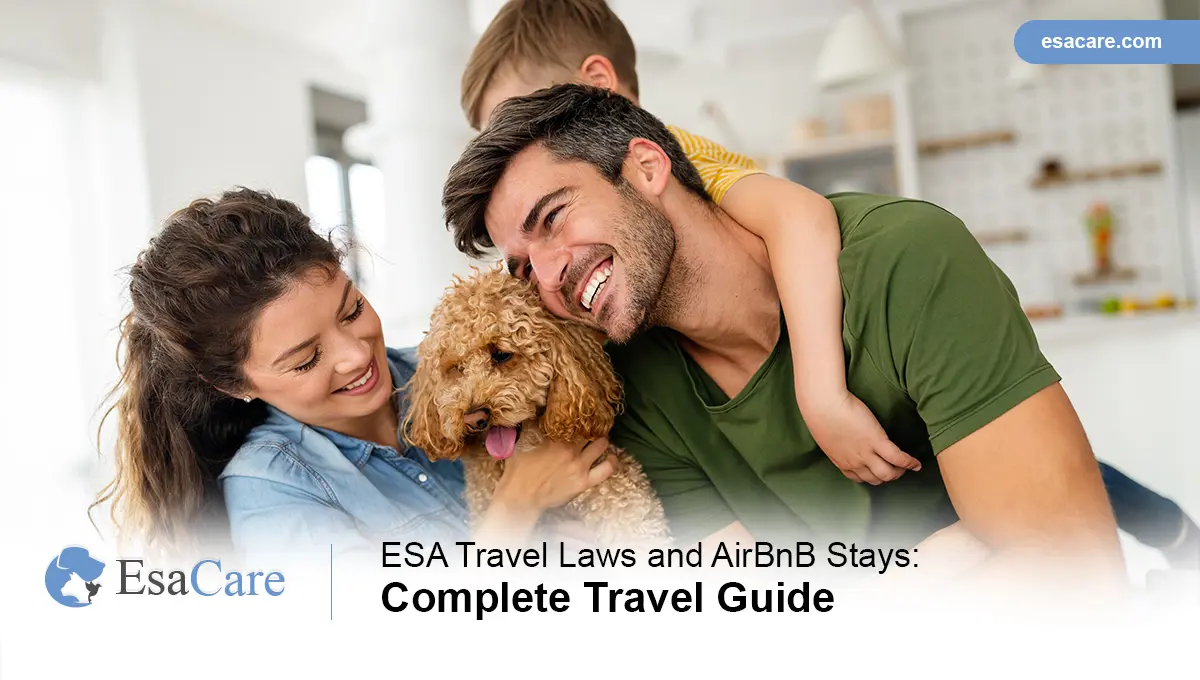 The U.S. Department of Transportation has revised the restrictions regarding emotional support animals and service dogs on flights in a new policy implemented in December 2020.
Your ESA pet can improve your lifestyle – Click the button below.
If you are an individual with a certified mental disability and planning to fly with your ESA companion, reading this blog is crucial to understand all the updates on ESA travel laws and pet-friendly Airbnbs stays.
Let's get down!
1. How to fly with ESA? ESA travel laws and formalities
Emotional support animals are different from regular pets because they serve people with mental health issues and disabilities. Eligible individuals can get their ESA letters from licensed mental health professionals.
What are the ESA travel laws on a flight?
The U.S. Department of Transportation has recently revised its Air Carrier Access Act (ACAA) regulation on the transportation of service animals and emotional support animals to make the transportation system safe.
In the past, people with mental health issues having an authentic ESA letter were allowed to take their emotional support animals with them on a flight. The emotional support animals were even allowed to stay in the cabin. However, ESA and pets have been wholly restricted on flights in the past few months, but the ACAA has uplifted many restrictions and introduced the ' Final Rules.
What is the ESA Traveling laws in different states?
Most U.S. states follow the same ESA travel laws.
States
Travel law

California

Washington

New York

Chicago

Texas

Florida

Illinois

Virginia

Ohio

Kansas

Oregon

Arizona

Michigan

Nevada

Utah

Oakland

ESAs will be charged a fee depending on the airline policy and are considered pets.
What paperwork do I need to fly with ESA?
The paperwork required to fly with your ESA usually include the following;
The ESA letter – The official document signed by a certified mental health expert.
The DOT forms – You must-have new DOT forms, which should;
Confirm that the ESA/pet will behave itself and won't be trouble on the flight
Confirm that the animal wouldn't need to relieve itself during the entire flight
Note: Airlines can demand specific documents depending upon the ESA travel laws and specific flight policies with or without 48 hours advance ESA travel notice.
You will have to make sure that documents;
Must not be older than a year.
Must state that the individual qualifies under DSM criteria of mental or emotional disability.
Must state that the ESA is needed in the flight and also at the traveler's destination.
Apart from these obligations, the documents must also prove that a mental health expert is treating the individual along with the licensure of the mental health expert and the state/jurisdiction of license issuance.
List of the airlines which are ESA friendly:
The below-listed Airlines are completely ESA friendly for you to take your furry animals along with you on flights. 
American Airlines
United Airlines
Delta airlines
Southwest Airlines
JetBlue
Allegiant Air
Frontier Airlines
Alaska Airlines
Hawaiian Airlines
Next, Which Airlines are allowing pets right now? And Do United Airlines allow pets?
Delta Airlines, United Airlines, and Southwest Airlines currently accept pets in the cabin if they are approved to travel on a plane according to airlines policies and under ESA travel laws, respectively. However, these airlines are not carrying crated animals as cargo.
Which airline has the best pet policy?
Each airline has its specific pet policies following the changes in ESA travel laws. And almost all airlines require a carrier that allows enough space for your ESA to stand, change direction, and lie down under the seat.
However, if your pet is flying as luggage, enough ventilation should be provided. Some airlines might even restrict the number of pets you can travel with on a plane.
You can check for different airlines to suit your ESA needs.
Book an Appointment at ESACare. To get an ESA Letter today!
Listed below in the table are some best airlines along with their pet policy: 
1. American Airlines
Small pets
Must be at least 8 weeks old
Weight may not exceed above 20lbs
2. United Airlines 
Dogs and cats are allowed.
Only 2 dogs are allowed in the cabin.
If the pet can not fly with you, you may use their pet transportation service called 'PetSafe.'
3. Delta Airlines 
Dogs, cats, and household birds are allowed on domestic flights.
The number of animals is limited to flying in the coach, business class, and first-class.
The ESAs can only fly in the cabin if they fit underneath the seat and stay in their carrier.
4. Southwest Airlines
Only vaccinated small cats and dogs are allowed on domestic flights.
Six pet carriers are allowed per flight based on first-come-first-served.
There is no strict documentation policy, but the pet's vaccination should be up-to-date according to the current ESA travel laws.
5. JetBlue
Small dogs and cats
Offer 'JetPaws' an exclusive program with tools and tips for individuals flying with an ESA for a smooth flight
Allows four pets per flight
6. Allegiant Air 
Cats and dogs if flying within the;
Contiguous 48 U.S states
San Juan
Puerto Rico
Don't require any health certificates  
7. Frontier Airlines
Only dogs and cats are allowed in the cabin.
Does not explicitly require health certificates depending on the states you are flying to, but you will need them for international flights.
8. Alaska Airlines 
Dogs and cats (at least 8 weeks old)
Household birds and rabbits in the cabin
A variety of pets are allowed
The first-class cabin can only accommodate 1 pet
9. Hawaiian Airlines
Small cats and dogs in the cabin
Reservation of your pet's ticket in advance is important
Animals are not accepted on international flights to or from New York-JFK, Boston, Orlando, or Austin
Don't wait anymore – Get your ESA letter in a few easy steps!
2. Does Airbnb allow pets? Rules and Policies
If you plan to fly with your furry friends and stay at an Airbnb, then knowing the current Airbnb pet policies and perks is as vital as learning the ESA travel laws in detail.
Airbnbs are known to provide many benefits and excellent facilities to your ESA; however, you will have to follow some specific guidelines related to Airbnb pet policy and laws.
What is the Airbnb pet policy?
Airbnb has a clear pet policy for assistance animals, service animals, and emotional support animals.
The Airbnb nondiscrimination policy is for the ease of both hosts and guests to provide an experience of a high-quality personalized stay.
The Airbnb hosts:
Can accept and deny your stay with an ESA depending on many factors.
The host has the full right to protect the integrity of the property as well as the entire Airbnb hosting business.
Other than that:
Airbnb does not require any ESA letter.
The host can ask for any specific training of your ESA necessary for your disability.
However, it is always better to contact your Airbnb owner in advance and discuss all the essential details required to stay with your ESA so that you don't have to make any last-minute changes and cancellations.
So, What percentage of Airbnb allows pets?
On average, around 3% of Airbnb in the United States of America allows accommodations for pets and emotional support animals.
List of best pet-friendly Airbnb 
The following listed Airbnbs are totally pet friendly and offer many pet animal perks for their guests;
Scottsdale, Arizona
One-Bedroom – Portland, Oregon
Staypineapple – Boston, Massachusetts
Pisgah Highlands Off-Grid Cabin – North Carolina
La Jolla Dream House- San Diego, California
Pāhoa, Hawaii
Adobe Casita – Albuquerque, New Mexico
Mill Valley, California
Seattle – Washington
Can Airbnb deny your ESA?
Generally, the Airbnb pet policy is quite clear to stay with your ESA. Still, the property owner does have the right to deny your ESA based on health and safety concerns.
The significant factors in your ESA denial might be:
Lack of in-house training for your animal
You are not able to control your animal.
If you are looking for a shared space, the other guests feel health and safety concerns due to your animal.
If you smoke and the owner minds that.
You don't meet the diet standard of the place owner. Some owners might be vegetarian and wouldn't allow non-vegetarian pet food at their place.
Moving on to the Airbnb pet policy violation
Some Airbnb does not allow pets at their place, and owners have usually set up specific rules and regulations even if they enable ESAs. It would be best if you stuck to the pet-friendly Airbnbs to stay out of the risks of violating pet policy. If your animal has proven property damage, simply breaking the no-pet rule might make you pay a compensation amount.
3. Benefits of pet-friendly Airbnb as compared to hotels
Since the ESA travel laws, restrictions have been relaxed. As a result, you get flexibility in traveling with your furry companion, which gives you many options for staying both at Airbnb and hotels for great accommodations.
But the perks, facilities, and ease of staying at a pet-friendly Airbnb have a significant edge over staying with your ESA at a hotel.
Pet-friendly Airbnb vs. traditional hotels
The following summarizes the characteristics of both pet-friendly Airbnb and traditional hotels to bring clarity for choosing a pet-friendly Airbnb over hotels;
Pet-friendly Airbnb
Hotels 
The overall space is much larger for your ESA to stay with you.
The hotels have a tight space that is usually compact for a pet to move around.
Usually has many open spaces accessible for your ESA, such as; lawns, terraces, backyards, indoor and outdoor hot tubs, etc.
Hotel accommodations are usually closed spaces limited to hallways, rooms, and lounges only.
They are usually located in the neighborhood, and you and your ESA can get a homey feeling.
Hotels are typical commercial areas with no neighborhoods, and your pet might not adapt to a different environment than home easily.
Property owners are very responsive towards attending to their guests and catering to all the needs related to their pets.
The hotel staff is not specifically trained to cater to the on-site issues related to pets and ESAs and may fail to address issues and queries related to your stay with ESA.
The rent of Airbnb is much less than that of a hotel stay.
The price of staying in a hotel with your pet could be twice as much as that of a pet-friendly Airbnb.
Does Airbnb charge extra for pets? 
Usually, Airbnb does not charge an extra standard fee for pets. But some property owners might include their pet charges, such as;
Cleaning charges
Acute property damages
Cumulative damage to the property
Does Airbnb allow service animals?
Yes, pet-friendly Airbnb does allow service animals as per the nondiscrimination policy. The host may only deny service animals if there is a concern of health and safety issues.
Book an Appointment at ESACare. To get an ESA Letter today!
How to find a pet-friendly Airbnb?
There are many practical ways of finding a pet-friendly Airbnb, such as;
Research the booking listings and see if Airbnb is listed as 'pet-friendly' or has a no-pet policy.
You can also check if the home rental advertisements and websites have mentioned any pet fees related to service dogs or cleaning charges; if so, that place must be pet-friendly and ideal for you to stay with your ESA.
It would be best if you preferred to be transparent and disclose to your host that you are about to bring your ESA with you. It will clarify the situation and save you from any future disagreement.
Research vacation rental sites with 'pet allowed' filters to find pet-friendly Airbnb.
Research for rental places with fenced yards and large open spaces because such house owners let you bring your ESA more quickly than those with compact spaces.
4. Landing on the Last Chapter
Pros and cons of traveling with an ESA on a plane
There are countless benefits of an ESA letter for a person with a clinical diagnosis of a mental disability. For example, according to the ESA travel laws, you need to have an authentic letter from a licensed mental health expert. Then you are allowed to bring your individually trained emotional support, furry companion, with you.
Although there are many perks of traveling with your assistance animals (i.e., service dogs, emotional support dogs/cats, etc.) who are specifically trained to work for your mental stability and ease, still, there are some drawbacks associated with traveling with an ESA on a plane too.
Keep reading,
Pros of traveling with an ESA on a plane:
Your ESA can help reduce your anxiety during the entire flight.
Emotional support animals provide excellent support on the plane if you fear flying.
Emotional support animals work in conjunction with your treatment plan and counseling for many mental health issues.
ESA owners find it easy to stabilize their intense emotions in the presence of their furry companion
An emotional support animal could be your social support while traveling to new destinations and flying away from home.
The presence of your emotional support animal is crucial if you suffer from sudden anxiety and panic attacks, as your ESA is specifically trained to manage the symptoms of your mental issue and helps to tone them down.
Traveling with your ESA makes it more fun and comfortable if you travel long distances.
Cons of traveling with an ESA on a plane:
As the restrictions of flying with an ESA have been raised under the recent ESA travel laws, taking your ESA on a flight can be expensive, depending on the policies of different airlines.
An animal on the plane can be stressful if you fail to keep your pet in the carriage.
The presence and dependence of your ESA with you on a plane may change your travel plans.
You need to have an extra room for your pet's necessities in your luggage and hand carry, for example, pet food, etc.
The Bottom Line
ESA travel laws have differentiated between assistance and service animals, and ESAs are now supposed to be categorized as pets. In addition, many airlines allow you to travel with your ESA for countless benefits and personal eas,e.
Moreover, traveling with ESA has become even more fun due to the availability of pet-friendly Airbnb. As a result, Airbnb has a more significant edge over traditional hotels in many ways and is highly trending among ESA owners.
Remember, it is always best to talk to the Airbnb property owners in advance and make a transparent conversation about bringing your ESA.
The magic of pure companionship and the luxury of having the perfect emotional support animal with you while you are traveling, on flights, or at home starts with an authentic ESA letter. 
If you want to take your emotional support animal on a plane with you, you will require a genuine ESA letter from a licensed mental health professional as per the ESA travel laws. Contact us at ESAcare at (833)916-0637 and book an appointment right now to get your 100% authentic ESA letter from a certified mental health expert and complete guidance on flying with your ESA.