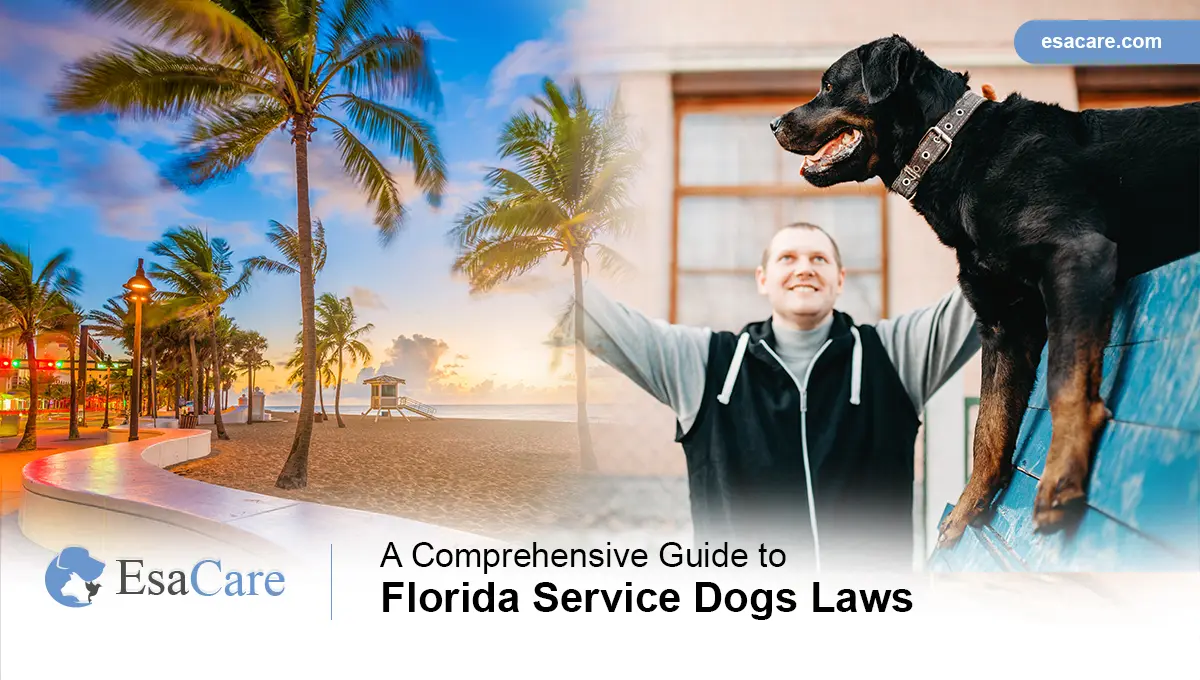 Service dogs play a critical role in helping people with various disabilities. For this reason, both federal and state governments have laws to protect these dogs and their handlers. Most of these laws are similar. But each state may have slight variations to its rules.
Get a PSD letter today to enjoy the perks of having your psychiatric service dog in Florida!
Let's consider the main provisions of Florida service dog laws.  
Service Dog Requirements in Florida
Florida service dogs laws define service dogs in the same way as the ADA. According to service dogs laws in Florida, a service animal must be trained to perform work or tasks for a person with a disability. Disability can be physical or mental.  
The tasks that service dogs perform depend on the type of disability. These tasks include:
Guiding a person with visual impairment or blindness

Pulling a wheelchair

Alerting a person with a hearing problem

Providing support to a person with mobility problems

Alerting a person who is having a seizure

Retrieving and carrying items such as grocery bags, medicines, and phones
Service dogs can perform many more tasks depending on the training. However, emotional support does not count as a service dog task. That's because dogs can offer emotional support without receiving training. Likewise, an emotional support animal is not a service animal and thereby, doesn't follow the Florida service dogs laws.
In service dogs laws in Florida, service animals must be dogs or miniature horses. You can have any dog breed as a service dog. These dogs are working animals and not pets. So the laws that apply to pets do not apply to service dogs.  
To have a service dog in Florida, you must fulfill two requirements.
1) You must have a qualifying disability.
2) The dog must receive training to help you with your disability.
Anyone who claims to own a service dog without meeting those requirements commits a second-degree misdemeanor.
According to Florida service dog laws, that person must serve 30 hours of community service in an organization that assists people with disabilities. The same applies to those misrepresenting themselves as service dog trainers.    
Do Service Dogs Have to Be Registered in Florida
The ADA and the Florida service dogs laws don't require the registration of service dogs. So there's no legal provision on how to register a service dog in Florida. But some organizations may provide registration services.
You can register service dogs in Florida through such organizations. However, these registrations are voluntary and don't affect your right as a service dog handler. Moreover, service dogs laws in Florida don't require you to dress your dog in identification vests. But you can do it if you choose.
Florida service dogs laws don't require you to carry registration documents to access public facilities.
Anyone who needs to know whether your dog is a service dog or not is allowed to ask two questions.
1) Whether the dog is a service dog required for disability.
2) What tasks does the dog perform. 
Any more questioning can amount to an infringement of privacy rights.
PSDs can help you to deal with PTSD. Click the button below to get your PSD letter.
Your Responsibility Towards Service Dogs
Florida service dogs laws require you to harness or put a leash on your service dog whenever in public. But sometimes, you may be exempted from that requirement. The exemption comes when your disability makes it hard for you to tether your canine and when doing so would limit the dog's ability to perform tasks.  
If you can't harness your dog, you must be able to command the dog in other ways, such as using your voice or signs. Otherwise, if your dog gets out of control and you fail to take action, others can remove the dog from the premises.
Having allergies or fear of dogs isn't a valid reason to exclude a service dog. If a public attendant removes your dog from the public facility, you can still get services without the dog. The attendant can make arrangements to provide you with support where you can't use your dog.
How to Get a Service Dog in Florida
Where and how you get a service dog may depend on your type of disability. If you're wondering how to get a service dog in Florida for anxiety, you have two options. First, you can buy a service dog that has already received training. Secondly, you can train your current dog to be a service dog.  
Buying a service dog is quicker but relatively expensive. If you want a cheaper option, you may consider hiring a professional dog trainer. Though costly than training the dog yourself, it can give better results.    
Trainers of service animals in Florida have the same rights as the handlers. That means they have access to public facilities. And in case the dogs cause any damage during training, the trainers are personally liable.
Public Accommodation for Service Dogs
If you have a qualifying disability and a trained service dog, you have the right to access public facilities with your dog. A policy that prohibits pets in such places doesn't apply to you. After all, according to Florida service dogs laws, your service dog isn't a pet but a working dog.
Florida laws on service dogs give you the same public access rights as any other person. You can take your dog to hotels, parks, grocery stores, schools, and public transport. You shouldn't pay extra charges for airlines or apartments, even if the policies require pet owners to pay surcharges.
However, you might need to present documents showing that your dog is immunized and is well behaved before traveling with an airline. You may also want to ensure that your service dog isn't too large to fit in the airline cabin. Keep in mind that airlines may have different policies. So it's essential to check these policies in advance and inform the relevant authorities that you'll be traveling with your service dog.
Florida service animals' laws don't require service dog registration or documentation. However, some people find it convenient to carry some form of evidence. This evidence is a letter written by a medical professional. It shows that you have a disability that makes it necessary to have a service dog. With such a document, you set yourself aside from regular pet owners.  
Conditions PSD Animal Treats with their Presence –  Click the button below!
Conclusion
If you would like to get such a document, ESA Care can help you. We provide PSD and ESA letters for people with mental disabilities. Our licensed mental health professionals will conduct an online assessment to determine your qualification.
Get in touch with us to book an appointment!