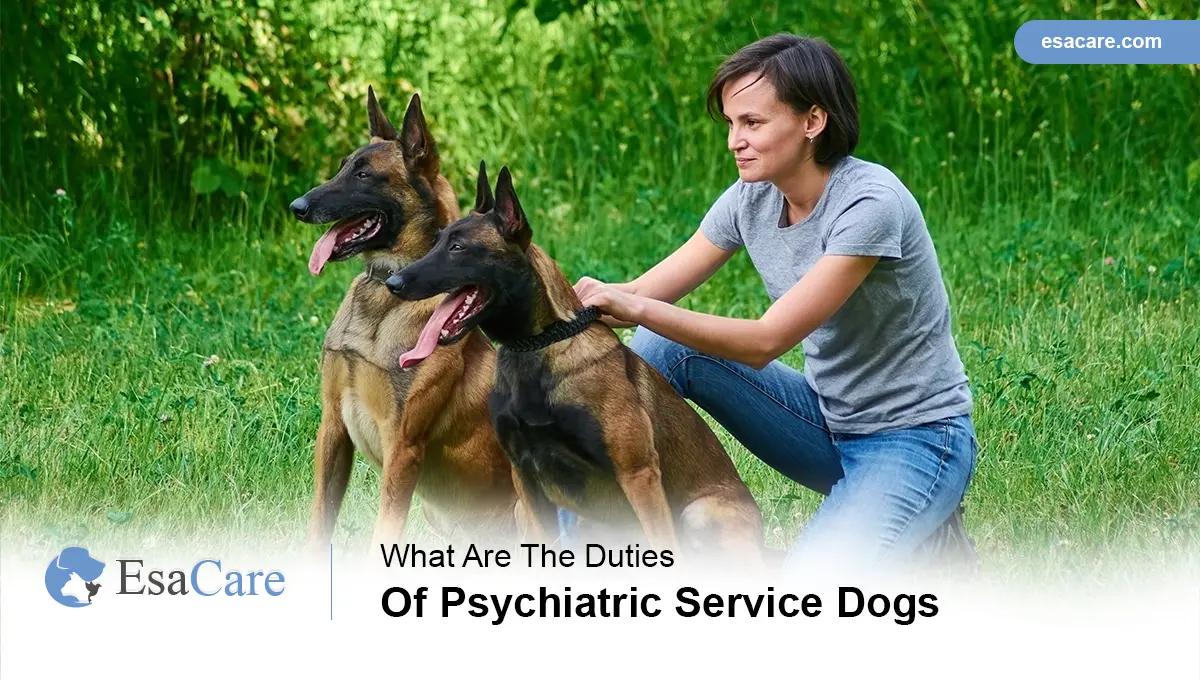 Psychiatric Service Dogs (PSD) provide critical help to people living with mental disabilities. A well-trained dog can perform many tasks that accelerate the handler's recovery. In many instances, these dogs eliminate the need to have a full-time human assistant.
So, what are the duties of PSD? First, we'll consider some of the service dog tasks for psychiatric disabilities. But first, let's see whether there's a bare minimum number of duties of PSD.
Looking for a PSD Letter for your dog? Click the button below!
How Many Tasks Must A Service Dog Perform
Some organizations have their own internal standards of how many tasks a psychiatric service dog should perform. Unfortunately, it's easy to confuse such internal standards with the law. According to the Americans with Disabilities Act (ADA), a service animal is a dog trained to perform specific work or tasks for a person with a disability.
According to this law, a service dog can perform work, tasks, or both. Tasks are the activities you request the dog to perform. For instance, sending the dog to retrieve your medicine.
Work, on the other hand, is an activity that the dog does without your command. For instance, when you start a harmful behavior like scratching yourself, the dog interrupts the behavior without your command.
Now, the law does not mention the minimum number of duties of PSD. So, it's generally assumed that a service dog should perform at least one task. But then again, the law also states that a service dog can perform either work or tasks.
This means a dog that performs work does not need to perform tasks. So, provided the dog performs at least one task or work that's directly connected to your disability, the dog is a service dog.
Rules & Provisions for Psychiatric Service Dogs
ADA has clear regulations against discrimination against people with disabilities. This applies to employment, transportation, commercial facilities, and public accommodation. For example, a handler of a psychiatric service dog can take the dog to public transport, commercial facilities, schools, and hotels.
A student can attend classes with the service dog and even live with the dog in school hostels. Likewise, an employee can take the service dog to work in the same context, provided the dog does not disrupt work.
Considering that a service dog is not a pet, a no pet policy does not apply to you. Simply put, you can take a psychiatric service dog wherever people are allowed to go. Having a dog allergy or fear of dogs is not a reason for an attendant to deny you entrance to a public facility. An arrangement must be made to accommodate both parties.
However, if the dog poses a threat to public health, especially in a place where food is prepared, then you can't take the dog to such a place. The same applies if the dog becomes uncontrollable, such as growling at people or barking excessively.  
Provided the dog does not disrupt peace or raise health and safety concerns, you can go with the dog anywhere.
So, what tasks can a psychiatric service dog perform? Here are some duties of PSD.
PSDs can help you to deal with PTSD. Click the button below to get your PSD letter.
Duties of Psychiatric Service Dog
Unlike dogs for emotional support, psychiatric service dogs don't provide comfort by mere presence. They do that by taking specific actions essential to the dog's handler. What are some of the duties of PSD?
Below is a more comprehensive psychiatric service dog tasks list.
Interrupting behavior such as self-injury, scratching, and shaking.

Standing in front of you to secure your personal space while in public.

Keeping you engaged by maintaining eye contact.

Locating the exit, your house, or your car.

Retrieving medication and fetching other items like a phone or water bottle.

Warning you when your blood pressure is low.

Calming you down through embracement.

Performing deep pressure therapy by compressing your body or lying on you.

Guiding you from a stressful public area.

Performing room search and turning the lights on for a person with PTSD.
These psychiatric service dog tasks do not cover everything a service dog can do, but they represent most duties of PSD.
Psychiatric service dogs have been trained to look for symptoms in the handler before taking action. For example, some have been trained to use their sense of smell to tell when the handler's blood pressure is low.   
What symptoms will the dog be looking for if a person is suffering from anxiety, and how will the dog help?
Let's check out some psychiatric service dog tasks for anxiety.
Service Dogs for Anxiety
What tasks do service dogs perform for anxiety? Service dogs for anxiety look for signs such as heavy breathing, sobbing, scratching, and restlessness, among others. Duties of PSD that help with anxiety include behavioral interruptions, tactile simulation, and grounding the handler.
When interrupting your behavior, the service dogs put their head on your arms, blocking whatever you were doing. As a result, your mind is redirected to the dog.
Once you start petting the dog, you start calming down and forget your anxious thoughts. But, with time, these interruptions will act as reminders that you're doing something wrong. So, your brain will gradually learn to stop the harmful behavior.
If you're in a critical condition and need human intervention, you can command the dog to get help. The dog will identify the nearest person and direct them to you for further assistance.
Conditions PSD Animal Treats with their Presence –  Click the button below!
Why You Should Get A PSD
Considering all the duties of a PSD, you can gain a lot from these dogs if you have a mental health issue. Best of all, you don't need a dog trained to do multiple tasks. At least one task is enough to get started. Then, with time, you can train your dog to do other tasks.
If you have a mental disability and don't have a PSD, why not consider getting one? And if you have one, it's always essential to get a PSD letter. This letter will provide sufficient evidence when people mistake your service dog for a pet.
At ESA Care, we can help you get a PSD or ESA letter within a short time. We have licensed mental health specialists who can perform an online assessment and approval for the letter.
Get in touch with us through our contact, and we'll be glad to help.