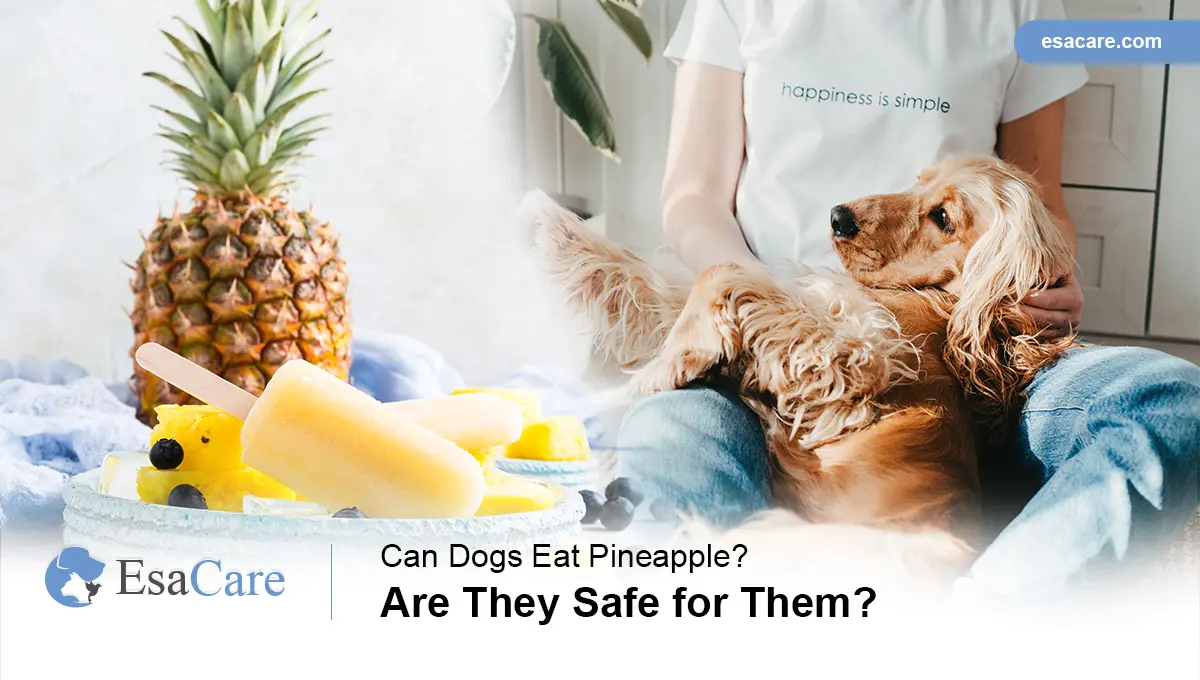 Many people love pineapple because it is sweet, tart, and tangy. However, pineapple in moderation can be a healthy treat for your dogs. Whether raw or ripe, pineapple has plenty of vitamin C, vitamin B6, niacin, thiamin, and folate. Plus, pineapple contains manganese, copper, magnesium, iron, potassium, and calcium, zinc, and phosphorus traces. This combination of nutrients makes pineapple a perfect snack for human beings and dogs. In addition, each nutrient plays a significant role in the dog's digestive health and immune system. As such, pineapple is a wonderful, nutrient-dense fruit for dogs. Now, this vital information provides a well-explained answer to the question, "can dogs eat pineapple?"
Keep your Mental Health strong with ESA Pet – Click the button below.
What Happens if Dogs Eat Pineapple?
Is pineapple good for dogs? Yes, raw pineapple is an excellent piece of snack for all dogs. Likewise, puppies can eat pineapple. A well-balanced diet with carbohydrates, fat, protein, minerals, vitamins, and water is highly recommended for dogs. This fruit contains most of these nutrients, including fiber.  
When your canine friend eats pineapple, it is likely to benefit from each one of the nutrients found in this tropical fruit. The fiber, in particular, is an essential ingredient that improves your dog's digestive system. It helps make the dog's stool firm while reducing its flatulence. 
Water in the pineapple helps hydrate your furry friend in the summertime. At the same time, vitamin C regenerates tissues, increases immunity, protects against heart disease, promotes the absorption of other vitamins and minerals, and lowers cholesterol levels. 
Manganese supports a healthy skeletal structure, and thiamine (vitamin B1) aid optimal functioning of the dog's high-energy organs. Vitamin B6 is helpful to puppies, especially during their growing stage and production of red blood cells. In essence, your dog can eat pineapple to stay healthy and happy throughout its life. 
How Many Pineapples Can My Dog Eat?
You already know that your dog can eat pineapple, but how much of this tasty treat should your pet eat? Since pineapple is one of the dietary supplements for dogs, it should be fed in moderation. Too much of it can affect your dog's health or even make it not take its usual diet. As a treat, pineapple can be given to the dog as frozen, dried, or fresh pineapple. Give your dog frozen pineapple during the hot summer period. Try to freeze a few pieces of pineapple and give them as a snack to your canine friends. Look out for choking hazards, especially when feeding smaller dog breeds. Fresh pineapple is considered to be a better option than canned ones. You need to get rid of the hardcore and the spiky skin before allowing your pet to enjoy the fleshy part. Make sure to cut the fruit into small cubes that your dog can eat comfortably. Smaller shape sizes of pineapples can help with portion control. However, dried pineapple should be given to dogs. Usually, dried fruits pack higher levels of sugar per portion than dried ones. This is the same case with the dried pineapple, given that its quantity of sugar is higher than water. Other forms of pineapple are safe for dogs when offered in small amounts. 
Looking for an ESA Letter for your dog? Click the button below!
Will Pineapples Hurt Dogs?
Is pineapple bad for dogs? Yes, to some extent, pineapples can hurt your dog. Often, too much of something is dangerous. This means that offering large amounts of pineapple to your dog can possibly cause some serious problems. Especially if it is the first time, you are giving it a pineapple. In this case, you may notice some changes all along. If your dog will develop grassy diarrhea that starts to smell immediately, rest assured that eating excess pineapple could be the cause. In this regard, pineapple may not be the best treat for your pet. The opposite could also be true when your dog eats too many pieces of pineapple. The dog may experience some constipation despite the fruit containing a lot of fiber.
On the other hand, too much pineapple can lead to obesity and tooth decay. This is because of the high sugar content in this tropical fruit. When given to your dogs in large amounts, excess sugar makes them overweight, which is why moderation is essential. Worse still, too much sugar can trigger cases of diabetes among some dog breeds. As such, you should avoid this treat if you suspect that your four-legged friend might be suffering from diabetes. 
Although pineapples are good for dogs, remember the proper guideline for pet treats which states that tasty treats should not be more than 10% of their daily caloric intake. With pineapples, only the flesh should be fed to dogs and no other parts. Your dog should not have the pineapple core, skin, or crown because these spiky green leaves may hurt them. These parts are difficult to eat and digest. Some could be a choking hazard, while others may cause a blockage in the digestive system of your dog. In addition, the pineapple core can upset your dog's stomach because it is highly fibrous. 
What Fruit is Bad for Dogs?
Can dogs eat pineapple and other fruits? The answer is yes. However, there are several fruits that your furry friend should not eat. Most of these fruits can harm your pet, so you should avoid them. Fruits to avoid are grapes, raisins, and avocados. Small amounts of grapes and raisins can cause serious health problems like kidney damage in your dog. If you suspect that your canine friend has eaten any of these fruits, get it to the veterinarian as soon as possible. Avocados can cause sickness, diarrhea, and breathing problems. Generally, the fruits mentioned above are toxic, so they should not be given to dogs. 
Click the button below to get your ESA letter today and keep your pet close!
Final Thought
So, can a dog eat pineapple? Your pet dog can eat pineapple just like any other tasty treat. Give your dog the fleshy part in moderation but not the crown, core, or skin. For more on dogs and how you should handle them, visit ESACare, a licensed mental health professional today. ESACare will help you take your pet dog where you want after providing you with a certified ESA letter.
Get your Emotional Support Animal Letter today by booking an appointment at ESACare.