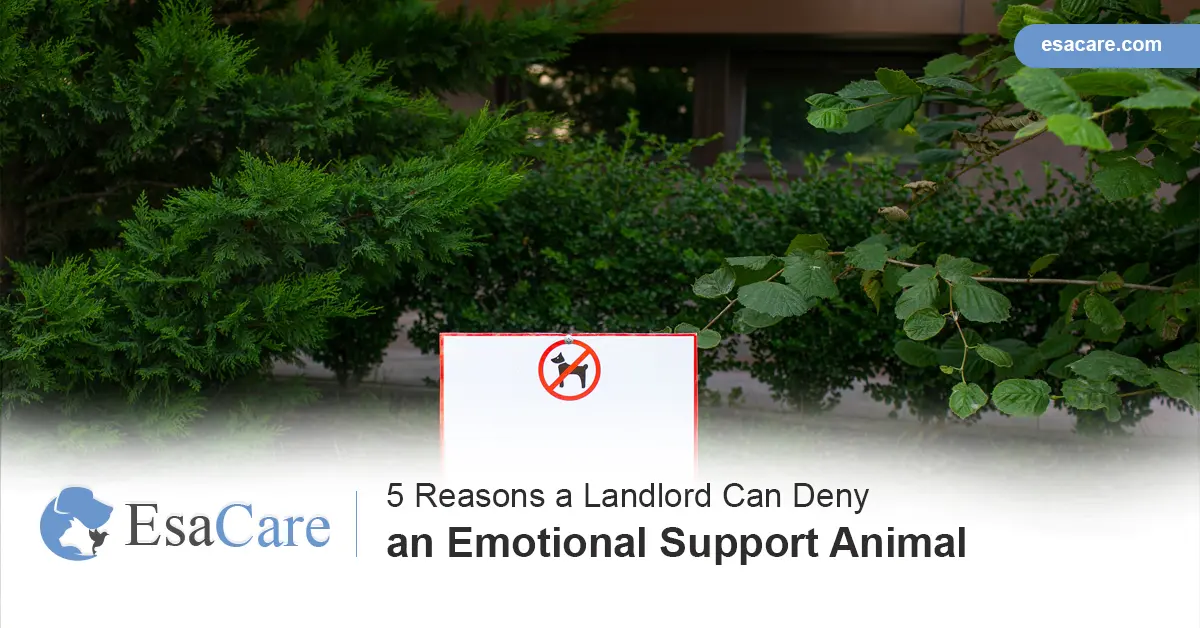 Emotional support animals (ESAs) are not just pets who live with their owners. Rather, they are part of a treatment strategy for individuals suffering from an emotional or mental disability as they offer emotional support and companionship to their owners. 
Say goodbye to anxiety with an ESA pet – Click the button below.
Unlike pets, ESAs enjoy some privileges that other animals may not have access to. What's more, you must first consult with a mental healthcare provider to determine whether you need an ESA as part of your treatment before you can get one. 
Who Is Eligible for an Emotional Support Animal?  
Any person with a mental disability qualifies for an emotional support animal. Some of the common qualifying conditions are as follows: 
ADHD

Anxiety disorders

Autism
What Is the Fair Housing Act?
The Fair Housing Act (FHA) refers to a part of the law that protects tenants' rights against landlords' discrimination regarding housing. The FHA holds that every citizen has the freedom to choose where to live without being discriminated against. 
The Fair Housing Act's Creation
The Fair Housing Act was first formulated around the mid-1800th century. However, it was not implemented until the Civil Rights Act of 1964. However, the most significant legislation was the Fair Housing Act of 1968. 
What Comes Under the Fair Housing Act?
The Fair Housing Act discourages discrimination on the following grounds:
Race

Disability

Familial Status

Sex

Religion

Color

National Origin
How the Fair Housing Act Fights Housing Discrimination?
The Fair Housing Act has three different approaches when dealing with discrimination against protected classes, as follows:
Residential Selling and Renting
Refusing to rent, sell, or negotiate a house where a protected class is involved.

Making unavailable or lying about the availability of housing to a specific category of people.

Denying housing.

Offering different housing amenities to a certain class of people.

Using religion, race, or neighborhood to make house owners sell or rent their property at lower prices.
Don't wait any longer to get an ESA. Click on the link below and get an ESA today!
Mortgage Lending
Formulating different requirements, terms, and conditions for a mortgage or loan.

Using a discriminatory approach during property appraising.

Refusing to make or buy a mortgage loan.
Other Illegal Activities
Interfering with other people's fair housing rights.

Discriminating against or showing bias towards a person from a certain background.
This protects people dealing with mental disabilities from being rejected by landlords when they need to live with their emotional support animals or service animals. 
ESAs or Service Animals play a significant role in the wellbeing of their owners. As such, the Americans with Disabilities Act 1990 has the following provisions concerning these animals.
Individuals with emotional support animals or service animals can live anywhere, including apartments or houses where animals are not allowed.

Landlords, managers, or co-ops cannot reject their tenants or ESAs based on breed or age.

Owners,

managers

, or co-op should not charge their tenants extra for emotional support animals or service animals.

The owner, manager, or co-op should not apply pet policies on emotional support animals or service animals.
Book an Appointment by clicking the banner below.
Reasons Why Your Landlord Can Deny Your Emotional Support Animal
Although the law provides that landlords are obligated to accommodate emotional support animals, there are circumstances that your landlord can deny your ESA.  Below are five reasons that may cause your landlord to reject having your ESA.
If the ESA Letter You Present is Illegitimate
The landlord can deny your ESA if the ESA letter you provide is fake. While this may not be intentional and could result from being scammed, it might cost you the opportunity to benefit from your emotional support animal truly. Your ESA letter may be fake for the following reasons.
If a licensed healthcare provider did not issue it.
If you got the ESA letter from a counterfeit website.

The healthcare provider who issued you with the letter is not licensed to practice in the country.
If your ESA Causes Trouble or Endangers The Safety of Your Neighbors
A landlord can refuse to accommodate your ESA if it causes harm or disturbance to your neighbors. For example, a dog that barks, scratches, or bites other people is a nuisance and endangers those around it. If your dog lacks discipline and causes trouble or harm to your neighbors, your landlord will reject it for the safety of your neighbors.
Health Reasons
Your landlord may reject your Emotional Support Animal if anyone on the property is allergic to your animal. This is because animal fur may trigger allergies and respiratory issues in some people, and having your ESA on the property puts their health at risk. In such a case, your landlord's rejection of your ESA is in the best interest of other people within the property.
If the ESA is Too Big For the Available Accommodation
Sometimes, your ESA may be too big for the accommodation that your landlord can provide. This means less space for your ESA to live and move around in and high maintenance costs for both the animal and the accommodation. In such a case, the landlord may reject your ESA due to the inability to accommodate it.
If Your ESA Causes Financial Strain on the Landlord
Landlords generally have to deal with any repairs and maintenance of the property you live in, and when you live with your emotional support animal, accidents are bound to happen. In such cases, your landlord will have to bear the brunt of fixing any damage to your ESA cases on the property.
The bigger the damage that your ESA causes, the more money your landlord will have to spend. This may prompt your landlord to reject your ESA. While this may not happen all the time, you can avoid it by ensuring that your ESA is well-mannered.
You can get your emotional support animal by clicking on the button below.
What to Do If Your Landlord Rejects your ESA
Despite what the law says about Emotional Support Animals, some housing authorities may be adamant about allowing animals on their premises even when you are legally allowed to live with one. If your landlord refuses to accommodate your ESA without giving a valid reason, you have every right to file a complaint with the Department of Housing and Urban Development (HUD).  You can do this by filing an electronic complaint or mailing a complaint form to their offices.
Q: What Are Assistance Animals?  
Assistance Animals are animals that are trained to assist individuals living with either mental or physical disabilities. A healthcare provider may recommend an assistance animal after a thorough evaluation.
Some of the privileges that assistance animals enjoy include:
Access to places with no-pet policies

Exception from any pet fees

The ability to fly onboard without you having to pay extra charges
Q: Why Would Anyone Need an Emotional Support Animal?
Emotional Support Animals provide companionship and emotional support as part of your treatment if you suffer from a mental health condition. The presence of an ESA helps alleviate the symptoms of your disability, which enables you to live a healthier and happier life.
However, note that you must have an Emotional Support Animal Letter for you to have an ESA. As scammers issuing fake ESA letters continue to increase, it is important to use the right channel in obtaining a legit ESA letter. Read on to find out what you need to do to obtain an authentic ESA letter.
Steps to Get ESA Letter
You can obtain an ESA letter either by physically visiting a licensed mental health professional or applying for it online. Below are the steps you should take to acquire a legit ESA letter and avoid being scammed conveniently.
Step 1: Check If You Have a Mental Health Issue
An ESA letter is only available to individuals struggling with qualifying mental health disabilities. Before seeking an ESA letter, you must first establish whether you suffer from any mental health issue.
If you experience any of the above symptoms for a prolonged period (at least 6 months), you may be suffering from a mental health condition.  This means you can proceed to apply for an ESA letter.
Step 2: Look for an Authentic ESA Letter Provider Online
After a self-evaluation and establishing that you are a good candidate for an ESA letter, go online and search for a reliable website specializing in issuing ESA letters. Here, you will find a questionnaire that requires you to provide details of yourself, your emotional support animal if you have one, as well as your medical history. Ensure that all the information you provide is accurate.
Step 3: Schedule an Appointment
Once you have filled the online questionnaire, schedule an appointment with a mental healthcare provider by selecting your preferred date and time. Some medical centers give you the option of an online meeting and a physical meeting with a licensed mental healthcare provider. Choose an option that is most convenient for you. 
Step 4: Assessment by an LMHP
On the appointment day, a mental healthcare professional will contact you for an assessment to establish your suitability for an ESA letter. Your healthcare provider will ask you questions about your mental health and conduct a few tests, if necessary, during your evaluation. The results of your assessment will determine whether you are eligible for an ESA letter or not. Upon approval, you will be issued an ESA letter to allow you to live and traveling with your ESA.
Get an authentic ESA letter by clicking the button below!
Frequently Asked Questions Regarding Living with an ESA
If you plan to live with your ESA and have your concerns regarding your ESA letter, below are some common questions and answers to help you attain peace of mind.
Q: Can my landlord reject my ESA letter?
As per the Fair Housing Act, your landlord cannot reject your ESA letter as long as it is legit. 
Q: How to tell whether an ESA letter is fake or legit?
The best way to ascertain whether an ESA letter is authentic or fake is by looking out for important details that very ESA letter. This includes the healthcare provider's credentials such as license number, address and contact number, date of issuance of the letter as w, dry, and an official letterhead of the practice. Be wary of the following as they point out to a fake ESA letter.
Inadequate details about the healthcare provider, such as the license number, contact details, and address.

Promises to

issues

you an ESA letter within a short time.

The healthcare provider issues you with a letter without assessing your mental health condition.

Date of issuance and expiry of the letter missing.

Missing official letterhead of the medical center or licensed mental health professional.
Q: What should I do if my landlord is demanding more documents?
The only document you should present to your landlord is an authentic ESA letter. Since an ESA letter is the only document you need to prove your ESA eligibility, your landlord cannot ask for more documents from you. Doing so is a violation of the Fair Housing Act.
Q: Can a landlord reject my Emotional Support Animal based on breed?
No. This is because there are no limitations on what animal you can choose to become your ESA.
Feeling emotionally unstable? Keep your ESA pet close – Click the button below.
Conclusion
Understanding your rights and those of your emotional support animal is important as it allows you to protect yourself as we and ESA from unfair treatment and discrimination. With the above information, you can comfortably acquire an ESA and live with your emotional support animal without worrying about running into problems with your landlord.
Contact us today to book an appointment for an ESA letter at EsaCare.