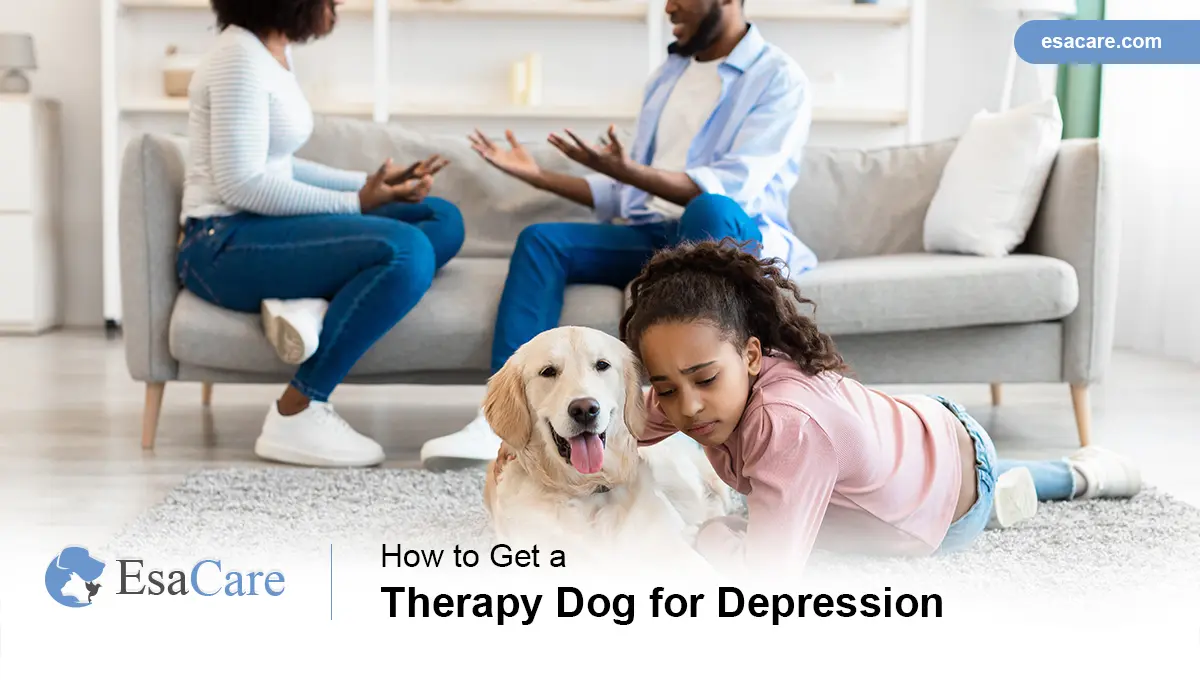 With cases of mental health issues on the rise, doctors and therapists have been on their toes to find solutions. One of the best solutions for mental health issues, especially depression, is having a therapy animal. One of the most common therapy pets is a therapy dog. A dog is a common therapy animal due to its ability to offer comfort. In addition, it can quickly alert you when there is danger.
Your ESA Dog can be your best companion – Click the button below!
Benefits of Therapy Pets
People choose different pets as therapy animals depending on the function of the therapy and animals that one is most comfortable with. Therapy pets include but are not limited to dogs, cats, horses, pigs, and birds.
The most common benefits of having a therapy animal are:
They offer comfort and companion when one is feeling down or lonely

Creating a bond between humans and animals reduces boredom

Animal therapy encourages movement through walks and simple games

Having a therapy animal increases social interactions
How to Get Your Dog Certified as a Therapy Dog
Most select pet stores offer puppy training sessions where you and your dog can work closely together. After completing classes, you are offered a certificate and a red leash for your dog labeled "service dog." In addition, some pet stores offer identification cards for you and your dog or even a dog vest. However, not every dog can be a therapy dog. Visit a professional dog therapist for guidance on how to get a therapy dog or to get your dog certified as a therapy dog.  
How to Train a Therapy Dog
You can train your dog yourself, or you can seek professional assistance. It is recommendable for you to seek help from a professional since they are more experienced. Training a therapy dog can be challenging, but it is fun.
You ought to review the Canine Good Citizen (CGC) test for you to get a good understanding of the ten crucial commands. YouTube also offers several guidance tips on therapy dog training.    
Since YouTube cannot offer all the guidelines you require, you can attend a CGC class for more information. 
Having strong mental health is the key to a happy life – Maintain it by getting your ESA letter today!
Tips on How to Make Your Dog a Therapy Dog
Some dogs cannot be therapy dogs due to their temperament, albeit trained dogs. Below are some training tips on making your dog a therapy dog.
Introduce your dog to new people and environments for them to socialize with people outside their immediate surroundings. This will come in handy when you need their help in new surroundings. Your dog will be able to act fast without being scared.

Consider obtaining the AKC Canine Good Citizen title for your therapy dog. A CGC certificate trains your dog to be independent and not jump on people.

If your dog has a CGC title, advance to AKC Advanced Canine Good Citizen or AKC Community Canine. This title allows you and your dog to practice the CGC tests in public. This title is the best bet to prepare your dog for real-life situations.  

Attend a therapy class with your dog. These therapy classes will evaluate your dog, and both of you will be able to bond more.

Get registered with a national therapy dog organization. The organization will put you and your dog in a program to make visits and help you have the upper hand in your dog's training.

 
How to Become a Dog Therapist
Below are some important steps you can follow if you wish to become a dog therapist.
1. Get certified
There are several institutions offering courses on animal-assisted therapy. In addition, you can opt to get an online certificate or a graduate-level certificate. You will learn the behaviors of a dog and the condition you are training for, such as anxiety or depression, through a set of modules and instructions. After completion of the training, you will be evaluated. If you pass, you will be awarded a certificate as a dog therapist.   
2. Acquire Experience
After certification, you can enroll in a mental institution offering dog therapy as a volunteer. The experience you get there is crucial since it's the practical part of what you learn in your course. You will specialize in certain target groups, such as the elderly or children. Gaining experience will also give you first-hand specialty in real-life situations that cannot be learned.
3. Create a Network
After getting certified, look for people with similar interests as you in your community and reach out to them. You can also reach out to mental health specialists around you and create a network. Networking provides you with more learning opportunities and more opportunities to advance your career. In addition, with vast knowledge in your area of expertise, clients will also trust you more.   
ESA can improve your overall mental health. Click the button below to get your ESA letter.
How to Get a Therapy Dog for Depression
If you are suffering from depression, some therapists might recommend a service dog to help you alleviate your situation. The following are guidelines on how to get a therapy dog:
You need a letter from a mental health professional like a social worker, a psychologist, a psychiatrist, or a therapist. The letter states that you cannot perform a significant task without help daily hence the need for a therapy dog. The letter also states that you have been evaluated and cannot put the dog to harm.   

You are required to attend all training lessons with your dog. The training will help you and your dog to have a close bond. The training also allows you to develop a plan on how to work best with your dog.  

To get a therapy dog, you must be able to provide financial maintenance to your dog. This includes veterinary care for the dog and general dog upkeep. All the finance costs of a dog are not covered by any insurance company. However, NGOs offer therapy dogs at a low fee or for free.

You are required to show that you can command the dog independently without the help of a professional.
If you have a therapy dog, you will require an ESA letter from a professional dog therapist. An ESA letter will allow you to travel with your therapy animal without restriction or additional costs. An ESA letter will also help you avoid property owners' discrimination on your pet breed or size. Call us at EsaCare on (833) 916-0637 to get a certified ESA letter from a licensed mental health professional. We also guide you on how to get a therapy dog if you do not have one. 
Contact Us at ESACare and book an appointment with us.