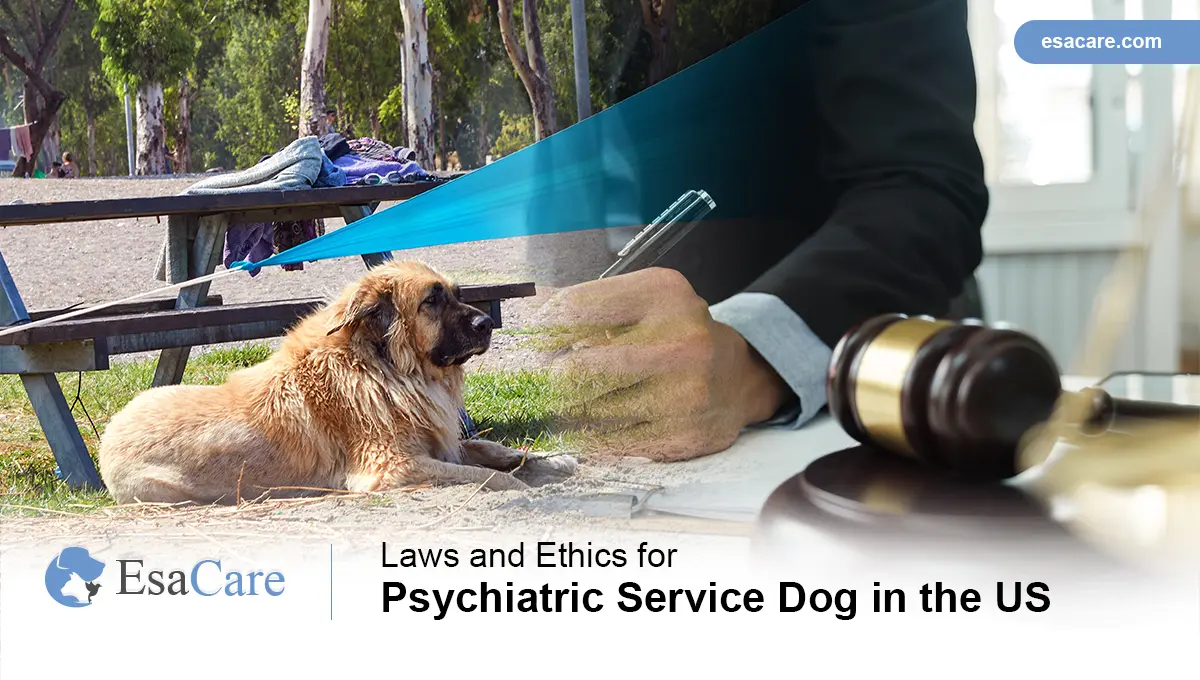 Psychiatric Service dogs in the U.S are working animals, not pets. The Americans with Disabilities Act (ADA) establishes the service dog federal laws. Different states in the U.S may have varying service dog laws, but they must all comply with the ADA laws.
The ADA laws do not cover emotional support animals (ESA). But other laws, such as the Air Carrier Access Act and the Fair Housing Act, protect ESA.
Get a PSD letter today to enjoy the perks of having your psychiatric service dog close to you!
Due to the critical role played by psychiatric service dogs, the federal and state governments provide specific laws to protect these dogs and their handlers.
So, what are these laws, and how can they help you? Here's a detailed guide.
What Is a Service Dog
ADA defines a service animal as a dog trained to perform work or a task related to the handler's disability. Therefore, even though the definition mentions dogs only, miniature horses can also be service animals in some cases.
These psychiatric service dog laws do not place any limitation on the breed of the dog.  
From the ADA's definition of a service dog, you can derive three main points.
A service animal can only be a dog, and in some cases, a miniature horse

Having a disability is a requirement before getting a psychiatric service dog  

You must train the dog to perform tasks that help with your disability
According to service dog laws in Florida, it's illegal for anyone to misrepresent themselves as service dog handlers. Anyone who does that commits a second-degree misdemeanor. In addition, that person is liable to a community service of 30 hours in an organization serving people with disabilities.  
Psychiatric Service Dog Laws
Each state in the U.S has service dog laws. But service dog state laws are often subject to the ADA. So if state and local laws prohibit animals in certain areas, they should make an exception for service dogs. And in case of a ban on a specific dog breed by local authorities, such a ban should not affect service dogs.
States and cities may have rules on compulsory dog registration and vaccination. Such laws apply to psychiatric service dogs as well. But service dogs are usually exempted from the registration fees. Any other registration of service dogs is voluntary.   
ADA requires a dog to complete the training before earning the status of a service dog. But this is not the case with all states. For example, service dog laws in Florida and other states allow service dogs in training to go in public.  
Looking for a PSD Letter for your dog? Click the button below!
Psychiatric Service Dog Equal Access Laws
Equal access is one of the most protected rights of psychiatric service dogs. In addition, it serves a critical role in protecting people with disabilities from discrimination. 
Psychiatric Service Dog Laws allow you to take your psychiatric service dog anywhere the public has the right to go. Such places include government offices, hospitals, airports, schools, hotels, shopping malls, and other areas.  
According to the U.S Department of Transportation, airlines have obligations to accept service dogs in their flights. But for them to grant access to these facilities, your service dog should not be too large to fit in the cabin. Some airlines will also require you to fill a DOT form.
The form confirms that your dog is well behaved, housebroken, and does not pose any health threat to other passengers. You don't pay surcharges for the transportation of your psychiatric service dog. But if the dog misbehaves, the airline may treat them as pets and charge you for the transport.
Training and service dog registration documents are not required to gain entry to a public facility. However, an attendant who's unsure about your dog's role can ask two questions.
1) Whether your dog is a service dog required for a disability.
2) And what task your dog has trained to do.
No one is allowed to interrogate you further. Having allergies and fear of dogs is not an acceptable excuse to deny you entry into a public facility. According to service dog laws in Florida, denying a service dog handler access to a public facility is a second-degree misdemeanor. In addition, the person is liable to 30 hours of community service in an organization that serves people with disabilities.
Generally, you have equal rights as everyone else to access public facilities. But your dog may lose these rights in some cases. What cases are these? Check out below.
Removing a Service Dog from A Public Facility
You have the responsibility to control your psychiatric service dog. The law expects you to harness or put a leash on your dog while in public. If your dog is out of control and you fail to take action, others can remove the dog from the premises.
But you can remain on the premises and receive any service you should get. The public attendant should make plans to help you if they remove your dog.
In most cases, service dogs are removed if:
The dog is not housebroken

They show aggressive behavior, which raises safety concerns

Their presence disrupts the normal functioning of a business

Raises health concerns
Conditions PSD Animal Treats with their Presence –  Click the button below!
Exemptions from ADA
ADA laws apply to most institutions that serve the general public. However, ADA exempts some organizations from its laws. These include private clubs, religious organizations, and institutions owned by religious groups.
Institutions that comply with ADA may have some limits as well. Most of the limits exist because of health concerns. For instance, if you go to a public swimming pool, you can't get in the water with your service dog. This is because the seat and table are offered to you in a hotel, not to the dog.
Of course, you may buy food for your dog in the hotel. But, generally, the dog can't sit on the chairs or feed on the table. They should stay on the floor.
Understanding the Psychiatric Service Dog Laws helps you defend your rights. It also helps to know the limits of your rights to prevent breaking them.
At ESA care, we're committed to helping you have an easier life with your service dog. So we provide PSD and ESA letters to help you gain easy access to public facilities.
If you're interested in any of these documents, don't hesitate to contact us. Our licensed therapist will conduct an online assessment and give you the letter in no time.           
Get in touch with us through our contact, and we'll be glad to help.