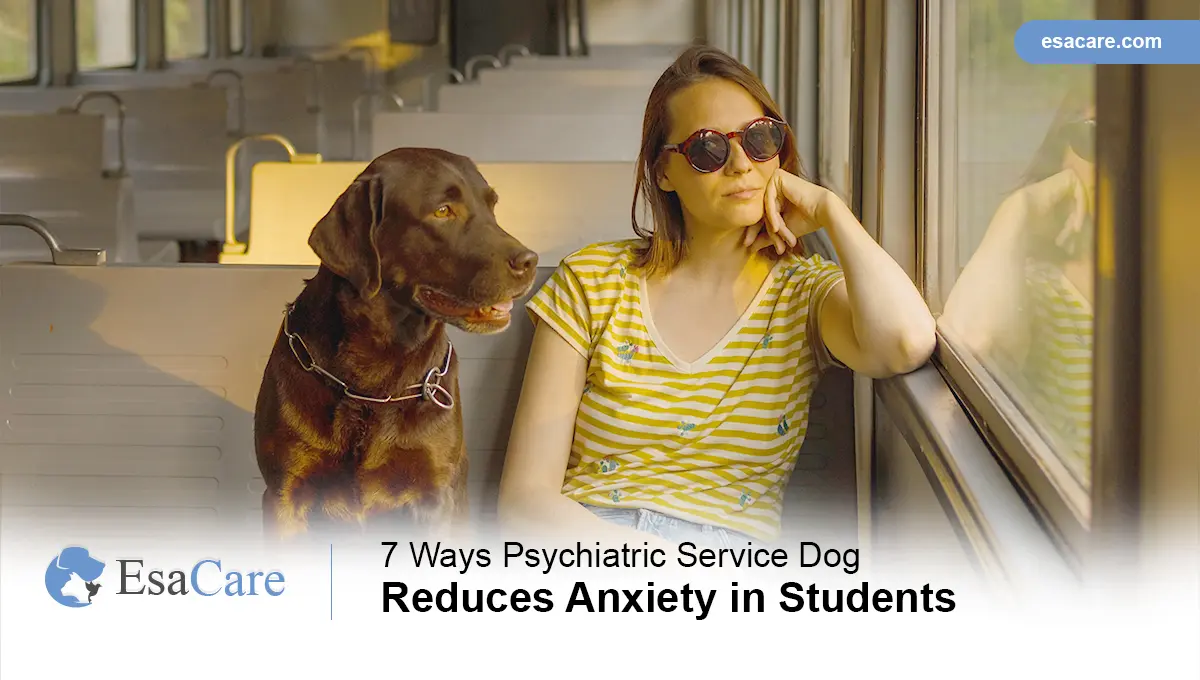 Anxiety is one of the most prevalent mental conditions in the world. It affects a student's ability to learn and socialize with others. However, unlike a physical disability, it's hard to tell when someone has anxiety. Notably, about 80% of students with anxiety do not receive treatment.
Typically, you can expect some level of anxiety from students, especially during tests. But if this anxiety remains consistently high, it becomes a disability requiring treatment. Otherwise, a student might lose learning ability.  
Looking for a PSD Letter for your dog? Click the button below!
The good news is that anxiety is treatable or manageable. In addition, many people have benefited from using a Psychiatric service dog for anxiety. But how can service dogs help with anxiety and depression? Let's find out.
Psychiatric Service Dog Tasks for Anxiety
Unlike mild anxiety, disabling anxiety is severe enough to affect a student's function normally. For example, anxious thoughts cause one to fear going out in public—and institutions are public places with so many people. As a result, a subject may start to miss school, have problems socializing, forget what they learn, and as a result, perform poorly in school.
Homeschooling your child will not help them fight anxiety. Medication can help, but overdependence on particular medicine can have side effects. So, a Psychiatric service dog for anxiety can have better results.  
A Psychiatric service dog for depression and anxiety can help with tasks.
Applying pressure therapy to calm you down

Searching the room to make sure it's safe

Guiding you out of a stressful situation

Retrieving medicine and water

Reminding you to take medicine

Fetching your mobile or using a canine phone to call for help
Psychiatric service dogs for anxiety help with these duties while at home. But how can service dogs help with anxiety at school? Let's see how.
How Can Service Dogs Help with Anxiety at School
The school environment is different from home. Not just because of many people, but also because some tasks performed at home may not work in school. Your dog cannot fetch medicine, water, and phones from the usual locations at home.
You're surrounded by people who can always help in the school setting if an anxiety attack occurs. Plus, your service dog can still perform crucial tasks even at school. Here are seven duties a psychiatric service dog for anxiety can perform at school.   
1. Giving You the Confidence to Attend School
Most people with anxiety are afraid to leave their homes. That's why most students with anxiety have a problem attending school. A Psychiatric service dog for anxiety gives you the confidence to leave your house and go to school.
2. Shifting Your Focus from People to the Dog
A service dog focuses on the handler at all times. In return, you also direct your focus to the dog. Since anxiety comes when you overthink about events and people, you're less likely to be anxious when you focus on the dog instead of people.
Conditions PSD Animal Treats with their Presence –  Click the button below!
3. Providing a Feeling of Safety
The idea that an anxiety attack can happen at school can be scary to a student. But knowing that your dog is there to warn you before the attack happens can be comforting. In addition, you can feel safer and less anxious knowing that you have a helper at all times.  
4. Providing You with Personal Space
Schools are crowded places, and getting a personal space may be a problem. But with a psychiatric service dog for anxiety, you can maintain some distance between yourself and the other students. The small personal space the dog gives you can mean the difference between having an anxiety attack and not having one.
5. Interrupting Anxious Behavior
Some of the early signs of an impending anxiety attack include trembling, choking, and shortness of breath. Sometimes you may not even know that you're exhibiting those signs. But your dog can see and interrupt them once they start to show. Behavior interruption prevents anxiety from escalating. And instead, it calms you down.
6. Helping You to Socialize
Some service dogs help with socialization. For instance, if you isolate yourself, your dog can guide you to follow others. In addition, the dog can attract the attention of your schoolmates who love dogs. They might be interested to see your dog in class and the school compound. Even though they're not allowed to pet your dog, they may want to talk to you because of the dog. As a result, you can become more social at school.
7. Alerting Others to Provide Help
Without a psychiatric service dog for anxiety, others may not know you have a problem until you've had an anxiety attack. Your dog can alert them before a severe anxiety attack happens. For example, in school, the dog may not be able to retrieve your medicine from your locker or bag. But once the dog gives an alert, your fellow students can help get your medication and water.
How Much Do Psychiatric Service Dog for Anxiety Cost
A fully trained psychiatric service dog for anxiety can cost over $30,000. These dogs are more expensive than other dogs because of their professional training. Therefore, competent trainers are costly to pay. Moreover, they give the dogs vaccinations, which adds to the cost.   
If the cost of a new service dog is too high for you, consider training the dog you already have to be a psychiatric service dog. Meanwhile, your dog can be seen as an emotional support animal before the training is complete.  
PSDs can help you to deal with PTSD. Click the button below to get your PSD letter.
Conclusion
Remember, for anxiety to be considered a disability, it must interfere with regular activities, for instance, the inability to leave the house and go to work or school. So if you have mild anxiety or depression, you may not qualify for a service dog. But you can still benefit from an emotional support animal (ESA).
Your PSD can help you deal with depression and anxiety by providing a calming effect. But you would need a letter from a licensed therapist to take your ESA to school. Don't worry about this, as ESA Care can help you get the letter for your emotional support animal or a PSD letter for your service dog. Visit our contact page, and leave us a message. Our licensed therapist will gladly attend to you.
Get in touch with us through our book an appointment to begin the process.