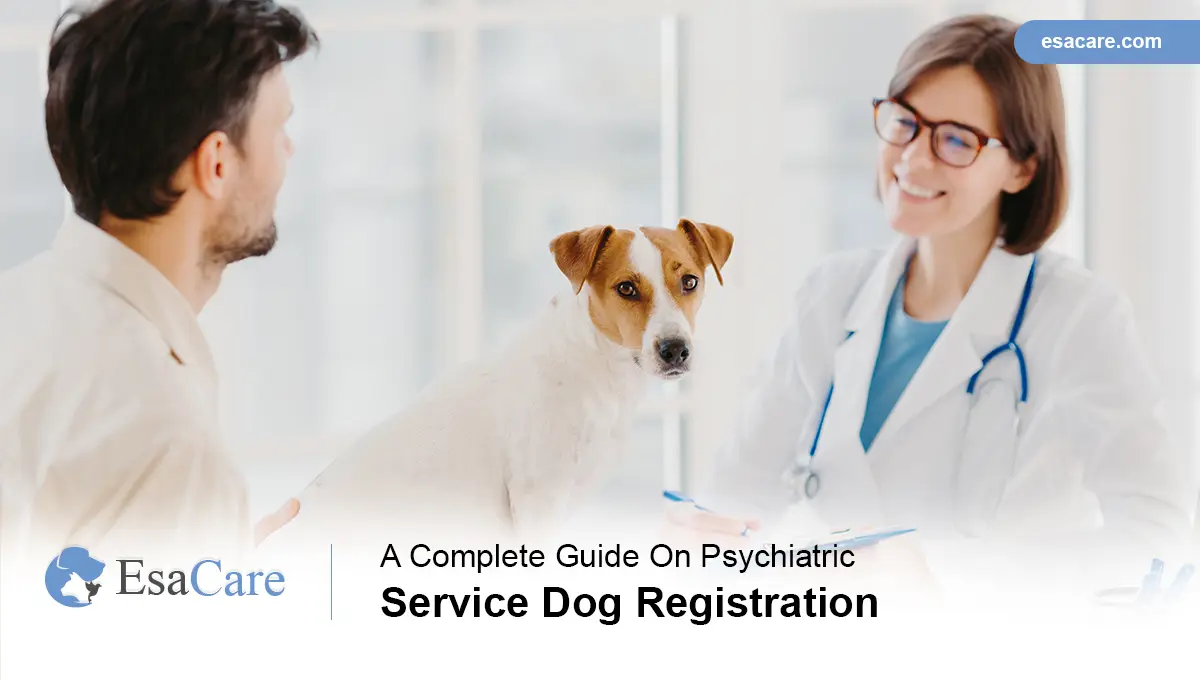 Having a psychiatric service dog is an effective way of dealing with a mental disability. Although registering a service dog is not mandatory, having an identification card for a service dog can help avoid confrontation and discrimination. It makes you feel comfortable taking your dog to public places, including restaurants, food stores, and many other communal spaces.    
Keep in mind that a service dog is not the same as a pet or a dog for emotional support. A service dog is a working dog trained to do specific tasks that you can't do yourself. Hence, registration requirements are slightly different from dogs for emotional support.  
Keep your mental health strong with ESA Pet – Click the button below.
So what's the procedure for psychiatric service dog registration? Here's a complete guide to help you.
Do I Qualify for A Psychiatric Service Dog?
Unless you have some form of disability, you don't qualify for a service dog. What conditions qualify for a service dog? Generally, service dogs are used to help people with various physical, mental, and emotional disabilities.
More specifically, psychiatric service dogs are mainly used by subject's who struggle with mental health issues, as opposed to those who are physically challenged.
These mental challenges include:
Seizure

Phobias

Autism

Schizophrenia

Bipolar disorder

Severe depression
According to the Americans with Disabilities Act (ADA), a service animal must be a dog trained to provide a service that's directly related to your disability. This gives you the freedom to live your life without always relying on others for help.
Do I Need a Prescription for a Psychiatric Service Dog
You do not need a prescription for a service dog per se, but it would be required for psychiatric service dog registration. Some people use service dogs without a prescription. However, when they want to get a PSD letter, their eligibility must be verified.  
PSD letters are issued by licensed mental health specialists. Before issuing the letter, these specialists must evaluate your mental condition to justify your need for a service dog. Hence, an evaluation is an essential part of a psychiatric service dog registration.
Psychiatric Service Dog Registration
Some people misrepresent their pets as service dogs. For that reason, it's essential to register your service dog to avoid confusion with pets. The registration process may differ depending on the registering organization, state, and the city where you live.
There are two basic psychiatric service dog requirements to be fulfilled in a psychiatric service dog registration :
Having a mental disability, which has been confirmed by a licensed mental health specialist.

Training your dog to perform specific tasks or adopting a dog that's already trained.
Looking for an ESA Letter for your dog? Click the button below!
Being able to control and command the dog by yourself is also a crucial factor. Once registered, you'll be given a certificate, an identification card, or a tag. You can decide whether or not to dress your dog in a vest or use an identification tag for the dog.
Some people use these markers to demonstrate the dog's purpose and avoid questions from others that may invade their privacy. However, it's not a legal requirement to tag your dog or carry registration documents. You can still take your dog wherever you go without a tag.
The only time you might need to carry registration documents is when traveling. Most authorities may request to see the documents to provide proper accommodation. Plus, if you travel to a different country, the documents may also be necessary due to differences in service dog policies.
Privileges for Having a Service Dog
Holders of service dogs are entitled to receive the same treatment as everyone else. For instance, when you book a hotel, you shouldn't have to pay higher for having a service dog. The same applies to airlines; you can always take your dog into the plane as long as they're orderly. Likewise, landlords cannot prevent you from keeping the dog, even if there's a no pet policy.  
ADA protects you from being questioned unnecessarily. Staff members are only allowed to ask two questions.
1. Whether the dog is a service animal required for disability?
2. What tasks the dog is trained to perform?
They're not allowed to request documentation or require a demonstration from the dog.  
Training A Psychiatric Service Dog
If you have a dog, you can make your furry friend a psychiatric service dog by training. This may be a cheaper option than buying a trained dog. You can train the dog yourself or hire psychiatric service dog trainers to do it for you.
Keep in mind that a service dog interacts with people all the time. Hence, a poorly trained dog can endanger others in public places. Therefore, it may be advisable to let psychiatric service dog trainers do it for you.
Getting a psychiatric dog qualification depends on how long the training takes. Training duration varies depending on the trainer and the dog. In some cases, it may be less than six months, while in other cases, it can take up to two years. In many areas, a dog under training cannot be registered as a service dog. Notably, training must be completed for psychiatric service dog registration to go through.  
If you need a faster solution, you may consider psychiatric service dog adoption. This involves buying a dog that's already trained. If you search for psychiatric service dog organizations near me, you might find an organization that sells psychiatric dogs closer to where you live.
Buying a psychiatric service dog can be expensive. But you can consider getting an ordinary dog and pay for training separately.  
A well-trained service dog must:
Remain calm in public areas and be comfortable around people.

Behave well and controllably, without barking excessively.

Be able to recognize verbal or non-verbal communication from the owner.

Be housebroken, not relieving themselves in public areas or without the owner's command.

Prove to be reliable in performing specific repetitive tasks for the owner.

Not be destructed easily by moving vehicles, other animals, children, or treats. 
Click the button below to get your ESA letter today and keep your pet close!
Where to Get a PSD Letter
Service dogs give you greater privileges in that you can take them almost anywhere, even where pets are not allowed. You'll have this privilege provided the dog is well-trained and well-behaved in public.
Even though psychiatric service dog registration is not mandatory, it eliminates inconveniences you may encounter in some places. If you'd like to register your service dog, ESACare can help you get a PSD letter. If you're not eligible for a PSD letter, we can still help you get an ESA letter for an emotional support animal.  
We have experienced, licensed therapists who can perform an online evaluation and help you get the letter much sooner. Reach out to us through our contact, and we'll be glad to help.