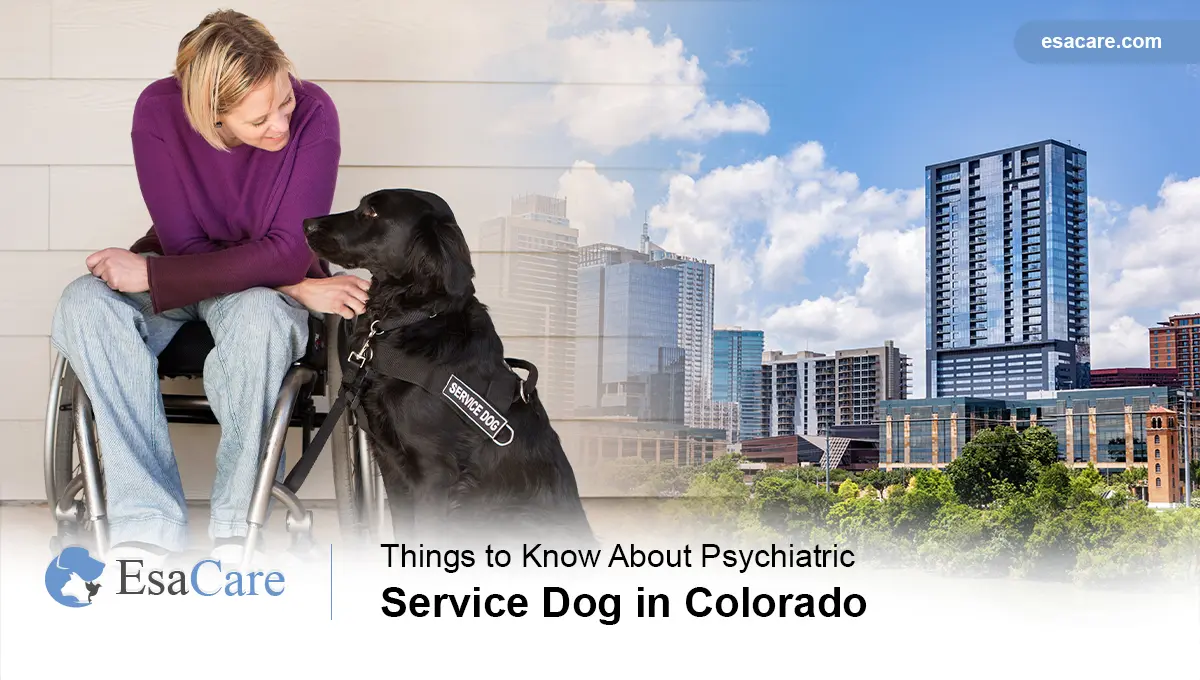 Post-traumatic stress disorder is increasingly becoming a prevalent mental health disorder, joining the likes of anxiety, stress, and depression. Going through terrifying trauma isn't rare, with 6 out of every 10 men and 5 in every 10 women experiencing at least an episode of trauma in their lives. PTSD can occur to anyone following sexual assaults, physical assaults, witnessing death, accidents, and other causes.
Looking for a PSD Letter for your dog? Click the button below!
PTSD and other mental illnesses can be treated can be alleviated through several remedies. One of these remedies is using service dogs trained to provide company to mental illness patients. Psychiatric service dogs have proven effective, with several success stories over the years. If you are wondering how to get a psychiatric service dog in Colorado, read on.
What is a Psychiatric Service Dog?
As the name suggests, a psychiatric service dog is essentially a service dog trained to help psychiatric patients. According to the Americans with Disabilities Act, service dogs are dogs trained to perform tasks or help people with disabilities. These tasks include alerting the deaf, guiding the blind, pulling wheelchairs, and reminding mental illness patients to take their drugs.
That said, a psychiatric service dog in Colorado helps mentally challenged patients, who are their handlers, navigate the ordinary world. These dogs can help patients with anxiety, autism, PTSD, and depression. Service dogs combine efforts with their handler to complete various tasks at hand, supporting people with mental disabilities physically and emotionally.
Rights of Psychiatric Service Dogs
Psychiatric service dogs in Colorado Springs undergo extensive training to help their handlers. Like any other service dog Colorado classified under the ADA, they have certain rights, including;
Right to public access – Service dogs should be allowed to accompany their handlers in public places, such as malls, restaurants, and other establishments where dogs or animals, in general, aren't allowed. This is because the handler may need the dogs' service in these places.
Right to travel – Likewise, service dogs can travel anywhere their owner goes. This allows them to travel in all means of transport and their handlers, including trains, planes, buses, taxis, and boats. They have a right to stay at the cabin in airplanes, and the owner shouldn't incur additional charges.
Right to fair housing – According to the Fair Housing Act, service dogs should access houses that generally don't allow pets without additional fees. This policy applies to homes or rentals with a no-pets policy. 
Access to educational facilities – Similarly, as per the Individuals with Disabilities Act, service dogs can accompany their handlers to schools, colleges, and universities.
What Psychiatric Service Dogs Can Do
As mentioned, any service dog in Colorado undergoes extensive training geared to help its handlers. As such, psychiatric service dogs can help their handlers in the following ways;
1. Guide disoriented handlers
Due to mental instability, a person may wander away from familiar surroundings, especially during dissociative episodes. Even if they regain awareness and realize they are lost or still disoriented from the episode, they cannot retrace their steps. Psychiatric service dogs are trained to help their handlers backtrack by following their scent to where the episode started. These dogs are also trained to guide handlers to specific locations, such as "Home" on command.
2. Find a place or person
Mentally challenged persons may separate from their families in a crowd. Unfortunately, most affected people often experience panic attacks and other complications after realizing this. Fortunately, the dog is trained to locate an exit or their family if they sense something is happening to the handler.
PSDs can help you to deal with PTSD. Click the button below to get your PSD letter.
3. Room search
Most PTSD patients have severe hypervigilance and cannot enter their homes by themselves. PTSD symptoms cause one to believe that there is someone who can attach them if they enter. Psychiatric service dogs can perform a systematic search of all rooms and bark if they find an intruder. If the dog completes the search and returns, you can be sure of safety, and the presumed trespasser was simply a symptom.
Who Qualifies for a Psychiatric Service Dog?
According to DVA's RAP, you should satisfy the following conditions to be eligible for a PSD.
Be diagnosed with PTSD by a psychiatrist

If you have undergone treatment for PTSD for a minimum of 3 months

If you prove to have the emotional resilience to be involved in training and care of psychiatric service dog
How to Get a Psychiatric Service Dog in Colorado
Psychiatric service dogs are not your ordinary dogs. Therefore, before owning one, you should discuss it with a licensed doctor or mental health practitioner. Your physician will find a suitable medication program for your condition and weigh if you can benefit from the assistance of therapy dogs, emotional support animal, or psychiatric service dogs. If they recommend a psychiatric service dog, the process of getting one begins.
After getting a doctors' recommendation, you can begin searching for a PSD. Fortunately, there are no age, size, or breed restrictions, provided the dog has successfully undergone thorough Colorado Springs dog training. That said, you can get a PSD through either of the following ways:
1. Adopt a Trained Service Dog in Colorado
Animal shelters that conduct service dog training in Colorado Springs are a great place to find your companion. Common shelters that provide service dog training in Colorado include:
Animal Rescue of the Rockies

Humane Society Parks Peak Region

Foothills Animal Shelter

Colorado Animal Rescue

Riverside Animal Shelter
Note: That each shelter has unique adoption programs.
2. Training your psychiatric service dog
While this is involving, you can conduct your own PTSD service dog training in Colorado. For this, you should engage professional service dog trainers in Colorado, who will work with you for several months. With increased approval of service animals, there are many dog training Colorado Spring centers. Don't hesitate to look at various organizations to find the best.
Conditions PSD Animal Treats with their Presence –  Click the button below!
FAQs
How do I qualify for a psychiatric service dog?
It would help if you had a prescription from a licensed doctor or mental health practitioner to qualify for a psychiatric assistance dog. The license shows that a service dog can assist you in handling your daily tasks.
What are my obligations as a handler?
After training, you commence living with the dog, and taking care of the dogs' wellbeing becomes your responsibility. Your obligations include feeding, daily exercise, veterinary checks, and vaccinations.
Can I train my psychiatric service dog?
While training your service dog is possible, it is not recommended. Service dog training is intense and should be done by professional trainers.
The Bottom Line
A psychiatric service dog helps a person with psychiatric impairments, such as PTSD. These service dogs are trained to perform various tasks obediently and help their handlers mitigate their psychiatric disabilities in public environments. Unlike emotional support animals, they don't provide emotional support but perform tasks that enable their handlers to function normally.
That said, if traveling with your service dog or renting property has become a challenge, get your approval letter easily and quickly from EsaCare. ESACare ensures that you travel around and live freely with your service dog. 
Contact EsaCare Today for more information about psychiatric service dogs.