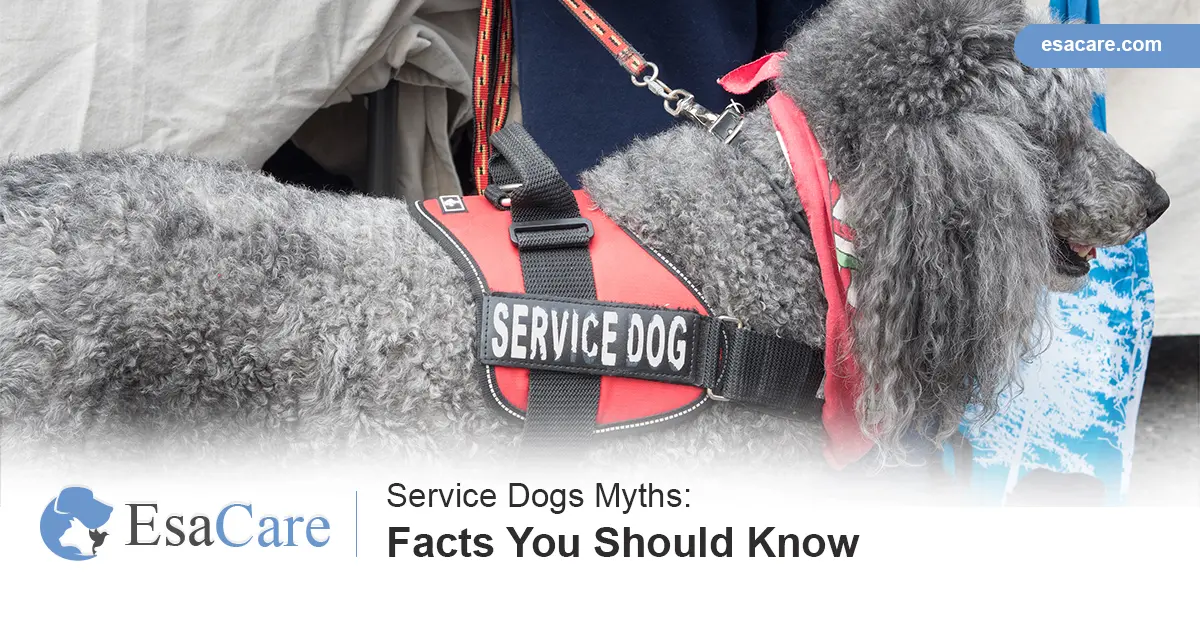 You must have seen, or at least heard, of a service dog. These are trained dogs for special support services, with their services mainly benefitting people with disabilities. They have been around since at least the 1920s.
As heroic as they are, there are still many service dogs myths surrounding their nature, training, tests, and even their owners. We highlight all the service dogs myths and debunk them using the latest service dog myths-busting research.
Looking for a PSD Letter for your dog? Click the button below!
Common Service Dogs Myths
There are no less than 100,000 service dogs in the US, but that doesn't mean people know all about them. Even though they've been around all this time, service dogs myths still abound. These are the most common service dogs myths:
1. Service Dogs Can Only Be Certain Breeds
Over the years, the most famous trained service dogs have been Labradors, Golden Retrievers, or German Shepherds. Unfortunately, this led to misguided service dogs myths that you can only recruit from among these breeds. 
That is not true, as you can successfully train any breed as a service dog as long as it has a good temperament, is trainable, and can complete the task.
2. Service Dogs Have Professional Training
You might reasonably think that they must have undergone a professional training program to receive such a distinction.
However, this is just another service dog's myth as you can train a service dog yourself, with or without a professional trainer's help. 
Whether a service dog received training, it is still crucial to note that it must still meet the training, temperamental and behavioral requirements and train on a specific task.
3. Service Dogs Are Only for the Blind or Deaf
The blind and deaf were the only demographic utilized in the past. However, trainers have since discovered that service dogs can handle various tasks to aid people with other disabilities.
Today, service dogs assist people with other disabilities like autism, diabetes, seizures, and other conditions.
4. A Service Dog Cannot Bark
Because of their training, some people assume service dogs do not bark. This is one of the service dog's myths as some service dogs receive specific training that requires them to bark. For instance, diabetic alert dogs will bark whenever their handler's blood sugar levels change.
5. Service Dogs Are the Same as Emotional Support Animals
To differentiate them, animals primarily give emotional support to their owners. Therefore, they do not need any special training as they only accompany their owners and provide a calming effect.
On the other hand, service dogs receive specific training to support the owner's disability needs. Therefore, they do not simply offer emotional support and comfort.
6. You Can Only Have One Service Animal at Any Time
Sure, most people with disabilities have a single animal, but service dogs myths assume you can only have one. That is totally up to the owner on the number of service dogs they want to keep.
For instance, you can have one for mobility disability and a diabetic alert dog.
7. Service Dogs Must Wear Vests
This is one of those urban service dogs myths as there's no legal requirement for service dogs to wear vests. It is the owner's personal choice.
PSDs can help you to deal with PTSD. Click the button below to get your PSD letter.
Facts About Service Dogs Myths
The best way to debunk service dogs' myths is by learning the facts. So here are some interesting facts about service dogs.
Training a service dog is a costly and time-consuming affair. Preparations start as soon as they are two days old.

Service dogs do not have to graduate from a professional training program.

Yes, retrievers are the best breed for service dogs' tasks. However, with the right temperament, a service dog can be any breed or a mix of breeds

They are not the same as emotional support animals, pets, or psychiatric service animals.

Service dogs can perform various tasks such as sensory processing, allergen alert, and neurological assistance.

You don't require certification or registration to own a service dog.
How to React when a Service Dog Approaches You
When a service dog approaches you, especially when its handler is nowhere in sight, this is what you should do:
Stay calm as these are trained dogs that rarely attack people.

Observe its behavior as it comes up to you.

Try not to panic even when they bark at you. The dog is probably trying to communicate that its owner is in trouble and needs help. If it's trying to lead you somewhere, follow. The dog might lead you to its incapacitated or unconscious handler.

If there's no one, check the dog's tag, call the number listed, or call emergency services and notify them about the unaccompanied service dog.
Basic Service Dog Commands
While every service dog receives training to tackle a specific task, it's a service dog myth to assume they don't need to understand basic commands, including:
Name

: Your service dog should know and respond to its given name.

Sit

: Used to notify the dog to sit on their rump on command.

Down

: Command it to lie on the ground entirely.

Stand

: On all four legs.

Stay

: Freeze in its current position.

Wait

: A command to stop moving forward.

Don't

: Discontinue doing something unwanted.

Quiet

: Stop barking or whining.
Public Access Test for Service Dogs
According to the Americans with Disability Act (ADA), your service dog must always be leashed, tethered, or under control.
You can take your service dog anywhere with you unless it will adversely affect the usage of that facility. It is a service dog's myth that fear of dogs and allergies can lead to a service dog's exclusion from a public space.
You can even take your service dog to restaurants strictly prohibiting animals. The only way they can refuse entry is if the dog is out of control.
Conditions PSD Animal Treats with their Presence –  Click the button below!
Do Service Dogs Have to Pass a Test?
Do service dogs need to pass a test? Apart from the requirements stated above, there are no professional testing or training requirements for an animal to become a service dog.
That said, most people working with service dog organizations highly regard the need for certification as proof of a service dog's capabilities.
As per the ADA, even a handler can train their service dogs. As long as the dog meets the laid down requirements and can assist the owner, the dog is legally a service dog.
Bottom-line
Despite serving Americans for more than a millennium, there are many service dogs myths, such as they need professional training, are pets, and only a select few breeds can become service dogs. It turns out service dogs don't need professional training after all.
 Visit EsaCare today for more information about psychiatric service dogs.