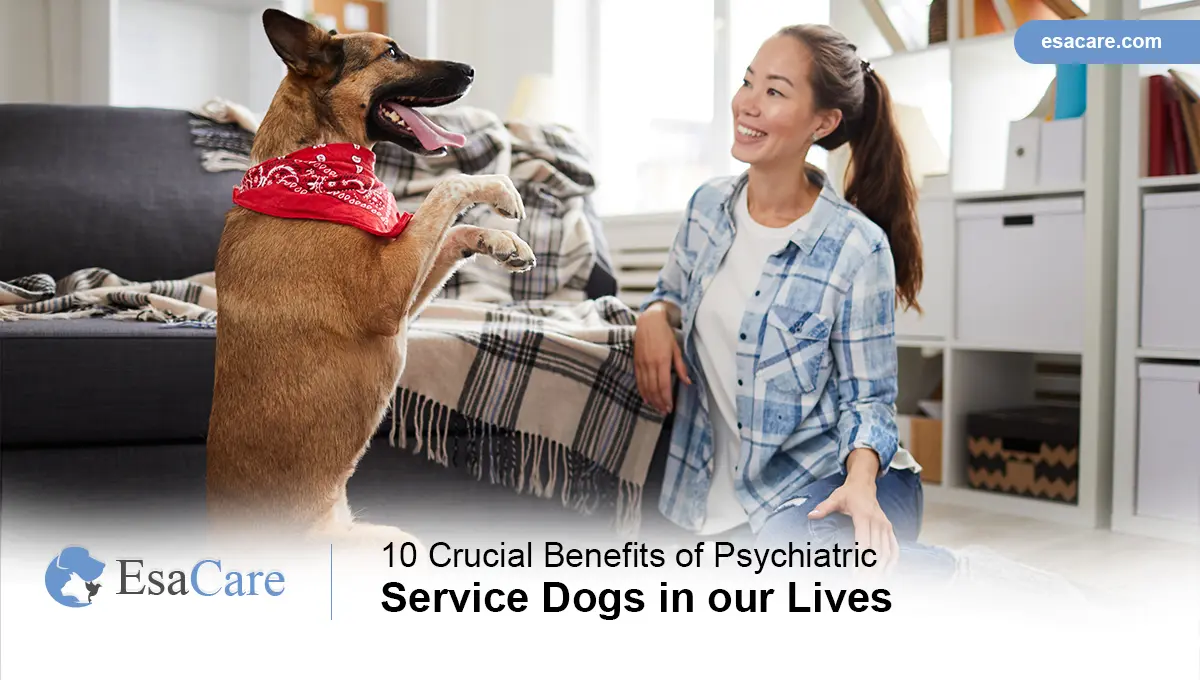 Many people living with mental illness rely on service dogs every day. The critical roles played by these dogs have changed their lives for the better. And not just theirs, but also those who live with them. From children to adults, service dogs have proven extremely useful.
Looking for a PSD Letter for your dog? Click the button below!
Psychiatric service dogs help with anxiety, depression, PSTD, autism, bipolar disorder, among other mental conditions. What do these dogs do that's so important? We'll consider 10 benefits of having a service animal.
Benefits of Psychiatric Service Dogs
The bond between humans and dogs has been in existence for centuries. Plus, it has scientific backing. Research shows that when dogs look into our eyes, they activate the same hormone that creates the bond between humans and infants. So mutual staring alone creates a close bond between a human and a dog.
But that's not all. Since Psychiatric service dogs receive thorough training, you can gain even more from them. The best thing about these dogs is that their training focuses on your needs. Therefore, you don't just have a helper; you have one who's close to you and understands your needs.
If being with a dog makes you feel better, you can even reduce reliance on drugs. Besides, a service dog can give you something you can't get from drugs. What's that? Check out below.
These are the 10 service dogs benefits you can gain.
1. Gives You Independence
Without a service dog, you'd have to rely on a human assistant who may not always be available. When you have a dog, you can still benefit from a human caregiver, but only in a few instances. A service dog doesn't get tired of helping you. On the contrary, dogs enjoy being with humans.
The bond between us is mutual, not one-sided. So if you want to go out, the dog is always there to walk with you. When you sleep, you can have your dog next to you. That's to say, and service dogs are always there when you need them.
2. Helps with Balance
If your mental illness makes you feel dizzy, your service dog can physically support you. When you want to stand up from a chair, climb the stairs, or take a walk, your dog can help you. In case of a panic attack, your dog can support you to prevent you from falling.
3. Alerts You in Advance
A timely warning can help save your life. Since dogs have an acute sense of smell, they can tell when your body changes even before you know it. For instance, they know when your blood sugar is low and when you're about to have a seizure attack. Such a warning helps you to prepare by moving to a safe place.
4. Provides Companionship
Studies show that loneliness can lead to various mental disorders, especially depression. When depression becomes severe, it causes negative thinking, such as suicide. Having body contact with a Psychiatric service dog for depression keeps you from feeling lonely.
Constantly interrupting you and licking your face may be all that's needed to keep you from severe depression. And if you start shaking, crying, or having a panic attack, the dog can calm you down through tactile stimulation and deep pressure therapy.  
5. Gives You Confidence
If you can interact positively with a dog, you can also interact with humans. For example, a Psychiatric service dog for anxiety can give you the confidence to be outgoing and be more social. When you go in public, the dog helps to keep some distance between you and others. A service dog can also lead you to a safer place, away from crowded places.   
PSDs can help you to deal with PTSD. Click the button below to get your PSD letter.
6. Performs Everyday Tasks
If your condition prevents you from performing particular tasks, a psychiatric service dog can help. Psychiatric service dog tasks include opening doors, retrieving items, and turning on the lights. They also help search rooms, wake you up, remind you to take your medicine, and much more.
7. Keeps You Grounded
People with schizophrenia and manic episodes in bipolar often lose touch with reality. When the service dog starts nudging and pawing you, your mind starts to focus on the dog. So the dog blocks your thoughts and minimizes your chances of experiencing hallucinations and extreme mood swings.
8. Helps with Dementia
Dementia is a mental condition that causes one to lose memory. If you have depression and anxiety, you may find yourself losing your memory as well. For example, if you forget your way home, a psychiatric assistance dog can guide you back to your house. The calming effect that the dog provides can also help improve your memory.
9. Gives You Purpose
Owning a service dog comes with responsibilities. The dog has to eat, bathe, and stay groomed. It's your responsibility to do all that. Caring for a service dog gives you a sense of purpose. The activity itself keeps you busy, minimizing your chances of being idle and overthinking.  
10. Helps with Physical Exercise
A service dog needs to exercise regularly, and so do you. The dog will encourage you to go out for a walk or play. Walking your dog helps you in two ways. First, it keeps you physically fit. Secondly, studies show that exercise contributes positively to mental health. Your dog will also benefit a lot from the walk.  
Psychiatric Service Dog VS Emotional Support Animal
Emotional support animals (ESA) provide significant help to people with depression and anxiety. However, these animals aren't the same as service dogs in the eyes of the law. The ADA provides rules for service dogs but not emotional support animals.
Psychiatric service dogs help people with mental disabilities only. A letter from a healthcare provider is often required to confirm that you have a mental illness. Furthermore, a service dog must receive training relevant to your disability.
On the other hand, ESAs don't require training. Their mere presence is enough to provide stress relief. Unfortunately, they have limited rights compared to service dogs. Sure, they have protection from the Fair Housing Act and airline carriers. But you may have to pay surcharges to receive accommodation.  
Whatever the case, ESA can be your best choice if you can't afford a service dog or don't qualify for one. The presence of a dog at your home, whether a psychiatric assistance dog or ESA, can be life-saving.
One study showed that dog owners had lower chances of developing cardiovascular problems. Blood pressure and stress levels contribute to cardiovascular risks. So having a dog has the effect of reducing stress levels.
So if you're considering getting a dog, whether an ESA or a service dog, such a plan serves to support your well-being. And if you already have one, wouldn't it be nice to have them accompany you everywhere? Again, that's possible if you have an ESA letter.
Keep your mental health strong with PSD Pet – Click the button below.
Conclusion
At ESA Care, we can help you get ESA and PSD letters. These letters provide medical evidence that you have a mental condition that warrants having a dog. If you would like to have one, get in touch with us. Our licensed psychiatrists will perform an online test and issue the letter without delay.
At ESACare, we can also help you get a PSD letter for your service dog.