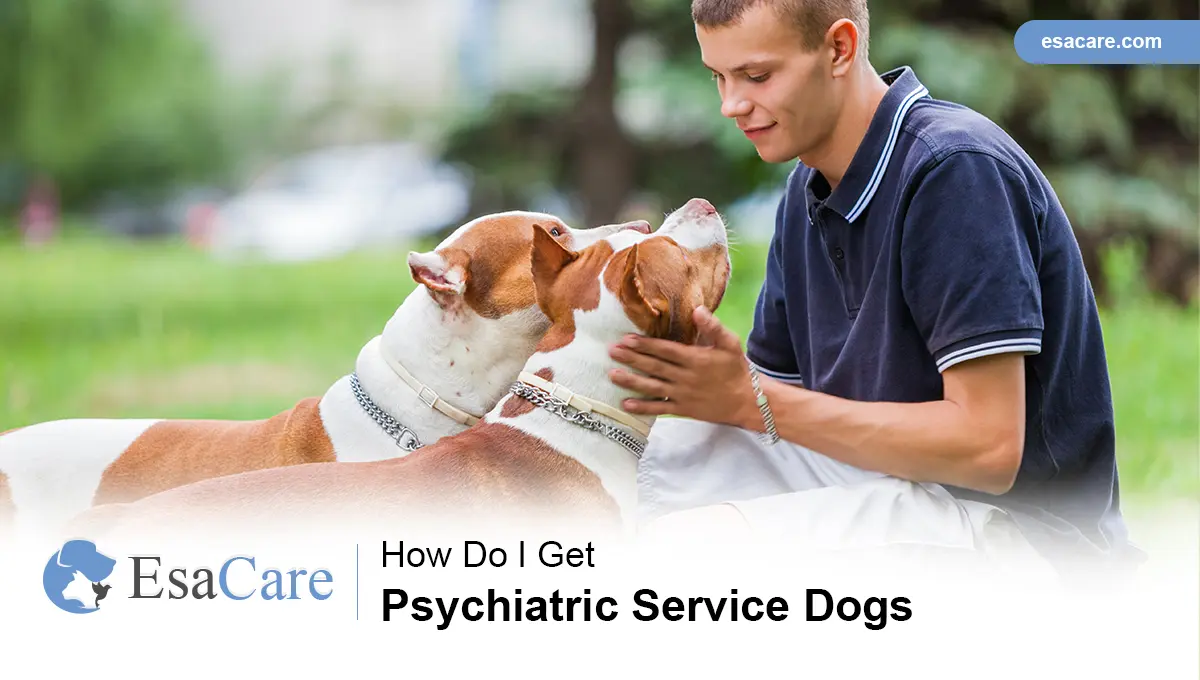 Psychiatric service dogs are the complete definition of an emotionally understanding companion. Psychiatric service dog organizations focusing on providing therapy services using the dogs ensure these dogs are thoroughly trained. Plus, they provide dogs that are screened for social temperament to deliver quality services.
Looking for an ESA Letter for your dog? Click the button below!
So, how do you get to enjoy the services of psychiatric service dogs?
Qualifications for Having a Psychiatric Service Dog
Let's say you're hearing about these service dogs for the first time. It might be pretty compelling to find out how to get a psychiatric service dog. Nowadays, you can use google maps to find anything.
But does this mean you can even search for psychiatric service dogs near me on google maps? Well, getting a psychiatric service dog is not always that simple.
The foremost must-have qualification for a psychiatric service dog is the mental disability or instability of a person. That particular mental challenge should be one hindering you from your normal daily activities. 
Apart from the effects of the illnesses, there are other things you need to do, such as;
Financing maintenance routines and veterinary care of the dog.

Participating in the dog's training program.

Being able to command the dog independently.
Remember, the service fee for the dog is not covered by medical insurance or any insurance company. If possible, you can pay dog trainers from psychiatric services dog organizations to train your dog for either emotional support or help with mental illness.
Responsibility of a Psychiatric Service Dog as an ESA
In one way or another, ESA (emotional support animals) make subjects' feel good. People living with mental illnesses are at an advantage having these animals – commonly referred to as psychiatric service dogs.
Having these animals around can help minimize the risks of experiencing anxiety attacks or a traumatic episode. It's worth understanding that psychiatric service dogs are specially trained to handle such tasks effectively. Admittedly, any form of the mental illness experience is unpleasant. But one thing to note is that these animals provide some sense of security and independence.
Does Depression Qualify for a Service Dog?
Depression, among other mental illnesses, including anxiety, can qualify for a service dog. But only if the depression prevents you from performing at least one or two major activities. Such a claim should be accompanied by a medical report from either a psychiatrist, social worker, psychologist, or therapist.
Below are some of the tasks a service dog can provide:
Call a programmed emergency number, e.g., 911

Remind you to take your medication

Excuses itself from the room in case you want an alone moment

Capable of preventing piling of emotional baggage

Identify and assists with your medication's side effects
Service Dogs for PTSD
PTSD (Post-traumatic stress disorder) is a health condition developed due to exposure to life-threatening experiences, traumatic events such as sexual abuse, loss or passing of a loved one, and many more. PTSD is more common among military personnel since they are constantly exposed to deadly experiences. Therefore, it's no surprise that many people who opt for PTSD service dogs are former war veterans. PTSD-trained service dogs are capable of expertly handling patients with PTSD. The task includes; instilling confidence and independence in the day-to-day life of their handlers.
These service dogs for PTSD can wake up their handlers if they're experiencing a nightmare, then proceed to comfort them by embracing them. Different types of dogs are trained with other cues. The most effective dogs for PTSD-related responses are Labrador retrievers, German shepherd, and Golden retrievers. The breeds don't matter, though, whether mixed or not.
Keep your ESA pet close – Click the button below!
Tests for Psychiatric Service Dogs
To walk with your dog in public spaces, it must pass the public access test (PAT). Ensure that your dog is supervised throughout the program by a licensed trainer or training institution. Remember, your presence is vital at all times during the period of its PAT. This step is key to the certification process.
Effectively training such a dog should take only seven days in the certification program. After the psychiatric service dog passes the PAT, this documentation serves as a confirmation that your dog is public effective in places of accommodation or passenger vehicles under your supervision.
For your dog to gain certification, it must meet the below requirements:
Must have passed PAT under the supervision of a licensed trainer or institution over a minimum period of seven days.

Vaccinated and de-sexualized.

Have been identified as not dangerous to the public.

It falls under a breed that isn't restricted.

Carry out identifiable physical tasks or exhibit physical behavior to reduce the handler's support requirements.
These psychiatric service dog's abilities must be checked regularly to ensure they stay on track and add new skills to their existing ones.
Tasks Performed by Psychiatric Service Dogs
For a dog to be considered a psychiatric service dog, it must carry out at least one task that's aligned with its handler's disability. In the United States, under ADA (Americans with disability act), psychiatric service animals such as psychiatric dogs are allowed in public places.
This plan aims to ensure that the dog can help its handler in whichever way possible, depending on the type of illness they are suffering. Depending on their handler's distress level, psychiatric service dogs can carry out different tasks.
Below are the tasks and how they carry them out;
Can jump on a handler to bring them back from an anxiety attack before it escalates.

Putting its head on the lap of the handler if they notice them shaking.

Places its face on the chest of the handler and maintains eye contact to calm them down.

Protects the handler in public space by positioning itself in front of the handler.

Interrupts stress by nudging its face onto the handler's hand.
Psychiatric Service Dog Cost?
So, how much should you expect to spend on psychiatric service dogs? Well, psychiatric service dog costs vary depending on the organization you contact. But generally, the average price for these dogs is about $20,000 to $30 000.
This high price tag reflects the trainers' effort, time, resources, and work in raising and training psychiatric service dogs to fit your condition and lifestyle. This is just but a fraction of the total money spent to take care and train these dogs. 
Your ESA dog can be your best companion – Click the button below!
Final Thoughts
Dogs largely remain to be man's best friend. But, on the other hand, psychiatric dogs have a vital role in the lives of those struggling with mental health conditions. Moreover, the world is rapidly changing along with our view on dog ownership such that ownership to a trained dog is just a phone call away.
Here at ESA Care, our team of experienced professionals and therapists can help you get your ESA letter within minutes. It's time to kiss breed restrictions, unfair airline fees, and pet deposits goodbye. 
Contact us today or book an appointment to speak to our licensed mental health professionals today.