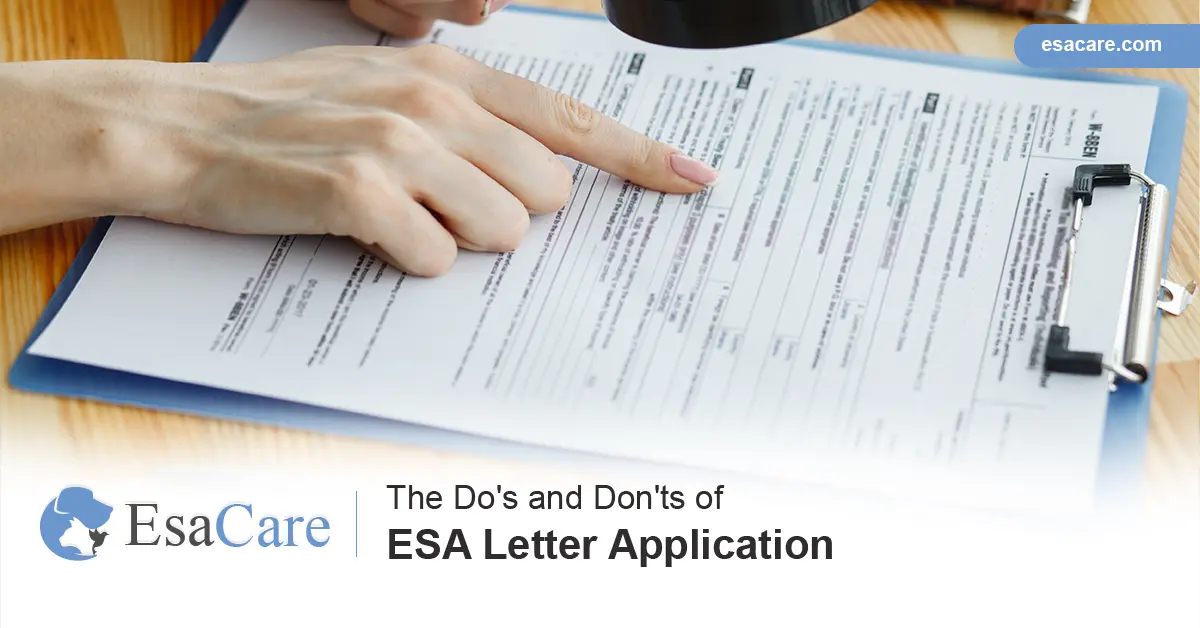 According to research, mental disorders continue to rise in the United States every year, with an estimated 8 million Americans having severe psychological distress as of 2017. In 2018, 19.1% of the U.S adult population reported mental health conditions. It indicates that 1 in every 5 adults are facing mental health issues.
Emotional Support Animals (ESA's) are increasingly becoming popular in various parts of the world. Decades ago, people considered only dogs and cats as their go-to companion animals to guarantee calming and mood-boosting effects. Things have changed.
Nowadays, a peacock, a chicken, cats, among others, have been widely accepted for emotional support for people struggling with anxiety and other emotional-related conditions.
Take your Emotional Support Animal anywhere. Grab your ESA Letter Now!

We will take you through the process of obtaining a certified ESA letter. How you can beat the restrictions to find the perfect support system you dearly need in your life. Keep reading through to the end – you've got this!
Why You Need a Certified ESA Letter
Emotional support animals need to be licensed so they can legally accompany you anywhere you go. Your licensed emotional animal also gets specific housing and air travel accommodations by law.
Your ESA must be prescribed by a licensed mental health professional. Since most of these services are online, you should be keen on whom to trust with your ESA letter. You don't want to believe any online ESA letter mill – peddling ESA certification without a legit license.
If by any chance, you obtain a fake ESA letter from a quack ESA doctor, you run the risk of losing your ESA license and potential lawsuits for counterfeiting.
Below are tips to keep you away from fake ESA letters.
If the deal is too good, give it a second thought. A licensed mental health doctor will not charge you below the market standard. There could be price differences, but you want to make sure the price gap makes sense.
Quick ESA Letter Approval
Before your ESA letter is approved, your doctor will schedule an interview to know if you need emotional support. If you get your ESA letter without a formal appointment, you have all the reasons to question your ESA doctors' credibility. A real ESA letter will take time before it's approved- at least a couple of days before you get a hardcopy.
Questionable Licensing Process
ESA certification follows a clear and precise process. If your ESA doctor asks for animal registration fees or other "special" charges, you're probably dealing with a con.
Live every minute of your life with ESA Pet. Get Your ESA Letter!

Understanding the Process
Getting your ESA letter is pretty simple. You'll need to follow the steps below.
Fill a health questionnaire to ascertain that you need emotional support.
Choose your plan and proceed to make a payment.
Book a date and time to set an appointment with your mental health professional.
Wait for your ESA letter.
Typically, you'll get your ESA letter via email once your application is successful. Your doctor will help you (where possible) identify the best emotional animal to suit your specific health conditions. It will go a long way in finding the right companion pet to provide comfort in times of anxiety, sadness, and emotional stress.
How to identify fake ESA Letters
Benefits of an ESA Letter 
With a certified ESA letter, you get all the freedom to own and travel with your emotional support animal. It doesn't matter what the animal is, provided it's formalized in your ESA letter.
Below are the benefits you get once you have your ESA letter with you;
You get housing and travel accommodation (including air travel) for your emotional support animal.
All your emotional support animal's details are mentioned in the letter. To avoid any confusion or misshaping with your pet.
If you need to register the pet for service, this letter will be an aiding statement.
Say Good-Bye to Mental Health Disorders. Get your ESA Letter!

Conclusion 
If you're going through tough times in your life, emotional support is one of the home-care services you'll always need. Knowing that you can travel anywhere with your emotional support animal and show a letter to your landlord for peace of mind.
Obtaining a certified ESA letter doesn't get any easier than filling out a health questionnaire, scheduling an online appointment with your mental health doctor, and downloading your letter from the convenience of your smart device. Contact us today to begin your ESA letter application process.