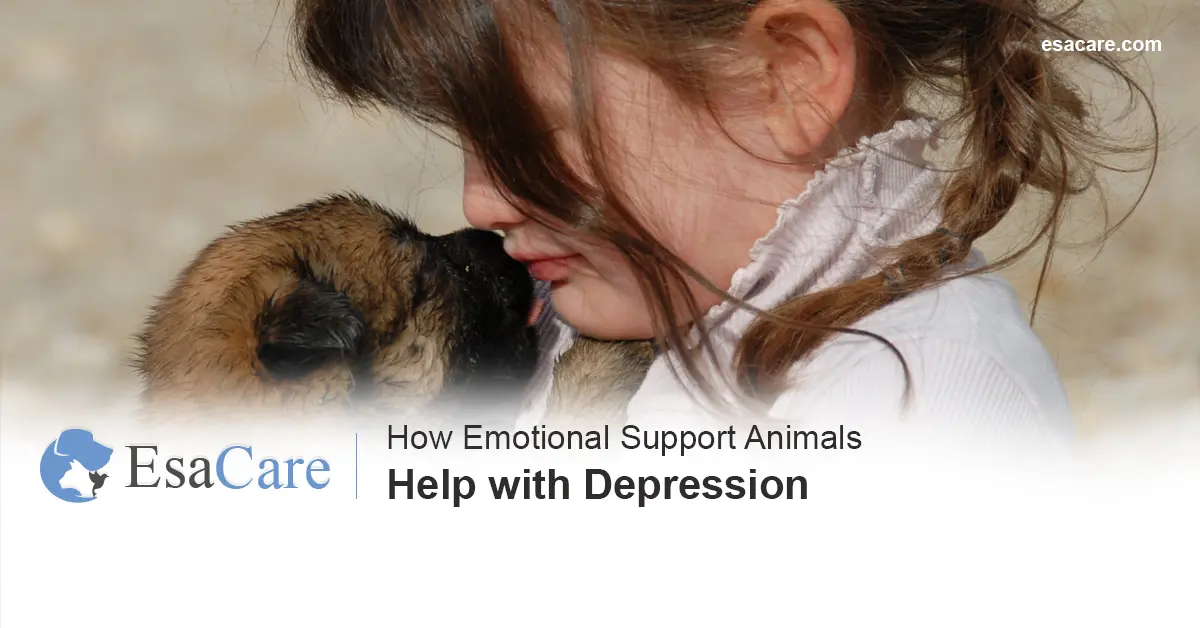 The real problem with depression is unlike physical challenges, it doesn't "show." People suffering from depression don't need special ramps or hearing devices. They look fine. But depression is very real.
Emotional support animals (ESAs) help with depression.
Depression is an Acknowledged Disability
Airlines, college housing administrators…many organizations are managing the rapid increase of ESA (emotional support animals) traveling and living with those in need. It's an inconvenience, yes, but the reality of depression can no longer be ignored.
About Depression
Symptoms of depression can include (but are not limited to):
Decision-making difficulty
Difficulty concentrating
Digestive problems
Drinking too much
Excessive sleeping
Feeling "out of control"
Feeling useless/worthless
Feelings of hopelessness
Guilt
Insomnia
Irritability
Lack of energy
Loss of appetite
Loss of interest in hobbies
Overeating
Persistent aches/pains, headaches
Restlessness
Thoughts of suicide
Types of Depression
Atypical – Characterized by very reactive responses to situations and severe sensitivity to criticism and/or rejection
Bipolar Disorder – Extreme/uncontrollable highs/lows
Bipolar II – Hypomanic "highs" and extreme lows
Clinical depression – also known as Major depressive disorder (MDD); impaired quality of life/persistent loss of interest in activities
Persistent Depressive Disorder (PDD) – depression lasting longer than 2 years; also known as Dysthymia
Post-Partum – New mothers; depression following childbirth
Premenstrual Dysphoric Disorder – PMDD regularly affects some women; manifestations include anxiety, nervousness, aches, breast tenderness
Seasonal Affective Disorder – Occurs during months with reduced sunlight
The Clinical Truth About Depression and ESA
In an NCBI publication about therapy vs. pathology roles in ESA prescriptions they wrote,"(ESAs) are not considered pets under the law and special accommodations must be afforded to individuals who need ESAs to assist them psychologically."
"No pets" housing must allow ESAs under the Fair Housing Act. Most airlines have also established policies for traveling with emotional support animals.
Drugs, therapy, diet, and exercise are treatments for depression. But it's been shown emotional support animals provide psychological support to those in need. "For a person with anxiety, the act of petting an animal can…be of benefit," says Jessy Warner-Cohen, Ph.D., MPH.
Animals lift our spirits just by being there.
Animals make us laugh more; laughing is a natural cure for depression.
Emotional support animals don't have to be dogs or cats.
ESAs provide a sense of purpose to people who feel unnecessary. Grooming, walking, feeding, and protecting an animal gives us a reason to wake up. Every day. In fact, sluggish owners find their support animals will "force" them to get moving!
Landlords cannot charge a pet deposit for documented emotional support animals.
Support animals alleviate loneliness.
Under the ACAA (Air Carrier Access Act), ESAs are not defined by breed or species. Whether or not an animal can fly in the cabin depends on their size and if they could possibly pose a threat to other passengers.
ESA Letters Travel With You
You can buy tags for your pet online. The tags say, "ESA" and they're usually red and oversized. Anyone can order them.
You need to carry a letter with you, especially when traveling. An ESA letter is a recommendation from a licensed medical professional.
Animal-specific information – Your ESA letter should not be "generic." It should specify your animal's breed, name, and identification number.
Date – An undated ESA letter is not valid. Your ESA letter should specify the issue and expiration dates.
Letterhead – A genuine ESA letter has a letterhead that includes medical credentials: your doctor's name, license type/number, and contact information.
Mental health condition – Your ESA letter should state you need an ESA to manage a mental health condition. The letter should identify the mental health disorder managed by the support animal's presence.
State-specific – Each U.S. state has its own licensing board. Your Emotional Support Animal Letter should be issued by a medical professional licensed in your state. Always check the medical professional's/physician license to ensure it's current and valid.
We live in a digital society. It's not surprising there are many online offers of ESA "letters." Some people pay the fee only to discover their ESA documentation isn't worth the paper it wasn't written on. Watch for signs of ESA letter-scamming:
Customer support non-existent
LMHP license invalid or current in your U.S. state
Misspellings, poor grammar, or lack of important details (Ask for a "blank" sample ESA letter; it may be incomplete or grammatically embarrassing.)
No requirement for consultation with an LMHP (licensed mental health professional)
Rates not comparable with other agencies (If "the price is too good to be true…")
You Don't Have to 'Face the World' Alone
Feeling safe is a right; not a privilege. For some of us, feeling safe requires more support.
If you believe you qualify for an emotional support animal, take steps to get the documentation required. Request an online evaluation and schedule an appointment with an ESA Care licensed Medical Doctor today.
Soon, you'll be able to live and travel without fear, accompanied by your emotional support animal.