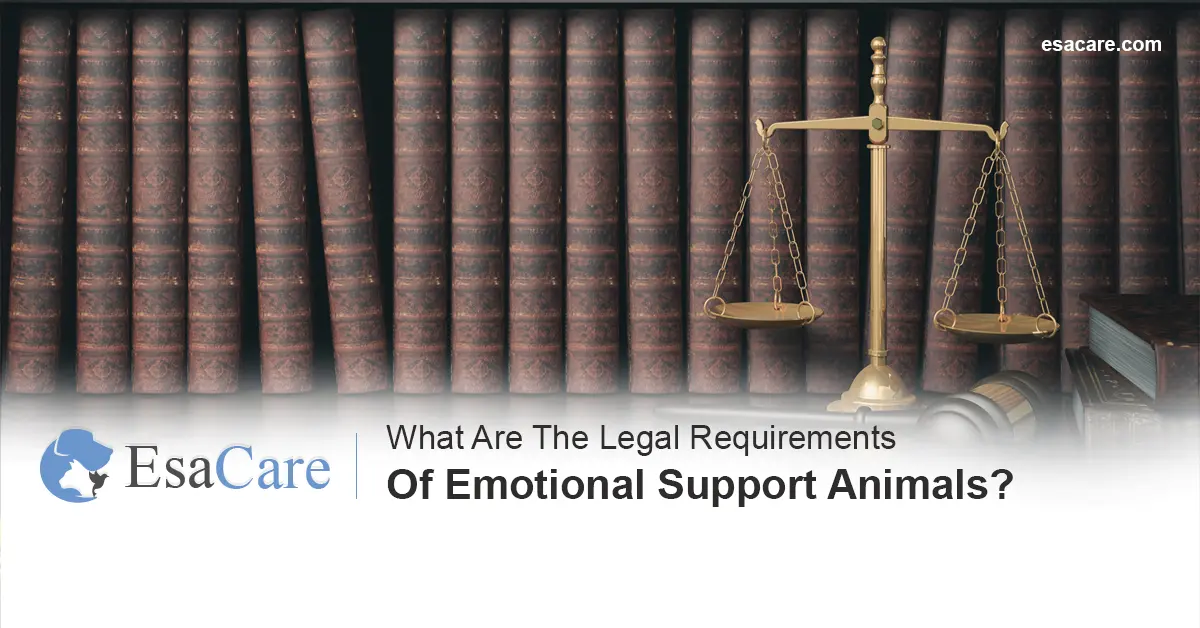 What does it take to qualify for an Emotional Support Animal (ESA)? Knowing the legal requirements for what qualifies as an ESA, and how to register the animal are both essential elements you will want to understand. The benefits of adding a furry companion into your life are well worth the time invested in learning the in's and out's of the legal requirements you need to satisfy.
What is an ESA?
Your ESA is not just a pet; it's a partner that is prescribed to you by a licensed mental health professional as part of a mental health treatment program. This prescription can come from your therapist, psychologist, or psychiatrist.
ESA's are commonly dogs and cats. However, your ESA can belong to practically any species. However, the Air Carrier Access Act can allow airlines to deny access to unusual animals such as rodents, reptiles, birds, insects, etc.
You can get an ESA letter after getting assessed by licensed healthcare practitioners at ESA Care.
Who Qualifies for an ESA?
To meet the ESA requirements, you must receive a qualifying diagnosis for a mental/emotional disability. Once you receive your diagnosis, you can request a prescription for an ESA.
Do ESA's Require Special Training?
There is no legal requirement for an ESA to undergo any specialized training or receive certification through any training program.
Do You Have to Register an ESA?
There are no legal requirements to register your ESA, and your ESA letter will make it possible for you to travel with your companion. Contrary to what you may have heard, any registration of your ESA is entirely voluntary. That said, there are advantages of registering your animal. The most important is that if your animal is registered within the National Service Animal Registry, you will avoid many headaches and hassles when you travel with your animal.
Is Your Psychiatrist/Psychologist/Therapist Obligated to Prescribe an ESA?
No, there are no legal requirements for licensed mental health care providers to prescribe you an ESA. As with all prescriptions, it is at their discretion to determine whether or not an animal would benefit your specific situation. However, no psychiatrist, psychologist, or therapist can legally prevent you from obtaining a second opinion from their peers in the mental health community.
Does the Law Protect My ESA During Travel?
Yes, the law protects your animal while traveling. Provisions within the Air Carrier Access Act allow you to fly with your ESA without paying a pet fee. However, that does not mean that all private entities must allow you entry or to receive services while you are with your pet.
For instance, motels, stores, trains, buses, taxis, and other private businesses can deny your pet entry into their premises. While some of these will grant you access, there is no legal obligation for them to do so.
Does the Law Protect My ESA at Home?
Yes..and no. In some cases, the Fair Housing Act does not require landlords and property managers to make accommodations for an ESA. These include buildings with four or fewer units wherein the landlord lives on-site, single-family housing, and private clubs. That said, the Fair Housing Amendments Act of 1988 does require all landlords and property managers to make reasonable accommodation for such requests.
However, in situations not specifically exempted from the FHA requirements, landlords cannot ask for a deposit or pet fee or assess a surcharge for an ESA. Landlords cannot require the animal to receive any special training, or require the animal to carry any special tag, collar, harness, etc. Further, landlords are prohibited from inquiring about your specific disability. This means they may not require you to provide medical documentation verifying your right to have an ESA.
What About Breed, Species, and Size Bans?
Again, the Amendments Act of 1988 requires landlords to make reasonable accommodations. For instance, if they accept cats, and you have a dog, amending that policy to allow your dog would be considered a reasonable accommodation. Not amending the policy and allowing your ESA to reside with you would violate the law.
What About Breed Bans in the City?
Many cities ban specific breeds. Rottweilers, Pit bulls, and many other breeds face bans that vary from city to city. If your animal is banned in the city where you intend to reside or live, you do not have a legal right to possess the animal in that jurisdiction.
An ESA letter is your ticket to a safe journey or a peaceful stay at your destination. At ESA Care, we'll guide you through the steps that will help ensure your emotional support animal meets all applicable legal requirements for where you live and where you're traveling.