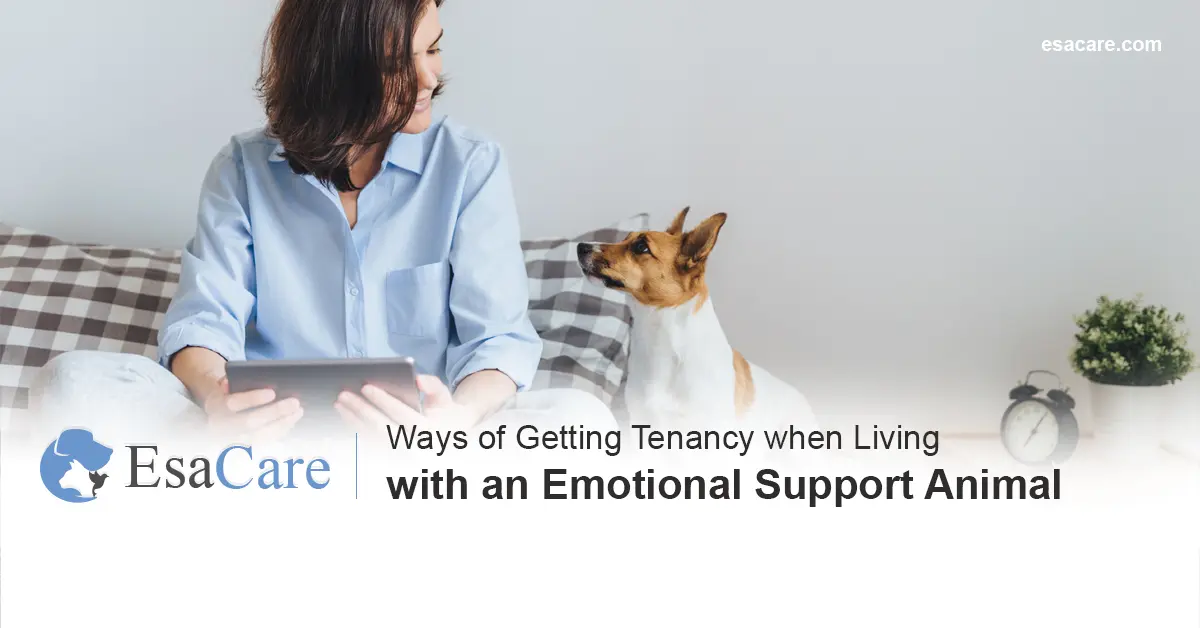 Health professionals and advocates have long recognized the benefits that emotional support animals (ESA) can play in supporting their owners mentally and emotionally. These animals can become as essential as wheelchairs or canes in terms of assisting individuals with mental or emotional impairments. However, the problem arises when its time to seek tenancy where landlords enforce a "no pets policy."
The law generally requires that landlords make an exception or a "reasonable accommodation" to allow tenants with disabilities to use and enjoy the dwellings. This encompasses not just physical disabilities, but emotional and mental disabilities. This law is referred to as the Fair Housing Act and makes it illegal for any landlord in both public and private housing to discriminate against a tenant because of physical or mental disability. Discrimination against an individual with a disability can include denial of service or emotional support animals in housing. In this guide, we highlight a few ways you could explore to get tenancy when living with your emotional support animal.
1- Politely Let your Landlord Know About your ESA
Taking a nice approach when dealing with your landlord or building owner is always the best approach. Sit down with the person in charge of the building and negotiate out a reasonable tenancy plan for you and your ESA. Although you don't have to disclose your specific disability, it's prudent to demonstrate that you have a disability and that your ESA will help lessen the effects of the disability. This will allow the landlord who has a legitimate reason for a "no-pets policy" to weed out those who just want a pet for company from those who truly need an emotional support animal. However, you don't need to reveal your private medical details about the disability – just a simple proof that you have a disability.
If you receive disability benefits, this information can help further demonstrate that you are genuine and not just trying to get a pet into a "no pets" apartment. Once you've reached an agreement with your landlord, be sure to get all the details in writing and append both your signatures and date to verify the agreement.
2-  Get an ESA Letter from a Therapist
The next approach that can make this process smoother is to get your paperwork together to show your potential landlord beforehand. You can request an authentic emotional support animal letter from your medical health professional, stating that the animal is not just a companion, but an important partner for health issues. The document has to be on the mental health professional's genuine letterhead, signed, and dated less than one year from the time you are seeking the housing.
You can get your ESA letter after consulting with a licensed medical doctor at ESA Care.
3- Training Your Animal to Behave Well
Disturbance and bad behavior are some of the reasons many property owners declare their properties pet-free. Take some time in your initial interview to demonstrate to the landlord that you will have your emotional support animal under control at all times. This should extend even outside the facility. Under the same Fair Housing Act, your landlord has the right to evict you if your animal is causing disturbance or danger to other tenants.
Why training your ESA is essential?
4- Seek Legal Redress
The Fair Housing Act was created to stop the discrimination of building owners and landlords towards people who need special assistance in terms of owning animals. The act states that no landlord/building owner can deny housing to an individual who is deemed physically or mentally disabled and their emotional support animal or assist. The law typically requires landlords/owners to make "reasonable accommodation" for such tenants to use and enjoy the dwelling.
So, if you've tried to explain your need for an emotional support animal to your landlord and provided proof of your disability and they still refuse to change the no-pets policy, the last option is to seek legal redress. When reasoning does not bear fruits with your landlord, you could consider contacting your attorney to file a discrimination case. Some of the notable cases that have previously been settled in favor of ESA handlers include:
However, you need to be sure that you have a disability for which your companion animal can assist with. This assessment is relatively easy if you have a physical disability, but mental or emotional impairments may demand a written letter from your therapist.
Wrap-Up
As millions of American residents continue to suffer varying types and levels of mental conditions, there's an increasing need to find sustainable solutions. Emotional support animals are among the best therapy aides that many health professionals recommend. Whether its depression, anxiety, panic attacks, or any other mental or emotional issue, having peace of mind in your preferred accommodation should be a top priority.
You can make the process of getting tenancy for you and your ESA a lot easier if you have a valid ESA letter from a credible source. At ESA Care, we issue legitimate ESA letters to patients who deserve them. Contact us today to begin the conversation.