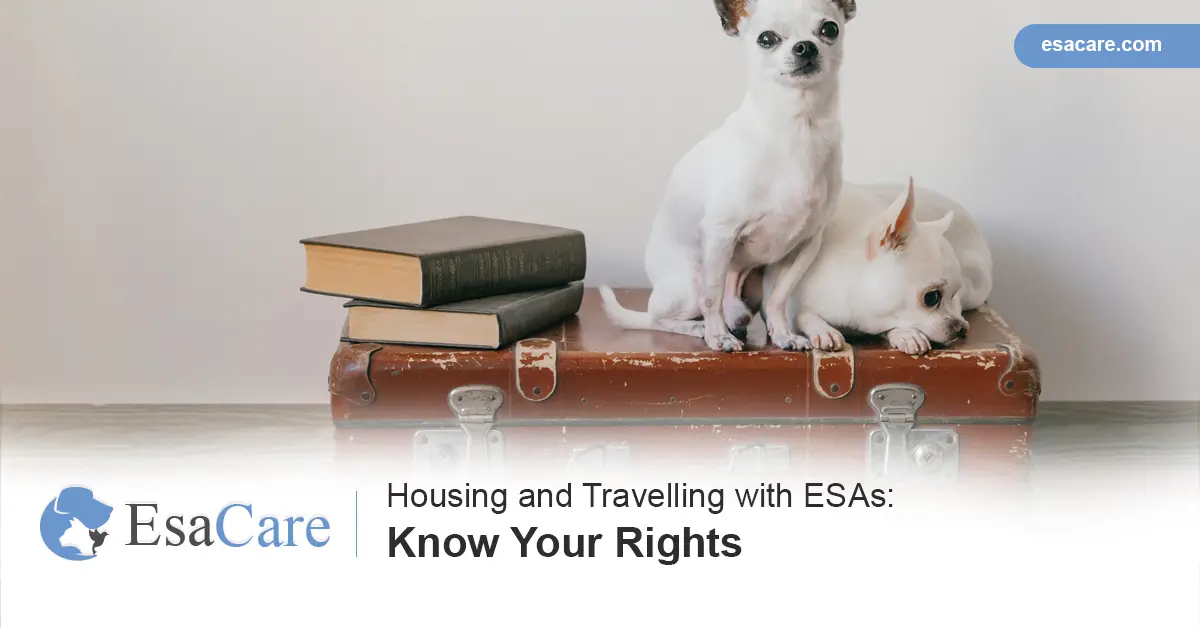 With an ESA by your side, you can enjoy a good quality of life, regardless of your mental or emotional disabilities. Being able to freely live and travel with your ESA will ensure that you experience this quality of life at all times.
Improve your mental health by keeping your mental health close by – get your ESA letter today!

Living with an ESA
Some landlords may not be welcoming or accommodating to pets in general. This can make things quite challenging if you have an ESA. The good news is that in bold recognition of the crucial role that ESAs play in the life of people living with mental and emotional health challenges, having one doesn't exclude you from the right to enjoy fair housing.
The Fair Housing Act and ESAs
This federal law protects tenants with a disability, physical or emotional, from discrimination. The Fair Housing Act (FHA) guarantees that you can secure the use of a dwelling, even in the building where there is an explicit "no pets" policy.
Key stipulations of the FHA are as outlined:
Housing providers must make reasonable accommodation and allow your ESAs, even if it's a complete exception to any policies regarding pets.
Housing providers cannot impose restrictions such as the breed, age, size, and weight of your ESA. These restrictions may apply to normal pets As such, you won't have to worry about getting a new ESA that fits a specific profile to rent in a building where pets are allowed, but with restrictions. That said, housing providers are not obliged to comply, in instances where the ESA is too big, such as a horse, to fit into a house.
Your right to privacy is guaranteed. You are not required to disclose any details regarding your mental disability to any housing provider. Your landlord cannot ask for medical records or engage you in any discussions regarding the type and severity of the mental disability for which you need an ESA.
You are protected against having to pay any fee, or extra rent simply because you have an ESA. This is the case even where the housing provider charges tenants with normal pets such as fees or deposits.
Traveling with an ESA
The U.S Department of Transportation gives guidelines that airlines must follow in compliance with the Air Carrier Access Act (ACCA.) The act covers both domestic and international flights.
Travel with ease – get your ESA letter now!

Under the ACCA:
You maintain the right to fly with your ESA in the airplane cabin at no fee.
The airline cannot deny you the right and opportunity to fly with your ESA for the sole reason that it is of a particular breed or weight. However, the airline can deny your ESA boarding if it's determined to be of such a weight that it would be too heavy or too big to be accommodated in the cabin.
The airline may deny your ESA boarding if it is so determined that the animal poses any health or safety risk to others. This also covers animals that are generally considered unusual, including rodents, ferrets, and reptiles such as snakes. Cats, dogs and miniature horses fall into the category of allowed ESAs.
The airline maintains the right to restricts ESAs to just one per passenger.
You will also find that airlines may have their own policies regarding traveling with ESAs. There is some variation in these policies from one airline to another, which is why you need to check with your airline before your travel date. After booking your flight, ensure you check back with the airline at least 48 hours before your travel date to confirm your compliance with their requirements.
What You Need
For both housing and flying with your animal, the primary document that you will require is an ESA letter that you can obtain from a licensed health care professional such as a therapist or psychologist/psychiatrist.
For travel, you need to submit the letter, in addition to any other required forms at least 48 hours before your travel date. The airline will notify you once your documents have been approved.
On the other hand, housing providers have up to 10 days to get back to you after giving the letter. Although not mandatory, you can always attach a brief personal statement to accompany the letter. Provided that your disability claim is genuine and that accommodating your ESA will pose no danger or create any hardship to other tenants and the housing provider, the landlord is obliged to agree to make the reasonable accommodation for your ESA.
What to Do If Denied?
As a tenant and passenger, you have rights under the FHA and ACCA, respectively, as outlined. Should a housing provider or airline unjustly refuse your request for reasonable accommodation of your ESA, then you can file a discrimination claim against these parties.

Get Your Letter Today
With a valid ESA letter, you can enjoy reasonable accommodation and other rights and privileges when looking for housing and when traveling. Contact us today for more help.