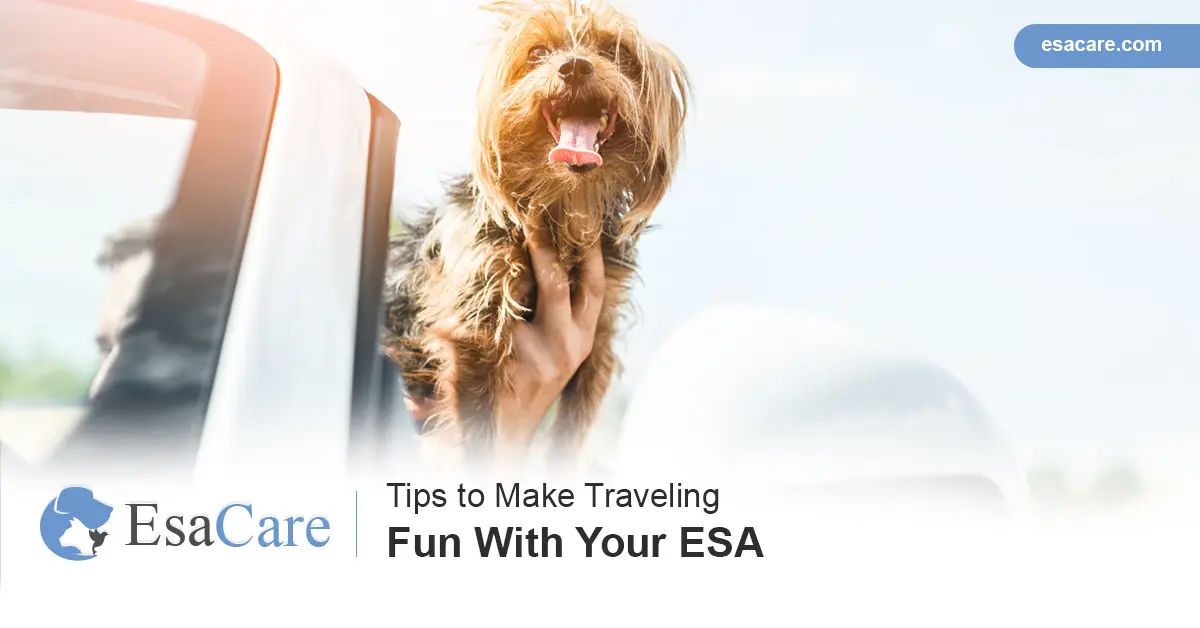 Emotional support animals are more than pets. They are confidants, comforters, and companions. At the same time, they help us overcome mental, emotional, and psychological conditions. So, what do you do to show a loyal and supportive furry friend how much you appreciate them? You give them a wonderful treat. Taking your ESA to a pet-friendly place ensures that both of you enjoy some quality time.
Travel with ease – get your ESA letter now!

Thankfully, with a valid ESA letter, you can travel with your pet anywhere and live in any place without incurring extra costs or going through frustrating experiences. However, just because you aren't discriminated against because of your furry companion doesn't mean that your pet will always enjoy every outing. After all, it's hard to have fun when your support pet is facing obstacles left and right. Here's how to have a trip that both of you can enjoy.
First, What's a Pet-Friendly Place
A pet-friendly place is any location, city, or building that not only allows pets but also welcomes them with open arms. Whether it's a cat, dog, rabbit, or bird, the animal is treated like it is part of your family. However, a pet-friendly place shouldn't be confused with a place written pets allowed. Although the two may sound similar, they have different meanings. 
Pets allowed means that the place is open to pets entering or staying in the building. However, they don't always welcome all types of animals. On the other hand, pet-friendly places welcome animals, and they have set up various pet-focused amenities. These amenities are meant to make the place more inviting and convenient for both you and your and pet. 
Learn the Qualities of a Pet-Friendly Place
Thanks to the benefits that pets bring us, different cities and businesses have taken steps to create pet-friendly environments. But how do you know a place is pet-friendly before visiting it with your ESA? 
Designated Outdoor Spaces – When you go vacationing with your ESA, you need to remember that your animal also needs quality time. One trait of a pet-friendly location is the availability of green space where you and your pet can exercise and socialize. 
Welcoming Businesses – Another feature of pet-friendly locations is that animals are allowed to enter stores and restaurants without any conditions. This ensures you don't have to present your ESA letter every time you want to shop for an item.
Efforts to End Pet Homelessness

– Places that partner with other organizations to give homeless pets a shelter are more likely to offer you and your furry friend a warmer welcome.
Development of Pet-Friendly Housing – Some city officials are working towards pet-friendly housing to ensure pet owners and their animals have an easy time going about their daily activities. This is an indicator of a place that loves pets.
Convenient Travel – Some places ensure that traveling with pets is accessible, safe, and hassle-free, and there is a presence of pet hydration and waste stations around the city.
Pet-Friendly Accommodation

– These hotels have staff who are knowledgeable about pets, they offer tasty pet treats, and they provide opportunities for pet owners to interact. They also provide supplies to take care of all kinds of emergencies.
Improve your mental health by keeping your mental health close by – get your ESA letter today!

Research the Most Dog-Friendly Destinations
Before you start packing your sunglasses and your pet's shampoo, do some research on the best places to travel with your ESA. In such locations, you are less likely to encounter hostile attitudes because of your animal, and you will probably find some pet-specific amenities. Here are some cities that have made considerable progress in this department. 
Austin, Texas – Austin, also known as Bat City, is very welcoming to pets, and it has plenty of amenities and activities that can make your visit enjoyable. It has hotels that offer pet-specific beds, enticing toys, fancy food bowls, and much more. There are also spacious dog parks where your dog can

play different games

, and water holes for your animal to take a dip or a drink.
San Diego, California – America's Finest City comes with plenty of amenities and pet-focused events that can benefit your animal. A lot of stores, restaurants, and other businesses will let you enter with your pet without questions, and others will even offer your pet a free meal.  Even better, it has three official dog beaches where your pet can perfect their doggy-paddle. 
Key West, Florida

– This city is not only pet-friendly, but it is also believed to be the birthplace of the Basket Hound. Many businesses here not only welcome pets, but they also own pets themselves. Interestingly, the place is littered with businesses that customize animal outfits, leashes, collars, bowls, and much more.
Use these Dog-Friendly Travel Tips
Learn your airline's ESA policy. 

Notify your airline in advance that you will travel with your ESA pet.

Don't forget to carry your original ESA letter, and your pet's medical record, grooming supplies, leash, paper towels, waste bag, water bowl, favorite toy, and some treats.

Keep your ESA pet on its best behavior to avoid disturbances. 

Be fully aware of your legal rights. 

Always research whether the destination you want to visit is animal-friendly.

Resist feeding your pet before a flight to avoid uncomfortable situations. 

If your pet gets anxious around strangers, visit a vet to get anxiety medicine for your animal.
ESA can Treat your Anxiety – Click the Button Below!

Closing Thoughts
If you want to have a great time traveling with your ESA, head to pet-friendly destinations. These places have lots of amenities that provide convenience and fun to both pets and their owners. An ESA letter that will allow you to travel anywhere with your furry confidence and without paying additional fees. At ESA Care, our certified physicians can help you acquire a valid letter.
Book an appointment with us today!