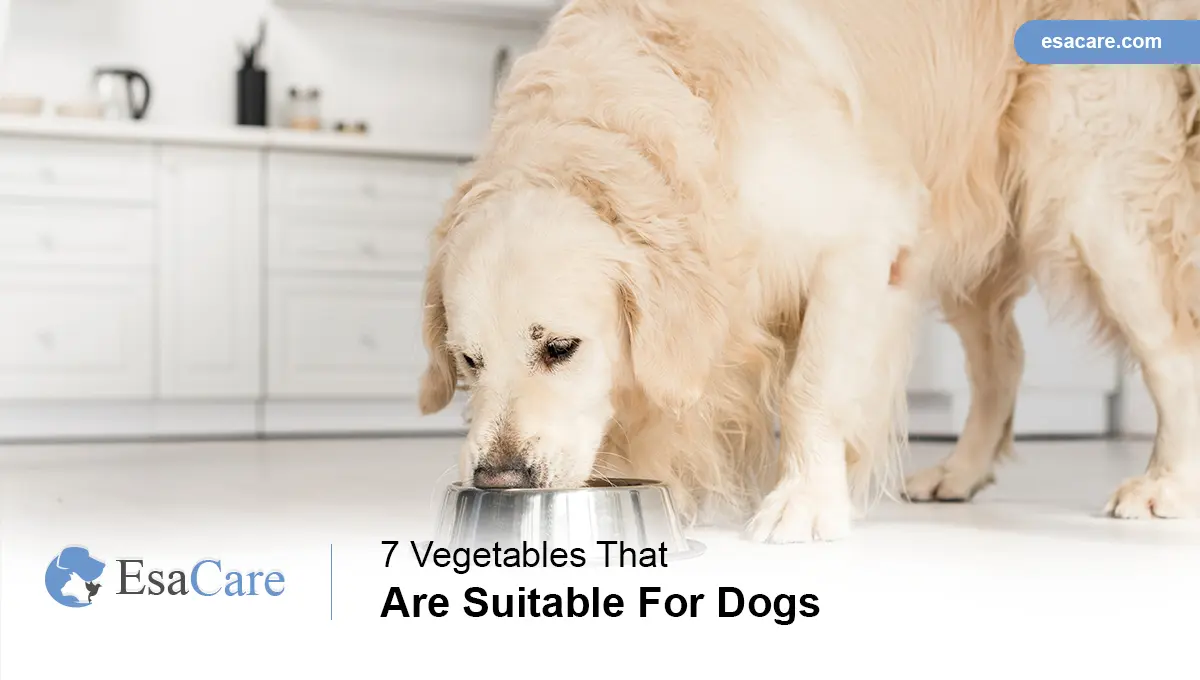 Ever wondered why carnivores like dogs should be eating vegetables? Well, vegetables form an essential part of a dog's diet. Not only do they contain vital nutrients key to a dog's health, but they offer the balance your dog needs in its diet. Yes, pups need meat to balance out their amino acid requirements, but good vegetables for dogs are essential too.
An Emotional Support Animal is more than a pet – Click the button below.
Some vegetables work out to balance the dog's diet better than others. That's why it's best to know which dog-friendly vegetables you should feed your furry friend.
Let's explore all about these dog-friendly vegetables and their nutritional benefits to your pet.
Why Should Your Dog Eat Vegetables?  
Besides dogs eating dog-friendly vegetables and fruits to supply nutrients and vitamins, feeding your furry friend some best green vegetables for dogs might be a good weight loss approach. Nicely prepared vegetables could be a replacement for the topper replacement. High-fiber fruits and vegetables for dogs help these furry friends digest their food nicely and keep them hydrated. These fibers and antioxidants boost the health of your puppy.
Best Vegetables for Dogs
1. Cucumber
Cucumber makes for an excellent dog-friendly vegetable as refreshing as they are to humans. It contains a lot of water, which keeps your dog hydrated. They are also crunchy, something that dogs like a lot. You can serve the cucumber fresh in small chopped-up pieces for your pup.
Cucumber contains nutrients like:
Vitamin C, an antioxidant that helps your dog get rid of radicals and reduce inflammation

Vitamin K, which helps to prevent heart diseases for your pup

Magnesium, which is responsible for the muscle health of your puppy
2. Sweet potatoes
Sweet potatoes top most lists of foods recommended to humans. Therefore, it is no wonder dogs enjoy eating them too. Sweet potatoes provide a great source of fiber to your dog, which helps them digest food better.
Since they are also whole foods, there's less risk of damaged digestive tracts or negative immune system response in your dog.
Sweet potatoes make for healthy vegetables for dogs because they contain low fat and are rich in calcium and potassium.
They also contain:
Vitamin A- maintains your dog's eye, nerves, and skin health

Vitamin C- for the proper functioning of the dog's immune system
However, you should be careful about the number of sweet potatoes you feed to your diabetic or overweight dog.
3. Carrots
Puppies are huge fans of these crunchy and sweet vegetables that are fun to chew on. You can feed them to your dog cooked or raw. However, before you lay out these vegetables, make sure you cut them in the right size to avoid choking hazards.
Carrots are beneficial vegetables for dogs since they offer an excellent supply of:
Potassium

Vitamin A

Fiber
Plus, dogs can reduce plaque buildup in their teeth by chewing on them.
Improve your mental health by keeping your ESA pet close by – Get your ESA letter today!
4. Broccoli
Unlike babies who pick on their vegetables, dogs are pretty welcoming of these nutritious vegetables. Brocolli is low in fat, making it a perfect alternative for your dog when you want it to shed some weight.
Caution: Broccoli contains a compound called isothiocyanate. When ingested in large quantities, your dog might end up with gastric discomfort, which is not what you want when you feed vegetables to dogs to eat.
Broccoli contains nutrients like:
Vitamin C, which is an antioxidant

Vitamin K, to help your dog clot faster in case of accidents

Potassium
The combination works magic on improving the dog's bone density and heart health.
5. Beets
Your dog's diet could also include a few sliced-up beets, raw or cooked. Beets contain a lot of nutrients, the main one being iron. Beets also contain vitamins A, B1, B2, B6, and C.
Beets also tend to be an excellent vegetable for dogs trying to shed some pounds because of their low-calorie value. They are abundant in calcium, manganese, organic sodium, and phosphorous.
The only problem might be feeding an excessive amount to your dog. Then, beets would become a health issue. Also, always chop them up to bite sizes to avoid choking and make them easy to chew.
6. Green beans
Green beans are another excellent choice you can have when looking for dog-friendly vegetables and fruits. They contain vitamins, minerals and contain low calories. You can feed your dog any form of green beans, whether cooked, steamed, chopped, raw, or canned.
However, you should avoid using oils, salt, spices, and garlic in the green beans. Also, chopping them to bite sizes makes it comfortable for your dog to eat.
Some nutritional benefits of green beans include:
They contain iron that promotes the healthy production of red blood cells

Green beans contain calcium that strengthens your dog's bones  and vitamin B6

Green beans are rich in vitamin C, K and A

They are also an excellent source of fiber for your pup
7. Celery
A few pieces of chopped-up celery could be the perfect topping you add to your dog's meal. You can serve them cooked or raw for pups that enjoy the crunchiness of celery. Celery makes one of the best vegetables for dogs because it can help boost your dog's teeth healthy.
However, if your dog has stomach issues or tends to drink little water, you should avoid feeding it too much celery because of its diuretic nature.
Celery contains nutrients like;
Vitamin A for a smooth and healthy coat

Vitamin C, an antioxidant to keep your pup young and healthy

Celery also has anti-inflammatory properties that could be beneficial for dogs with arthritis
Travel with ease – get your ESA letter now!
Vegetables to avoid
Not all vegetables are suitable for your dog. For instance, kale is rich in nutrients, but it contains compounds like calcium oxalate—which is harmful to dogs. Plus, you should avoid spices as you prepare vegetables for dogs to eat.
ESA Care helps you live better with your emotional support animals. Upon qualifying for one, you can immediately get a letter for a psychiatric service dog. The steps for getting your letter are simple, and you can call to talk to a professional when you need a legit emotional support animal letter.
Contact ESA Care and Book an Appointment about the ESA letter.