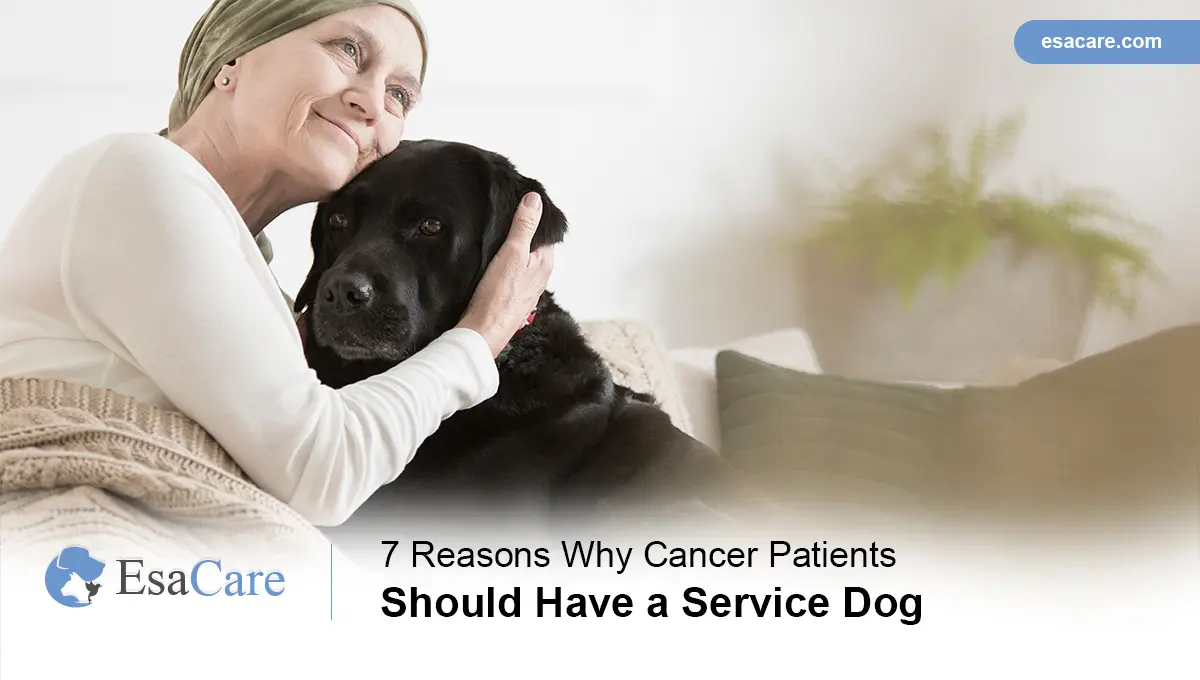 Cancer is the second leading cause of death in the U.S. Notably, the best chances of survival depend on early detection of the disease. Yet, a good number of people discover they have cancer when it's somewhat late. Sometimes, this is because it can take several medical screens to detect cancer.
PSDs can help you to deal with cancer. Click the button below to get your PSD letter.
But what if service dogs can smell cancer long before medical doctors can detect it? Is it possible? And how can service dogs help you if you have cancer? Let's find out.  
Can Dogs Smell Cancer
Dogs have an acute sense of smell that enables them to detect multiple diseases in humans. In one BBC documentary, an untrained dog helped detect breast cancer. The efficiency level of that dog was quite impressive, considering that the subsequent medical diagnosis failed to detect cancer.
Generally, dogs can smell cancer. All that's needed is to train them on being more efficient. Service dogs for cancer patients receive training to help them smell cancer cells in saliva, urine, and breath. Cancer cells produce a unique odor that dogs can detect.
Researchers say dogs can detect cancer types like breast, prostate, bladder, lung, melanoma, and ovarian cancer. Due to their acute sense of smell, service dogs can detect cancer in its early stages. Early detection of cancer is still a challenge even with advanced medical technology.   
One study showed an accuracy level of over 90% with a dog trained to detect ovarian cancer. So, this means combining the dogs' sniffing ability with medical technology can help a lot with early cancer detection. Scientists are now using that ability to build a mechanical nose for cancer diagnosis.  
But what if you already have cancer, can service animals for cancer patients be of any help?
How Can You Benefit from Service Dogs for Cancer Patients
Support animals for cancer patients can help in the early diagnosis of cancer. Most people with cancer notice their dog smelling specific parts of their body. After smelling cancer cells, the dog may change behavior. Once you see this behavior change, it's good to get a medical exam.
If you already have cancer, service dogs for cancer patients can help you in seven ways as follows.
1. Encourage You to Exercise
To remain healthy, you need to exercise all the time. However, it's good to consult your doctor before doing physical exercises. Often, doctors advise cancer patients to take less intensive activities such as walking. If that's the case for you, then service dogs for cancer patients will prove extremely helpful.
These dogs can also help you exercise by playing games with them. Some doctors say that exercising during chemotherapy can help reduce some side effects. Symptoms such as fatigue and nausea can reduce after exercising. Furthermore, it can help improve your immunity and balance by strengthening your muscles.
2. Assist with Mobility
Some types of cancer, such as brain tumors, can create mobility issues. One of your feet may become weak or numb. You might also be fatigued to the point where you can't stand or move comfortably. Service dogs for cancer patients can help you with mobility at such a point.
In this case, you'll need a large dog to support you well. A service dog can help you walk on the streets, climb the stairs, and help you stand. They can give you independence, meaning you don't have to rely on others to provide physical support.
3. Help with Anxiety
A diagnosis of cancer can be stressful and scary. If you stay too long in the hospital, you might feel lonely. Besides, the hospital environment may present a solemn atmosphere, causing anxiety issues. Having service dogs for cancer patients by your side helps lighten the mood a little bit.
These dogs can provide you company when you're alone in the hospital room or your house. Simple things like petting, staring, and embracing the dog can help alleviate feelings of stress. Simply put, a service dog can make you happier even when battling cancer.
Conditions Psychiatric Service Dog Treats with their Presence –  Click the button below!
4. Help Retrieve Items
If the type of cancer causes you to feel tired or weak, you might need assistance doing simple tasks in the house. Service animals for cancer patients can provide you with that assistance. This assistance includes carrying grocery bags, collecting items from the floor, and retrieving your medication.
You can have your service dog trained to perform most of the basic tasks you often do. Doing so gives you independence and makes your life easier.
5. Help in Emergency Cases
If you're alone, you may experience complications that require human intervention. Sometimes, you may be too weak to call for help on your own. That's when service dogs for cancer patients come in handy.
These dogs can call for help by barking or looking for any available person in the room. Moreover, they can fetch you drugs to deal with the emergency or get your phone to call for help. Some service dogs can even use canine phones to call for help.
6. Help Reduce Pain
Support animals for cancer patients provide a distraction from pain. Once you focus on the dog, you forget about the pain you've been feeling. Furthermore, research shows that stress can lead to pain. It can lead to tension in muscles, which causes pain. Stress can also lead to a high level of cortisol hormone, leading to inflammation and pain over time.
The presence of a service dog helps alleviate stress, and the low levels of stress subsequently help reduce pain. When you're happy, your body produces a hormone called endorphins. This hormone acts as a natural pain reliever.
7. Help Reduce Blood Pressure
Many studies show that dog owners have fewer chances of developing cardiovascular problems. So, people with dogs are less likely to die from a heart attack than those without a dog. Cancer patients face a higher risk of having hypertension. Partly, this is because of having less exercise and higher anxiety levels.
Service dogs for cancer patients help improve your mood and reduce your blood pressure. They do this by helping with anxiety and encouraging you to exercise.
Get a PSD letter today to enjoy the perks of having your psychiatric service dog close to you!
How to Make the Best Use of Your Service Dog
A service dog helps to lighten your mood in an otherwise somber atmosphere. You can benefit from the presence of these dogs both emotionally and physically. Dogs that help with specific tasks are known as service dogs and these animals are free to go anywhere in public areas. Generally, you might need to train your dog to be a service dog.
But let's say you don't have mobility problems. Here, you can benefit from emotional support animals. In this case, the dog can help with anxiety and exercise. And you won't have to train your dog on any specific task. However, you'll have limited access to public facilities unless you have an ESA letter.
If you're looking for an ESA letter to help you access public facilities with your dog, ESACare can help you.
Reach out to us and book an appointment with our licensed medical professionals.