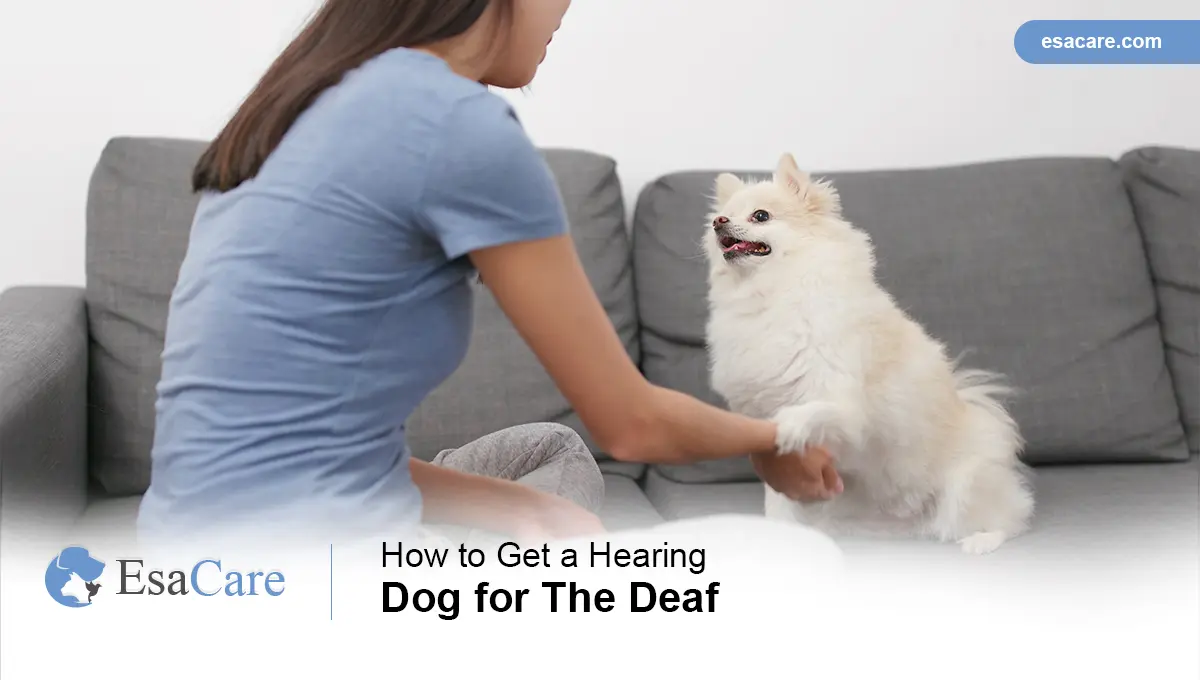 Service dogs perform many tasks, including guiding the blind, tracking, detecting drugs, helping people with mental disabilities, and much more. For example, hearing dogs are service dogs that help people with severe hearing problems.
Looking for a PSD Letter for your dog? Click the button below!
Dogs have an incredible sense of hearing. They can hear high-pitched sounds that aren't loud enough for humans to hear. They can tell when a person is approaching the door or when a car is approaching long before you can sense it. When it comes to hearing low-pitched sounds, dogs are just as good at it as humans (perhaps even better).
For this reason, dogs play a critical role in helping people with hearing problems. How do they do it? Below are some of the ways hearing dogs help the deaf.    
How Do Service Dogs Assist the Deaf
Hearing dogs help alert the deaf and hard of hearing on everyday sounds and signals. Their services can be essential to a deaf person living alone most of the time. In addition, hearing dogs for deaf people can give you a sense of independence, where you don't rely too much on others.
Hearing dogs also help with many other sounds at home and in public. These sounds include a child's cry, a whistle, a person calling your name, and many more sounds made by household appliances.
Hearing dogs alert you by making physical contact with you. They do this by jumping on you or nudging you with their noses.    
Other Benefits of Hearing Dogs for Deaf People
A service dog for the deaf helps you feel safe and confident. You can leave your house and go out for exercise or other activities knowing you have your dog's support. Your dog will let you know what's happening around you. As a result, you can sleep sound at night without worrying about waking up too late.
Being deaf can make you feel isolated and lonely sometimes. And if you become deaf later in life, you might feel depressed and anxious. But hearing dogs provide much more than hearing aid.
They help with companionship when you can't interact with others. This companionship or friendship can make you feel happier. For example, when you're depressed, the dog can act as your emotional support dog. The joy of a dog is contagious and can uplift your mood.
Conditions PSD Animal Treats with their Presence –  Click the button below!
How to Get Hearing Dogs for The Deaf
Hearing dogs require thorough training to pay attention to sounds, alert you, and lead you to the source of the sound. In addition, like other service dogs, hearing dogs need obedience training to help them access public facilities.
Most trainers prefer to start training hearing dogs when they're still puppies. That way, they're more likely to master the skills needed to be effective hearing dogs. You can get a hearing dog in various ways, including training your current dog or buying a trained one.
Dogs learn quicker when they're having fun. So trainers try to make the training as fun as possible. To the dogs, learning seems like a big game. Even though most dogs can be service dogs, some breeds can be more successful than others.
These breeds include:
Poodles

Terriers

Cocker Spaniels
If you need a hearing dog urgently, the quickest way to get one is to adopt a trained dog. So, how much do hearing service dogs cost? Well, training a hearing dog can cost at least $20,000.
But some international hearing dog organizations assist by donating hearing dogs to those in need. While some international hearing dog organizations give hearing dogs free of charge, others expect you to make a small contribution.
However, organizations that provide service dogs for the deaf have various requirements that you must meet before getting the dog. So, first, you may have to fill up an application or go for an interview. Then, you may have to wait for a long list of people who applied before you to get their hearing dogs. So it might take longer to get a hearing dog this way.
A good hearing dog should learn to ignore other dogs and be comfortable in crowded and busy areas. The dog should be:
Alert and attentive to sounds

Dedicated to the tasks

Calm but confident

Not aggressive

Friendly to people but not distracted by them
Hearing loss is an invisible disability. That means others can't tell whether you can hear or not. When people talk to you, they might think you're ignoring them. So most people prefer to dress their dog in a vest written, 'service dog for hearing.' That way, others can tell that you can't hear, and they can find other ways to communicate with you.
PSDs can help you to deal with PTSD. Click the button below to get your PSD letter.
Bottom Line
A hearing ear dog assists by alerting you to day-to-day sounds in your home and the public. But hearing dogs can't replace hearing devices given by your doctor. However, these dogs play a critical role that makes you feel safe and confident.
Furthermore, they help you overcome the loneliness and anxiety that may result from the hearing challenges you face. So don't underestimate the benefits of well-trained hearing dogs.
For you to get hearing dogs for the deaf, you'll need a doctor to test you and give you a letter. This letter provides evidence that you have a hearing problem. And as such, you qualify for a hearing dog. However, hearing dogs can take several months or years in training. So you may want to have an emotional support animal (ESA) to help you in the meantime.
At ESA Care, we are willing to help you get an ESA letter, which will enable you to access public facilities with your dog. If you need this letter, book an appointment with us to start the process.