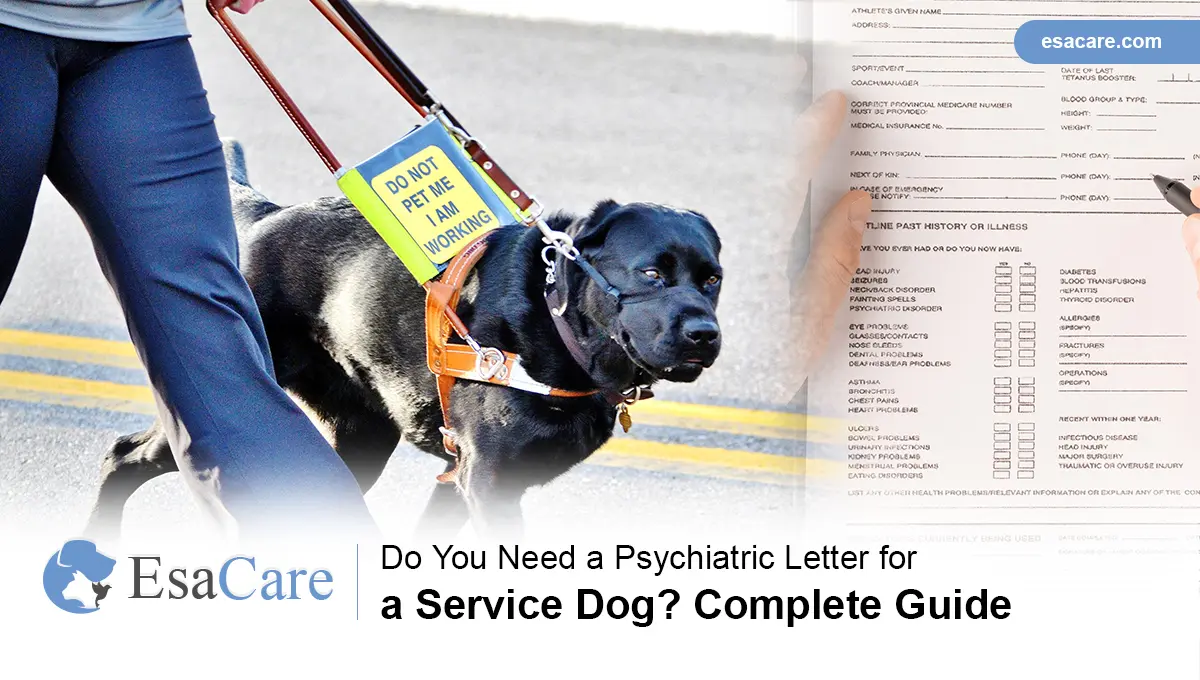 A psychiatric service dog letter is a signed letter given by a licensed healthcare professional to help people determine whether their disabilities qualify them to own a psychiatric service dog.
If you're enthusiastic about procuring a service dog doctor letter, there are some important aspects that you must take into careful consideration. First, it is important to note that service dogs aren't intended for everybody. They also require specialized training to allow them to conduct their activities properly.
ESA dog can be your best companion. Click the button below to get your ESA letter.
We will discuss with you some general topics like what a psychiatric service dog letter is and how to qualify for one in this post. Read on:
What is a Psychiatric Service Dog?
Before we delve further into this post, it is important first to understand what a psychiatric service dog is. These dogs are a kind of service animals that receive training that allows them to perform tasks related to emotional or mental disabilities.
NOTE: Unlike emotional support animals, psychiatric service dogs should only be dogs. You cannot enlist any other type of animal as a psychiatric service animal. The only leeway is that there aren't any specific limits regarding the size or breed of the dog.
What is a Service Dog Doctor Letter?
Having a disability is one of the important requirements for owning a service animal. And a service dog doctor letter is a signed and certified letter provided by a healthcare professional like a psychiatrist, psychologist, nurse, counselor, or social worker.
Service dog letters determine the fact whether the dog owners are suffering from mental or emotional disabilities. And for that, you must have a licensed healthcare professional sign off on your service dog doctor letter.
The primary objective of a psychiatric service dog letter is to help you and other people around you to understand that you suffer from an emotional or mental health condition that qualifies you for owning a service dog.
However, you should note that a service dog letter does not confirm that your dog is perfectly trained to perform all the necessary roles related to assisting you with your disability. Neither does your service dog doctor letter qualify your dog as a well-trained animal to be in a public place. The psychiatric service dog letter doesn't have anything to do with these aspects.
The service dog letter mainly evaluates the handler's mental health and qualifies the need for having your service dog with you.
How to Obtain a Letter for a Service Dog
If you want to obtain a service dog doctor letter, your healthcare provider can care for all your needs. Sadly, most healthcare professionals aren't always familiar with topics surrounding psychiatric service dogs or the assistance animal laws protecting them.
Fortunately, you can now find certified healthcare professionals who can write an ESA letter for your service dog. Many healthcare professionals now work from remote locations, allowing you to acquire your service dog doctor letter from the comfort of your home.
ESAs can help you to deal with PTSD. Click the button below to get your ESA letter.
What Tasks Do Psychiatric Service Dogs Perform?
As aforementioned, psychiatric service dogs are trained by professionals to behave and perform exceptionally in public. Below are some of the main tasks you may expect your psychiatric service dog to perform:
Ground or reorient people with psychotic episodes.

Remind handlers to take their medication.

Prevent their handlers from oversleeping.

Can use pressure or tactile stimulation to calm their handlers when having a panic attack or anxiety attack.

Disturb and stop self-destructive behaviors or obsessive-compulsive behaviors of their handlers.
These are just some of the performances that trained psychiatric service dogs to undertake. But you can have your furry friend trained to help you handle any other mental or emotional health condition you suffer from.
Regarding their behavior, service dogs shouldn't get distracted by people, food, objects, or other animals. These are just some of the perks of owning a psychiatric service dog. It is also essential that these traits are mentioned in the service dog doctor letter.
Your service dog medical letter should also state that your dog doesn't have difficulty traveling in crowded places like stores or airports. Your service dog must remain under your control at all times and concentrate on tasks assigned to them even if they're in a busy or new environment.
A service dog letter from a physician must mention that your dog has had relevant training from their handlers to perform the necessary tasks required of them no matter the situation.
Which Places Are Your Psychiatric Service Dog Allowed?
Generally, psychiatric service dogs can access places where people are allowed, even those places that generally prohibit access to any kind of pets. The service dog doctor letter allows your dog to accompany you to public venues like shops, beaches, schools, parks, libraries, restaurants, and other public places.
Even if there's a ban on all pets where you live, you can keep your psychiatric service dog without paying any additional charges. A doctor's letter for a service dog also gives your furry friend the right to board airplanes when you notify the airline about your situation beforehand.
Who is Eligible for a Service Dog Doctor Letter?
To qualify for a service dog letter from a doctor, you must be suffering from mental disabilities that restrict you from performing certain life activities. We advise you to contact a licensed healthcare professional to determine your mental or emotional health and condition. This allows you to know the best traits to look for in your psychiatric service dog and what to include in your service dog doctor letter.
ESAs can improve your overall mental health. Click the button below to get your ESA letter.
How to Get a Service Dog Doctor Letter
Psychiatric service dogs are considered to be lifesaving caregivers for their handlers. They not only provide support during times of emergency and calamity, but they also assist in maintaining a healthy routine and lifestyle.
Do you want to obtain a service dog doctor letter for your furry friend today? Our licensed healthcare professionals at ESACare have the experience and capability to give you just that.
Like many looking for ESA letters, ESACare is the most reliable platform you can choose from. Alongside our offers, our health experts ensure you get the best healthcare service for your wellbeing.
Contact us today for more information on our ESA prescriptions.