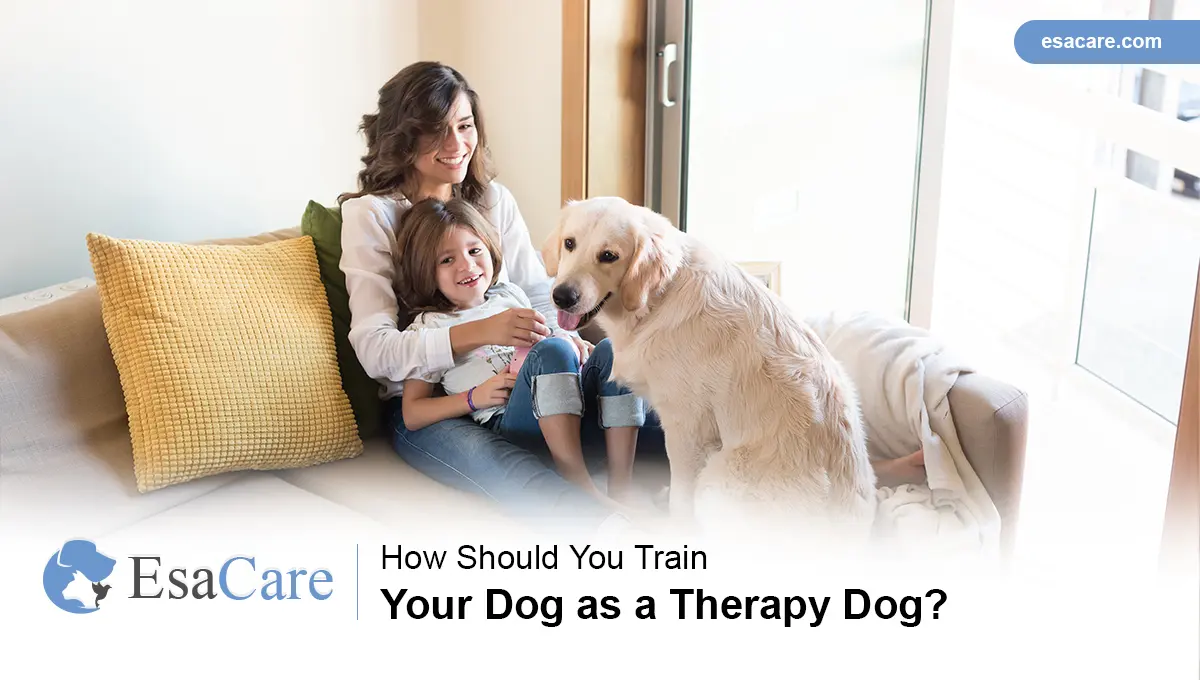 A therapy dog is often used to provide therapy or emotional support to humans in hospitals, nursing homes, schools, etc. Therapy dog training does not involve training the dogs to perform tasks like search and rescue dogs. Instead, support dog training helps build trust between people and dogs.
There are no specific requirements for therapy dog training. However, it is mandatory to confer a therapy dog training certificate. Therefore, some therapy organizations require therapy animals to be registered with therapy organizations before being allowed on site.
Therapy dogs are specially trained animals to visit hospitals, nursing homes, and other facilities for therapeutic purposes. Therefore, they must be well-behaved, polite, and relaxed in public settings.
Any pet therapy animal should have a letter from a veterinarian that you can bring with you if needed, confirming that the pet has been neutered and inoculated against rabies before starting service as a therapy animal.
Training Your Dog at Home
Support dog training by socializing your puppy with other dogs and people from an early age. Before getting them to a therapy dog training near me, you should have done the basics of training a therapy dog. The training process can take years and usually starts when the dog is just a puppy.
Get them used to be touched on their paws, ears, feet, tail everywhere. Therapy dog training is not easy, but it is worth the effort. After the basic training, you can get them to a service dog training near me.
Training a therapy dog can start from the home environment. You can teach them how to behave calmly around strangers, so they do not jump on or bark at them. In therapy dog training, you can practice obedience commands like "sit" and "stay" in different environments until they are perfect. Having these preliminary training makes it easy for your dog to undergo therapy dog training with ease.
What are the Requirements to Become a Therapy Dog?
A therapy dog must be at least four months of age before thinking about enrolling it in therapy dog training. In addition, for a dog to be considered for therapy dog training, it should have a calm personality and enjoy being handled by strangers. The reason being, therapy dogs, are usually not aggressive, fearful, or shy to touch.
Therapy dogs must be well socialized – this includes being accustomed to people who come in all shapes and sizes. They should also be used to:
Men wearing hats or dark glasses

Women with short hair or no makeup

Children yelling and running around

People dressed in costumes

They also cannot show any fear toward medical equipment such as wheelchairs or walkers.
Dogs who live with children under five years of age or disabled adults are less likely to make good therapy dogs because they may not enjoy being approached by strangers. These dogs often feel the need to protect their masters.
Therapy dogs need to be well-groomed, have a healthy coat and skin, and clean the ears.
Therapy Dogs should also sit calmly when in a therapy session with someone they do not know without becoming agitated or excited.
A therapy dog is not just any old family pet. It has been trained for this specific purpose. Therapy dogs are usually recognized as such by their vest, collar, and therapy dog training certificate.
Therapy dogs are usually seen with a therapy dog handler who has been trained to deliver therapy sessions with their therapy animal partner in public places such as hospitals, nursing homes, or schools.
ESA can improve your overall mental health. Click the button below to get your ESA letter.
How to Train Your Dog to be a Therapy Dog
The most important thing for trainers is that the handlers know how to work with these animals using positive reinforcement techniques. All therapy dog teams are required to be trained in "Bite Prevention."
These training sessions will teach basic obedience, manners, and how to maintain control of your therapy dog at all times during therapy visits. You may also want to attend a class that focuses on therapy dog training, which includes exercises such as:
Scent Work: Training therapy dogs to use their keen sense of smell in therapy sessions.
Therapy Dog Manners: Walking politely on a leash, sitting patiently for petting and grooming, controlled greetings.
Exercises: Other exercises that focus on sensory integration.
In addition to the training requirements outlined by your therapy company, you may find it beneficial to enroll your therapy dog in a therapy dog class.
A therapy doggy daycare is also a great idea. It provides your therapy dog with the opportunity to learn from other therapy dogs and socialize in an environment that will make them feel less anxious about meeting new people.
What Type of Equipment Should You Buy for Your Therapy Dog Training Sessions?
If you are looking for therapy dog training equipment, then you should have the following:
Calming Treats –  These are usually peanut butter or cream cheese wrapped in a treat so that your dog can associate obedience with rewards. The benefits of these should be obvious.
Therapy Dog Vest and Leash Set – This is a must if you want your dog to do therapy work.
Clicker – This will help your dog associate the click with rewarding for performing commands. It should be used sparingly and only after marking behaviors you like, such as sitting still or remaining calm during therapy sessions.
Therapy dog vest – This will help people know that your dog is therapy trained and in training.
Therapy Dog Training DVD – This should be a good place to start therapy sessions, as it teaches the basics of therapy work.
Dog Toys – Therapy dog toys for your pet to play with during therapy sessions.
Pet Brush – Therapy pet brush can be used as a tool in the training process and will help keep your pet's fur clean, healthy, and smelling nice while being groomed.
Do Therapy Animals Need to be Certified?
Yes, therapy animals are required by law to have certification. Therapy dogs must be registered with the therapy dog organization recognized in their country or state of residence and meet all requirements for therapy animal workgroups, such as good health practices and temperament testing.
Improve your mental health by keeping your ESA pet close by – Get your ESA letter today!
Does Therapy Animal Training take a Long Time?
Yes, therapy animal training takes a long time because it is a highly rigorous process. Animals may be ready to become therapy animals as soon as they are a year old. It depends on the animal's disposition and how quickly it can learn new things. The therapy animal training process is not rushed, so an animal should have reached maturity to start certification training.
To get your therapy dog ready, you will need to find a trainer. Training for therapy dogs is intensive and can take up to two years, depending on the type of therapy they are trained for. The training includes teaching them things like not to bark too much in public, what to avoid, some therapy dog commands, and how to behave in different situations.
Contact Us at ESACare and book an appointment with us.