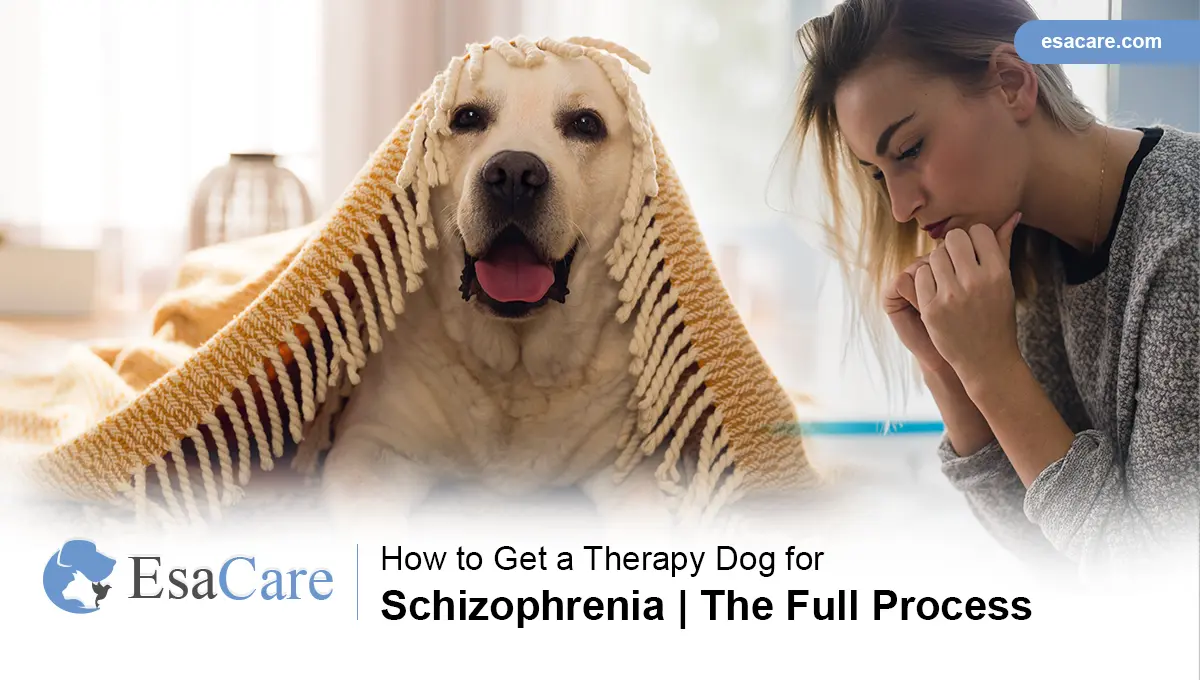 A therapy dog also called a "comfort dog," is a pet dog with the training needed to provide comfort, emotional support, and stress relief to people in need. Today, we will share with you everything you need to know about getting a therapy dog for Schizophrenia.
Stay mentally fit with your ESA pet! – Click the button below.
These dogs may lie on your bed, sit for petting, or perform small tricks to give you or your loved ones enjoyment and relief from several conditions like pain, depression, anxiety, and other disorders. They are trained to be gentle and friendly in public and learn to accept strangers petting and hugging them. They are unbothered by children and patient with them.
The sweet demeanors and unconditional love these dogs provide have been known to provide a therapeutic benefit to persons faced with complex health challenges. So come therapy dogs for Schizophrenia.
How to Get a Therapy Dog for Schizophrenia
Many factors come into play when looking for a therapy dog. This section will teach you the requirements to qualify for a therapy dog for your health condition.
Owning any therapy pet can be deeply rewarding and comes with many benefits. However, it is also worth noting that therapy dogs come with a big responsibility. To a certain degree, learning how to get a therapy dog isn't as difficult as some people may imagine.
The happiness and well-being of a patient with Schizophrenia depend on the patient and the dog. Therefore, it is only right that you provide your therapy dog with the best possible training. This means continually reinforcing good behaviors whether you're at home or in a public place.
Consequently, you cannot let your dog think that it can get away with bad behaviors. The moment they start thinking that they can get away with these behaviors, they might exhibit them during the training sessions.
You want a therapy dog that won't cause any emotional or psychological harm to you or the people around you. Remember, a therapy dog is meant to help you with your health condition.
The Benefits of Owning a Therapy Dog
Therapy dogs fulfill many different needs for their owners. For one, they often provide a welcome distraction for patients during stressful periods and act as affectionate companionships, giving comfort and joy to their owners in hospitals.
These dogs are well trained to provide patients with unconditional love and much-needed stress relief.
There are many benefits you can enjoy from your therapy dog. However, most of these benefits differ, depending on the patient and their medical condition.
Traits Therapy Dogs Should Have
There are some specific traits that every therapy dog should have, regardless of its breed. These include:
Your therapy dog must be well-tempered. It should not be quick to overreact, anger, or get stressed out easily. The therapy dog should enjoy being petted, even by strangers, and not worry about mishandling, especially kids who love to grab their ears or tails sometimes.
While you can train your dog to exhibit some of these behaviors, it must be inherently calm in many situations.
All therapy dogs must be friendly and social with everyone around them. And while this might seem evident because your dog's main role will be to cheer people up, it's not always easy. Therefore, a friendly and social therapy dog is one of the main factors to consider if you want to learn how to make your dog a therapy dog.
Improve your mental health by keeping your ESA pet close by – Get your ESA letter today!
Many therapy pets are trained to adapt to different environments and remain calm at all times. However, sometimes, your therapy dog may need support and comfort in highly distracting and stimulating environments.
This is one of the main reasons you cannot use a dog that feels uncomfortable with new environments or doesn't adapt easily. The same also applies to dogs that get shy, weary, or even aggressive easily in new environments.
Adaptability is one of the traits you must consider for anyone who wants to learn how to get a therapy dog.
Another critical consideration before making your dog a therapy dog is how often they shed. Therapy dogs should not shed too easily or too often. Shedding can be a major issue, especially when the person the dog should be caring for has allergies. Moreover, it creates a mess that has to be cleaned up all the time.
Fortunately, you can combat excessive shedding with frequent brushing. However, some dog breeds simply shed more than others, making them less preferable options as therapy dogs.
How to Get Your Dog Certified as a Therapy Dog
If you are interested in registering your dog as a therapy dog, the most critical step is to train it properly. Fortunately, you can find organizations that will teach you how to get a therapy dog or train the furry friends you already have.
It is also worth noting that there's no universal standard for qualifying your dog as a therapy dog. However, suppose you plan to work as a therapy dog handler. In that case, you should understand the type of experience and qualifications the individuals and organizations you hope to work with are looking for.
Learning how to get a therapy dog is one thing, but registering your dog as a therapy dog or obtaining certification documents is entirely optional. Plus, many therapy dog handlers obtain ID cards for their dogs and register them to help them do their jobs more smoothly.
Conclusion
Learning how to get a therapy dog is an effective way to help patients with Schizophrenia. The relationship between humans and dogs has been known to strengthen during highly stressful and emotional times.
If you are looking for certified ESA letters for your therapy dog, ESACare is the more reliable platform for you. Do not hesitate. Reach out to us today and learn more about how to get a therapy dog. 
Contact Us at ESACare and book an appointment with us.