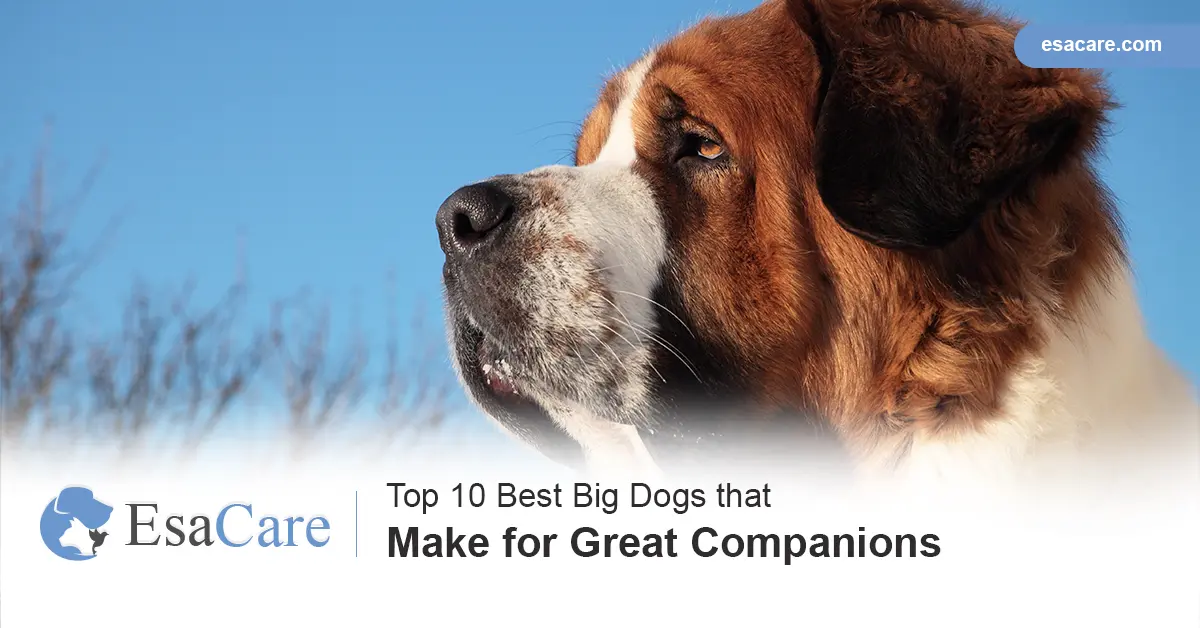 Man's best friend. Dogs make for great companions. Yes, your hug ball in the form of your small chihuahua may be perfect in so many ways, but wouldn't it be something if you had more dogs to love? Besides, your small poodle and medium-sized dogs may not make as great a jogging partner as a bigger dog. If" bigger is better" is your slogan, you may also want to choose your furry friend from big dog breeds.
Your ESA Dog can be your best companion – Click the button below!
Despite their big size, huge dog breeds are generally loyal, well-tempered, mannered, playful, and loving. These dogs also use their body size and the strength that comes with it to protect and guard territory. All these attributes play into why these furry animals are among the best family dogs. Additionally, big dogs have always been used as hunt dogs throughout history.
What to Expect With Huge Dog Breeds
Are you planning on getting a big dog for yourself and the family? First time? Well, it's only expected that things will be a little different from what you may be used to when dealing with small and medium-sized dogs.
Focusing on the following areas, here is what you should expect even as you plan to bring home the best big dog breeds
More Space
Bigger dogs will occupy more space and will need more space to move around freely. If you live in rural areas, this shouldn't be too big a concern for you. However, you will need to consider where you live before having your pick from the best big dog breeds for town dwellers. While they may allow pets, some landlords and rental properties do place a restriction on the size of the dogs allowed.
More Exercise
The amount of exercise your furry friend will need varies among different huge dog breeds. As it is, most of these big dog breeds were bred to serve a specific purpose. Some as guard dogs, others as livestock guardians. A clear understanding of this purpose will help you determine how much exercise your dog needs. Active exercise helps your dog burn off energy.
Dog Training 
Imagine a 100-plus pound dog running around, causing chaos as it moves around. It can get quite messy, which is why you should ensure you get proper training and socialization for your big dog. It ensures that your canine companion behaves well, both at home among your family members and away from home with strangers.
Higher Costs
It's no surprise that huge dog breeds eat more than their small and medium-sized counterparts. You should be prepared to spend more on food. Other expenses that will be higher include grooming, as well as medical or veterinary costs.
Best Big Dog Breeds Around the World
What are the top biggest dogs? What is the largest dog breed in the world? What is the best big dog breed for a family? This post will seek to answer these and more questions you may have regarding large dog breeds.
Here is a rundown of the 10 best big dog breeds from across the world:
Great Dane
Great Danes top the list of the best big dog breeds. According to a 2012 entry in the Guinness Book of World Records, a great name going by the name Zeus is the tallest verified dog globally. At that time, it was confirmed that Zeus stood at  3 ft 10 in.
This dog breed can grow as tall as 3 ft and weigh anywhere between 110-175 lb. Great Danes grow fast, and can the pups can reach the average adult height within a year. They have a smooth and muscular body and come in different colors, including black, fawn, brindle, and harlequin.
These dogs were the first breed as hunting dogs. Over time, to date, great Danes have become great companion dogs. They can be incredibly playful, friendly, and gentle. Great Danes are also exceptionally loyal furry companions. They make for great therapy dogs, and their soft and playful demeanor ensures they are great companions for children.
That being said, this breed of dogs can be aggressive when the situation calls for it. They make for excellent watchdogs.
Daily exercise will do your Great Bane a lot of good. On matters of grooming, these dogs require minimal grooming thanks to their smooth bodies.
English Mastiff
The English Mastiff earns its place as the top ranking among the world's big dog breeds by mass. In 1981, the Guinness Book of World Records recognized an English Mastiff called Zorba as the longest and heaviest dog in the world. As of 1989, Zorba stood at 37 in and weighed 345 lb.
The average English Mastiff weighs 120-23 lb and has a shoulder-length of upwards of 28 in.
Also called the old English Mastiff, this breed is one of the oldest breeds in the world. These giant-sized dogs were historically used in gladiator fights by the Romans.
English mastiffs have a broad square head and V-shaped ears. Adding to their unique look is their black mask and nose. Their hair coat is relatively short and comes in different colors, including brindle, apricot, and golden fawn.
From the gladiator arenas back then to the warmth of sofas. Old English Mastiffs are today among the best family dogs. These dogs love snuggling up to and bonding with family members and are very loving companions. They are also a brilliant breed and can sense threats, which comes with the bonus of improving your home's security.
Caring for the coat of English Mastiffs is quite easy. This breed also doesn't require a lot of exercising.
St. Bernard
The height of this giant breed of dogs varies between 26-30 inches. Its average weight is 120-180 lbs.  This dog breed has a strong and muscular body. It has a dense hair coat in different colors, including red and white, brown and white, and more.
St Bernards were originally bred for search-and-rescue operations in the Alps. These dogs have the endurance to travel through the snow for many miles.
This breed of dogs is generally very quiet and will do well as an indoor pet. They get along rather well with children, although they are not a very playful breed. Their loyalty and devotion endear them as one of the best family dogs.
However, St. Bernard dogs may not recognize just how big they are. These dogs can be destructive, so dog training is crucial for this giant breed of dogs. With proper training, you should have no trouble keeping your St Bernard under control. Their imposing size also poses a threat to intruders, helping to boost your security.
This breed of dogs drools quite a lot so, you should be prepared for that as a new owner. The dogs also shed twice a year.
Newfoundland
Newfoundlands have an average height of 26-30 inches and an average weight of 130-160 lbs. They have strong and heavily muscled. This large dog breed has a broad and big head and body.
These dogs have a long and thick double hair coat. The coat comes in black, white, gray, and brown, among other colors. The coat requires regular grooming to keep in good condition.
Newfoundlands have friendly, gentle, sociable, and love bonding with humans, including children. Their high intelligence makes them easy to train, and by extension, one of the best dog breeds is sensitive to their masters' voices and listens attentively because these Newfoundlands are easy to train.
This breed of dogs has webbed feet and waterproof hair coats. These features have helped Newfoundlands evolve into excellent water dogs, helping fishers and saving anyone who is drowning.
Daily brushing will keep your Newfoundland looking its best. The dog can also benefit significantly from daily exercises.
Having strong mental health is the key to a happy life – Maintain it by getting your ESA letter today!
Leonberger
Another giant dog breed with an even bigger heart. Leonbergers are very calm and gentle. They enjoy building a close bond with their family and are very intuitive about human emotions. This is the more reason why Leonbergers are not only a great family dog breed, but they also do great as therapy dogs.
Leonbergers are so named after Leonberg, a town in Germany. Its average height is 26-32 inches, while an adult dog can weigh 90-170 lbs.
This breed has a strong and muscular body. They also have a broad head, framed by medium-sized ears and a long nose. Leonbergers have a long black mask, which gives the dogs a very expressive look.
These dogs have waterproof, thick, and long coats. The coat comes with feathers in red, brown, yellow, and cream. This coat sheds quite profusely and requires daily brushing to maintain a neat look.
With proper training, Leonbergers can be very well behaved and develop great patience. They can develop the kind of patience that allows them to walk away even when provoked by kids. Daily exercises will keep your Leonberger in top shape.
French Mastiff
Also known as Dogue de Bordeaux, the French Mastiff traces its origins to France. This dog stands at the height of 20-23 inches and weighs upwards of 100 lbs. its huge face is one of its most distinctive features, making it look fierce, even though this canine is gentle in reality.
French Mastiffs have a small nose and small short-hanging ears. These dogs have a muscular body with thick skin and hard-to-miss wrinkles around their face and neck region. French Mastiffs have a short hair coat that comes in fawn, red, and mahogany. The dogs have a long black mask.
French Mastiffs get along well with other pets and are very loving towards family members. These dogs are fearless and assertive. With some training, French Mastiffs do very well as guard and rescue dogs. Historically, this breed of dogs was used as a hunting dog and war dog in France.
The short coat on French Mastiffs is relatively easy to take care of, and grooming requirements are minimal. The powerful and muscular stature of these dogs calls for moderate exercises.  Additionally, you should be prepared for the drool.
Irish Wolfhound
This breed of dogs is Ireland natives and historically served as hunt dogs and war dogs. as hunt dogs, this breed was mostly used for hunting wolves, thus the name Irish wolfhound.
This large dog breed grows quite tall, with an average height of upwards of 30 inches. The average Irish Wolfhound weighs 105-120 lbs. These dogs mature slower than most, with the pups taking up to 2 years to grow into adult Irish Wolfhounds.
They have a long body, which is supported on long, strong legs. This huge dog breed has a rough coat that comes in cream, gray, black, brindle, among other colors.
Today, Irish wolfhounds don't do much hounding and are primarily kept as family pets and companions. They are patient, devoted, and gentle with their owners, including the children. Unfortunately, these dogs can't do well as watch or guard dogs. They are not as aggressive as other big dog breeds and don't bark.
Irish Wolfhounds require a little more exercise than other giant dog breeds. As an owner, ensure you exercise your dog every day without fail. These dogs also require more space and will not do well where there is limited space. The rough coat on this breed translates into demanding grooming requirements, and you will need to do regular brushing.
Neapolitan Mastiff
A giant dog breed native to Italy.  This breed traces its roots to the ancient times when they were used as war dogs in the Roman army and then as guard dogs.
Neapolitan Mastiffs grow to an average of up to 24-31 inches in height and 110-150 lbs. its most distinctive feature is the loose and heavily wrinkled skin around its face. These dogs have heavy bones and a lumbering gait. They also have a short and dense coat which comes in grey, fawn, brown, and black.
This huge dog breed thrives on human contact and enjoy bonding and being petted by their owners. They are also fiercely loyal, all of which make Neapolitan Mastiffs great companions. They are very protective of their owners. While they rarely bark, these dogs are intelligent enough to alert their owners to any danger quickly.
Neapolitan Mastiffs have a droopy jowl which makes them more prone to slobbering. You must, therefore, be ready to handle all the drooling. Their short coats are easy to groom. To stay fit and in top shape, Neapolitan Mastiffs require moderate daily exercises.
The Great Pyrenees
Known for their overly protective instincts, Great Pyrenees were originally used as watchdogs, guarding over sheep. This is one of the oldest dog breeds, tracing its roots as far back as 3000 BC when these dogs, in addition to protecting livestock, were used as guard dogs to protect homes.
The Great Pyrenees grow up to an average of 30-39 inches and a weight of upwards of 85 lbs.  These dogs have a big head and broad chest. They also have cute ears that hang downwards.
This huge dog breed has a thick and long weather-resistant double coat. Common coat colors include white and red with different shades of gray.
They are very protective, and without proper training, can be quite aggressive. Great Pyrenees have a great sense of hearing and can tell when an intruder is coming. They bark a lot and will alert you to the presence of an intruder very fast. On the other hand, these dogs are very affectionate and playful and enjoy spending time with their owners.
The Great Pyrenees require a lot of space. For this reason, while they may be among the best family dogs, they wouldn't exactly qualify as indoor pets. These dogs are also quite active and require daily exercise. As an owner, you will need to brush your Great Pyrenees' thick coat weekly.
Anatolian Shepherd
Large and powerful, this breed of dogs is native to Turkey. It's another one among the oldest best big dog breeds, dating as far back as 2000 B.C. This giant dog breed was originally bred to serve as a watchdog for livestock and property, a purpose the dogs still do to date in Turkey.
The Anatolian Shepherd stands at an average height of 26-31 inches and weighs 90-150 lbs. They have a strong and muscular body.  They have a large and round head, supported by a thick and powerful neck. They have long, down-hanging, triangular-shaped ears.
These dogs are among the best big dog breeds to choose for a pet or a companion as they are very affectionate and loyal. Anatolian Shepherds love playing with kids. Their large and imposing stature makes them very threatening to intruders. These dogs are also fearless and naturally protective and will bark a lot when confronted by intruders.
Anatolian Shepherds have a dense hair coat in white, fawn, and other colors. This coat is relatively easy to care for and only requires weekly brushing. The same goes for exercises, as Anatolian Shepherd will do well with moderate daily exercises.
Keep your ESA pet close – click the button below!
You Choose
Each of these huge dog breeds is unique and has a lot to offer. As outlined, each also has its unique care and training needs, which is a crucial consideration when selecting which big dog breeds to add to your family. Carefully consider your living spaces and whether you can fully cater to your new dog's exercise and other needs.
Get your Emotional Support Animal Letter today by booking an appointment at ESACare.