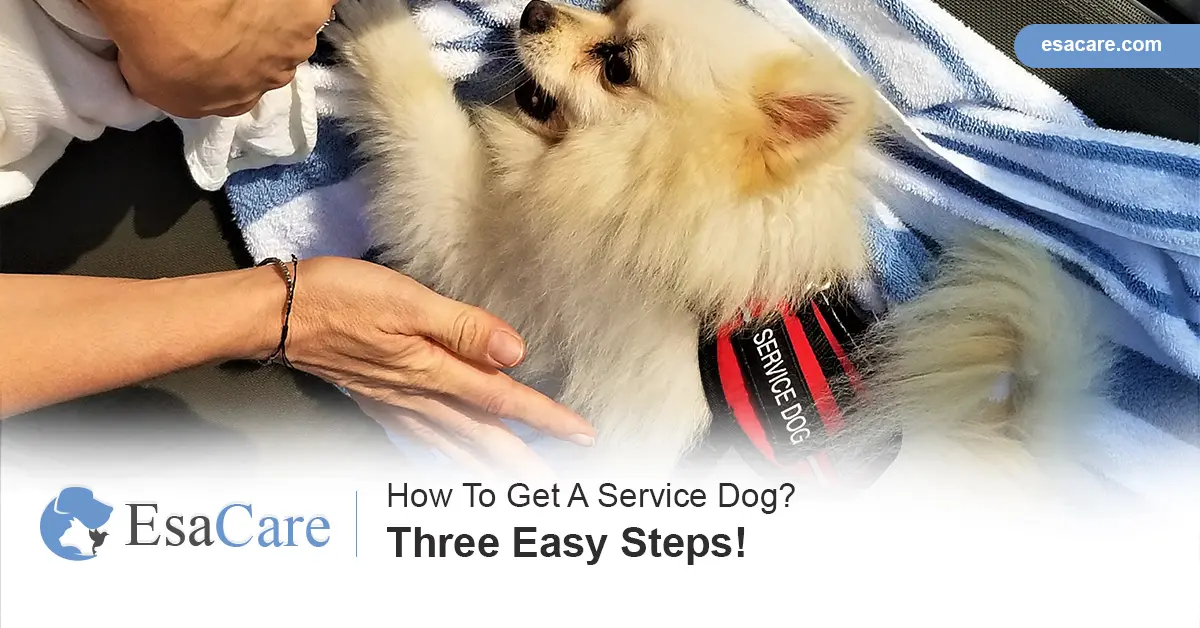 What is a service dog? Quite a lot, we see them around, guiding the blind, assisting their 'bosses' manage specific movements, delivering messages, and so on. What therefore is unique about these pet distinctions?
According to ADA's definition, which we chose to go by, a Service Animal or, in this case, a dog undergoes specific training to assist persons with disabilities. The practice varies depending on the nature and type of disability a person is suffering.
Looking for an ESA Letter for your dog? Click the button below!
The disability in this case also can either be physical or mental and should, therefore, substantially limit one from carrying out major life activities. The most common mental disability situations include depression, severe anxiety, or PTSD.
As we lay our focus on how to get a service dog, this article also gives you many details on;
Making your dog a service dog at no cost
Information on free service dog kit
How to register a service dog
Legitimate service dog certification
Service Dog Types
While it is not entirely legal to have your service/emotional support animal accompanying you anywhere, we at ESAcare can pretty much help you with this. Our institution works under standard terms and strategies to provide legit ESA letters. These will give you the legal authority of enjoying your animal's companionship in most pet restricted areas such as airports and residential.
Service Animals Vs. Emotional Support Animals
These two are not the same things. As earlier defined, a service animal comprises;
'Seeing eye' guide dogs for the blind
Mobility assistance animals
Hearing dogs
Seizure or diabetic alert dogs
Animals/dogs in this category often have gone under critical training to master and adopt particular actions and behaviors beneficial to their owner. Such dogs are quite reliable in handling daily tasks, alerting when there is an emergency of medication.
On the other hand, emotional support dogs/animals have no special training; however, they remain useful to their owners. For particular mental illnesses and recovery procedures, specialists can recommend that you stay in the company of your dog, which always adds emotional support to your life.
Disorder conditions such as PTSD, depression, OCD, bipolar, anxiety, and experiencing phobias, and so on are highly manageable via healthy emotional support. If your dog or other pet can give you, you will most likely seek an ESA letter. Therefore, it will offer you the freedom to travel in the company of your dog via any means you chose.
ESACare is among the few legitimate companies you can access online and interact with a Licensed Mental Health Professional. Essentially, we are a technology facilitator for licensed medical clinics: EZCare Medical Clinic in San Francisco, CA and Mango Clinic in Miami, Fl – all clinics here.
How You Can Get a Service Dog: 3 Easy Steps On
Are you thinking of getting a service dog? Well, the procedure is quite simple. Below are the three key steps you will use to find your most suitable service dog.
Situation Assessment
What is your disability? How bad is it? These are some of the critical assessment questions your doctor will look at before recommending a service dog to you. As discussed before, there are many ill-health conditions, both physical and mental, that may attract a service dog's need.
The severity of either of these conditions will determine the eligibility of a service dog. A typical example is epilepsy patients. Those who experience more frequent seizures (more than once a month) always get the first consideration. Otherwise, the situation may also depend on many other factors, such as whether the patient stays alone or not.
Another critical point of consideration is the dog's well-fare. Service dog certification must ensure that your living space is habitable enough for the dog – in other words, dog-friendly.
Also, in our legitimate service dog certification procedures, these are the key factors we access. Our doctors will always advise you appropriately on the best ideas to follow to win your chance.
Conditions ESA pet treats with their presence –  Click the button below.
Choose Your Best Breed and Provider
Next, after determining the need to have a service dog, you should now look at the breed and the supplier. While all dogs can technically be trained to acquire these new skills, there are always those most preferred service dog types in this course. Mainly the preferences come from these two;
Intelligence levels: Other breeds are considered more intelligent.
Loving temperament levels: Some species tend to be more loving and minds of their owners.
The combination of these two always guarantees a better choice. Most people reliable in this accord prefers the Labrador and golden retrievers. They are both highly loving and intelligent. However, the best alternatives are Collies and German shepherds.
A service dog in this line should have physical capacities to be able to;
Push or pull big loads.
Physically support their human.
Reaching in high areas for supplies.
The best service dog supplier will be that with tremendous recommendations. There are quite a lot you can find around California. These agencies offer supper quality training to their dogs, thus making them more useful to the buyers.
The simplest way to go with all these evaluations is to seek advice from your doctors and dog suppliers. In most cases, they will have better experiences to relate to your situation and offer better recommendations.
Our ESACare is always available except on Sundays and before/after office hours; hence you can always contact us for quick help.
Bond With Your Service Dog
The start might not be easy or faultless; however, this only remains timely limited. Once the dog gets used to you and the environment, then everything will transverse much easier. The most recommendable tactic on this is continues bonding.
You should create time to play with your dog, feed it, take him or her out, and a lot more that will create a super bond between you two.
The procedure on how to make my dog a service dog also begins here. Or those who may prefer training the dogs they already own than buying, bonding is always the beginning. The next step will be to take your dog for specialized training organized by training agencies to have them acquire the intended skills.
FAQ on Service dog
What are the qualifications for being a service dog owner?
It is sometimes challenging to know whoever qualifies and whoever does not qualify for service dog ownership. The fact is that there are lots of disabilities existing in their different levels of severity. Nonetheless, various service dog certification institutions now rely on their stipulated guiding terms explaining who is and who is not.
Some of these assessment terms include the following;
You must be at least 12.
Your mental illness must have been diagnosed.
You must be residing in a stable home environment.
Your physical and cognitive capabilities must allow you to attend the necessary training actively.
With no help, you must be able to command and manage a service dog.
You must be able to fulfill the physical, emotional, and financial needs of the dog.
No, any other do should be in the house except the service dog.
These conditions vary mostly depending on the exact situations.
How much does it cost to get a service dog?
Between $10,000 – $15,000. The specialty of any of these dogs is always such amounts. You might agree that service dogs are highly dependable on various grounds considering the help they grant, and hence their value must be that high as well.
Those planning to purchase a service dog know that the actual cost might be even higher considering the food and medical expenses you will have for it.
Can you get a service dog for anxiety?
Yes, absolutely! These dolls will reach out for your medications on time, bring you water and predict anxiety attacks. Find out from your most trusted service dog agencies whether they have such. Otherwise, there is always a chance to train your dog in this line. You might, however, need a dog trainer to help.
What can legally be asked about a service dog?
Service dog certification: Before you can visit/reside in certain places or travel via airplanes, this certificate is always paramount. A legitimate service dog certification comes from legally certified bodies like ESAcare.
Your ESA Dog can be your best companion – Click the button below!
Why ESACare for Certified ESA Letters
Like many looking for certified ESA letters, you can be sure this is the most reliable platform to choose from. We are a highly-vetted institution providing 100 % ESA letters conveniently quick enough to meet your deadlines.
Alongside our tremendously attractive offers, we have quite affordable package plans starting as slow as $99 per year. All our health experts are key players, always ensuring you get the best for your well-being.
For more information on our services, kindly reach us via the following contact details:
347 5th Ave Suite 1402-112,
New York, NY 10016
Tel: +1 833 9760637
Note: That we are only available from Monday to Saturday starting at 10 am to 6 pm – we are expecting you anytime!
Get your Emotional Support Animal Letter today by booking an appointment at ESACare.