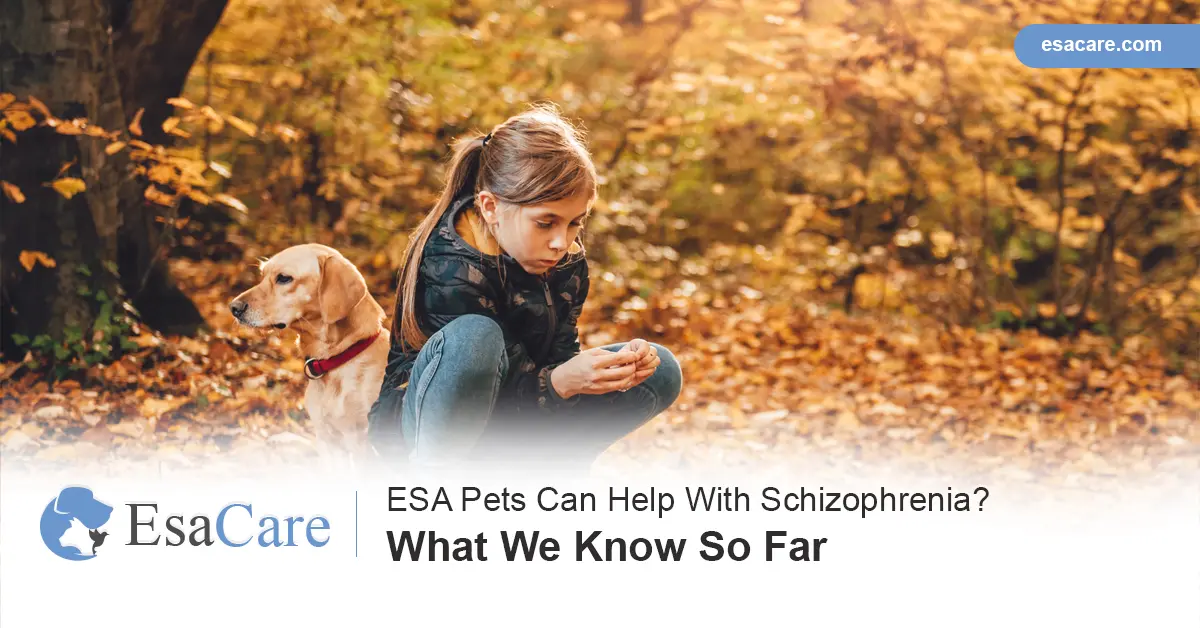 An emotional support animal (ESA) can be the source of stability and consistency in the face of unpredictable mental health symptoms. These animals play the role of a companion. They help their owners to relax. They provide comfort and reduce anxiety.
Get the authentic ESA Letter by clicking below!

Symptoms of Schizophrenia
Schizophrenia is a brain disorder accompanied by symptoms such as delusion, reduced focus, and cognitive abilities, hallucinations, and a decreased motivation for life. Patients with schizophrenia find it challenging to interpret reality.
People living with schizophrenia may not necessarily be homeless or hospitalized. It could be everyday people getting occasional schizophrenic episodes. With lifelong treatment, it is possible to reduce the severity of the symptoms.
The Role of Emotional Support Animals for Patients with Schizophrenia
ESA may help to cope with medication
Living with schizophrenia demands commitment to lifelong medication. The condition is treated with antipsychotic drugs, but these are not curative. They only manage the symptoms.
Antipsychotics are known to have undesirable side effects, from insomnia to constipation, restlessness, and sexual problems. Because of these side effects, most patients with schizophrenia may be reluctant to take the medication.
Emotional support animals reduce the rate of medication refusal. The animals help with relaxation and stress management in the face of these unwanted side effects of antipsychotic medication. Patients with ESA may take medication consistently and, as a result, get fewer psychotic meltdowns.
ESA may help patients to stay responsible and organized
Disorganization and irresponsible behavior are some of the symptoms of schizophrenia. Psychologists and mental health experts believe that patients with schizophrenia can successfully manage the condition with love and support. An emotional support animal provides companionship and support while reminding patients to be responsible.
By forging a close relationship with the ESA, the patient with schizophrenia takes responsibility for the animal's wellness. They will learn to care for the animal, feed and protect them. In turn, the patients can become more mindful of their health and hygiene and manage the condition.
Emotional Balance
During a schizophrenic episode, patients can find emotional support from their pets. The animals provide unconditional love and a dependable friendship. Having a pet with them can help to reduce levels of anxiety and restlessness in the patients.
What makes emotional support animals critical for patients with schizophrenia is their 99% availability. The support of family, social workers, and clinicians are elemental for a patients' mental wellness, but none of these people might be there late at night. None of these people might be ready to sit with the patient all day and listen to their disorganized speech.
Make traveling more fun and get your ESA letter now!

Emotional support animals will always be there for the patient. The animals don't judge, nor do they discriminate or criticize. They listen and can feel the conversation and respond non-verbally with tail wagging and sounds. This is a real relationship with significant mental health benefits for the patient.
ESA can improve communication skills
Cognitive disorganization and meaningless speech patterns are some of the worst symptoms of schizophrenia. Most patients may find themselves alone because no one understands them. An emotional support animal helps with loneliness and can also improve speech and thought patterns.
Where communication involves the risk of rejection and criticism, the patients can talk to their animals and improve verbalization. Recent studies reveal the benefits of therapy dogs in speech therapy. Where pets have been introduced in a psychiatric institution, significant conversational improvement has been recorded among patients.
ESA helps with identity, self-worth, and meaning
ESA pets provide companionship that makes a patient feel wanted. Schizophrenia can upend life in entirety, but pets can be the one dependable link to reality and the chance of living better with the condition. For a schizophrenic patient that finds them alone, caring for the animal makes them feel needed. It gives their lives purpose and meaning.
The ESA animal can help to strengthen the feelings of belonging and self-esteem. The animal can help the patient keep fit through playful activities. Further, experts believe that emotional support animals can help patients become more mindful. Focusing on the present needs and companionship of a pet, patients with schizophrenia can have reduced hallucinations and delusions.
Some emotional support animals can provide physical protection
Patients with schizophrenia can be a target for violence and harassment. Studies show that individuals with schizophrenia living in a community are three times more likely to be victims of criminal acts than their healthy counterparts.
Emotional support animals such as dogs may play protective roles and keep away thieves, muggers, rapists, and bullies. Patients may be able to work towards their life goals, including social engagements and physical fitness, without fear.
Click on the button below to get your ESA letter.

Emotional support animals play a unique role in the treatment and management of schizophrenia. At EsaCare, we can help you get the ESA letter fast and from the comfort of your home so you can own and take an emotional support animal with you to work, school, hotel rooms, and other places.
We understand your needs and ready to help you and your loved ones live fulfilling.  Talk to us at 833 976 0637