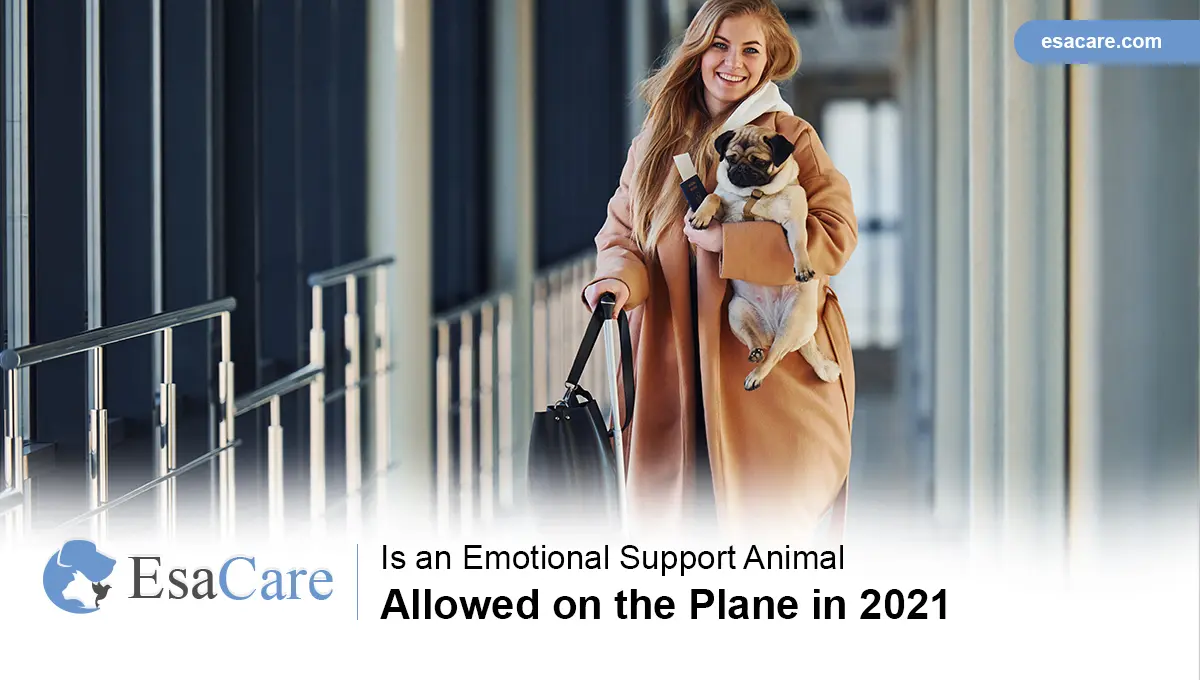 Animals providing emotional support to their owners is not a new concept to the world of mental care. They have been around since the 1970s. Persons abled differently were granted rights to bring their dogs into public spaces to offer emotional support. This type of therapy has helped many people get through some tough times in life.
What Is the New Rule by the Department of Transportation on Emotional Support Animals?
Recently, the U.S. Department of Transportation (DOT) passed a regulation that affects persons who have dogs and other animals they use for emotional support. Initially, all animals could qualify as service animals. However, the revised rules indicate that only dogs can be designated the service animal tag.
The revision of laws was also prompted by many animal owners claiming that their pets were emotional support animals. So to clear the confusion, DOT issued the regulations.
Traveling with your ESA has never been easier – Experience it through our services.
Are Emotional Support Animals Allowed on the Plane in 2021?
Yes, an emotional service animal can travel on a plane. However, there are regulations that the owner must follow. As these animals provide emotional support to their owners, DOT didn't wholly ban their traveling status. Here's a straightforward interpretation of the rules for significant airlines:
Does delta allow emotional support animals? 
In conformity with new DOT regulations, Delta Airlines will limit emotional support animals that can fly. Therefore, the only delta emotional support animal allowed would be dogs. In addition, they will only be allowed if they are appropriately trained.
Do Southwest airlines allow emotional support animals?
Similarly, Southwest Airlines has crafted a policy to ensure it adheres to the Department of Transportation. For example, under Southwest ESA policy, only trained emotional support animal dogs can fly. 
Do American airlines allow emotional support animals?
American Airlines allows trained designated animals to fly. However, the only animal allowed to fly as emotional support is dogs.
Do United airlines allow emotional support animals?
United Airlines' pet policy allows for trained dogs to fly with their owner. This policy aims to ensure passengers and other airline passengers' safety. That is why they are limiting ESA dogs traveling with their owners on the plane.
Considerations to Have before Flying with Your Emotional Support Animal
To be sure, there is a regulation that must be followed when bringing a dog as an emotional support animal. Some of the critical points in the regulation are:
Dogs must be trained or certified by a recognized organization by providing relevant certification documentation.

The owner's medical condition should substantially outweigh other factors.

Your dog should not bark frequently or disturb passengers and flight attendants to ensure safety on public transportations.

If your dog is too big, it will not qualify to travel on a plane.

If the owner's medical condition becomes so bad that they cannot travel without their dog anymore, it will be certified as a service animal.
Emotional support animals are allowed on airlines, but you have to follow every regulation required to ensure passenger and flight attendant's safety. In addition, if you want your dog to ride on a plane, it should be trained or certified. Thankfully, some organizations can help you prepare your pet for an emotional support animal journey?
What Is an Emotional Support Animal?
Emotional distress can come from several different things, such as mental or physical disabilities like PTSD and anxiety disorders. Some people use their pets for emotional relief or emotional support, and emotional service dogs are not the only animals that can provide this kind of relief.
In general, emotional distress is something we should universally support each other through whether you're struggling with a mental or physical disability. This emotional care doesn't require any special training beyond being an animal lover: it's simply emotional support.
Emotional support animals (ESA) are pets that provide emotional wellbeing. Emotional support, in this context, means emotional or mental support for their owner's psychological and emotional distress. ESA's goal is to reduce the emotional and psychological distress that may impact their daily lives.
Pets are always an emotional outlet for their owners, but emotional service dogs are specifically trained to help people with emotional distress due to disabilities like PTSD or anxiety disorders. The ADA does not require emotional support animal certification. However, they need to be registered as emotional service dogs and emotional support animals to legally travel with their owners.
Get Your ESA certification by clicking the button below.
How to Choose the Best Emotional Support Animal?
Regarding the new regulations, dogs are the only emotional support animal that is allowed to fly. Therefore, the first step is choosing an acceptable ESA dog. Next, you must ensure that your dog has all the requirements in place and can be claimed as an ESA pet.
Online registration on official websites is necessary to register your dog as an acceptable ESA animal. While registering online, you should provide all the details about your dog and confirm that you can claim it as an emotional support animal.
Once you have submitted your dog details online, make sure to get all the notification emails and do not lose them in any case because they will serve as proof during check-in.
The next step is preparing medical certificates or doctor's letters for claiming benefits from airlines after claiming him as an emotional support animal. If you are already registered and eligible, you must provide the required certificate to the airlines at check-in.
As seen, significant airlines have harmonized their policies to comply with DOT regulation on what qualifies as emotional support animals. Therefore, you must ensure your paperwork is up to scratch. Ensure you don't have mistakes in your documentation and forms during the flight check-in process.
Any omissions or mistakes might allow the airline to bar your emotional support animal from traveling. So, please make sure everything such as registration form documents, medical certificate, or doctor's letter is complete and have them handy at check-in. This will save you time from extra documentation and help you to get on board quickly.
What Is the Difference Between Service Animals and Emotional Support Animals?
Airlines have been cracking down on emotional support animals flying alongside their owners in the cabin. Initially, it was difficult for airlines and airport employees to distinguish between a trained service animal, an emotional support animal, or any other pet used as emotional support.
For this reason, DOT introduced strict regulations about which emotional support animals are allowed on the plane.
The differences between service animals and emotional support animals are as follows:
Service animals are typically trained to do a specific task for their handler, such as helping those with PTSD get emotional stability. On the other hand, emotional support animals provide emotional comfort and companionship. Unfortunately, ESA doesn't have the same training or certification requirements that service animals must meet.
Service animals are allowed on planes as emotional support animal dogs, but emotional support dogs are not. To bring a service animal onto an airplane in 2021, the handler would need to notify airline personnel of their emotional support dog and provide documentation that proves they have been trained for this specific task.
Service animals are typically trained by an accredited organization such as Assistance Dogs International or The International Association of Assistance Dog Partners. For emotional support animals, there is no regulation for such animals to be trained.
Emotional support animals can be any animal that provides emotional or emotional assistance for a person with mental or emotional disabilities leading to distress and difficulty in functioning, limiting them from participating fully in society. Service animals are limited to dogs.
An emotional Support Animal is a service animal, but not all are ESAs (Emotional Support Animals). For example, a psychiatric service dog is a service dog that has been trained to help patients with mental disorders such as bipolar disorder, depression, anxiety, and panic disorder. Therefore, it is a service dog that doubles up as an emotional support animal.
How to Get a Letter from a Therapist for an Emotional Support Animal?
The American Disability Act (ADA) does recognize the role emotional support animals can play. However, to fly with an emotional support animal, they must have a condition that warrants them having an emotional support animal.
This type of companion has been found helpful for people experiencing anxiety disorders such as social phobia. If you require an emotional support animal letter from the therapist, make sure it includes your diagnosis and prognosis.
The emotional support animal letter content should include the following:
Your diagnosis of mental or emotional impairment.

How long you have had this disorder (or illness).

Any treatments that are currently in progress for this illness (medications, psychotherapy sessions).

Why do you need emotional support.

What emotional or mental service your animal provides for you.
Flying with Your Emotional Support Animal
As mentioned before, airlines have to comply with American Disability Act. Therefore, they will allow emotional support animals on a limited basis. However, passengers must fill a DOT service animal form detailing their animal 48 hours before traveling.
Such passengers must have valid medical documentation that provides adequate proof of an individual's disability and need for a service or emotional support and addition. In addition, some rules must be followed. These include:
Passengers will keep their emotional support animal dogs away from other passengers.

Emotional support animals are not allowed to sit on a passenger's lap while traveling aboard an aircraft.

Emotional support animals that are too big are not allowed in the cabin.

The dog should be trained not to relieve itself during the flight.

Such animals must be with the owner at all times.

A person is limited to one dog.

The emotional support animal will be required to follow all rules and regulations of an emotional support animal, including not being disruptive or aggressive.

Emotional support animals should always stay within a six-foot radius of their owner at all times.
Airlines could decline emotional service animals from coming on board in 2021.
Airlines concerned emotional support animal dogs will be disruptive or aggressive.

Airlines may not allow emotional service animals to fly in the cabin if they could pose a threat of harm to other passengers aboard an aircraft.

Air carriers may require pets to be in cages at all times.
Carry an authentic ESA letter to travel with your pet – Click the button below.
Can a Landlord Refuse an ESA Dog?
Some landlords may worry about accepting an emotional support animal as a tenant's pet. The landlord might be concerned that having ESA pets will make it harder to rent the apartment to someone who is not disabled or might be worried that the presence of an ESA will bother neighbors.
The Fair Housing Act and the federal Americans with Disabilities Act prohibit landlords from discriminating against people with disabilities, and therefore emotional support dogs.
Therefore, if a landlord refuses to rent to someone because they have an ESA pet, this violates these laws. Further, if the person is already residing in their apartment and the landlord refuses to renew their lease based on having an ESA pet, this is also a violation.
Takeaway
At ESA Care, we pride ourselves in creating solutions to help you travel with your emotional support animal. We can help you find appropriate documentation for your dog. We also provide an online assessment to see if you qualify for an ESA. With our services, you can also get an ESA letter to avoid unnecessary confrontations with your landlord.
Get your Emotional Support Animal Letter today by booking an appointment at ESACare.