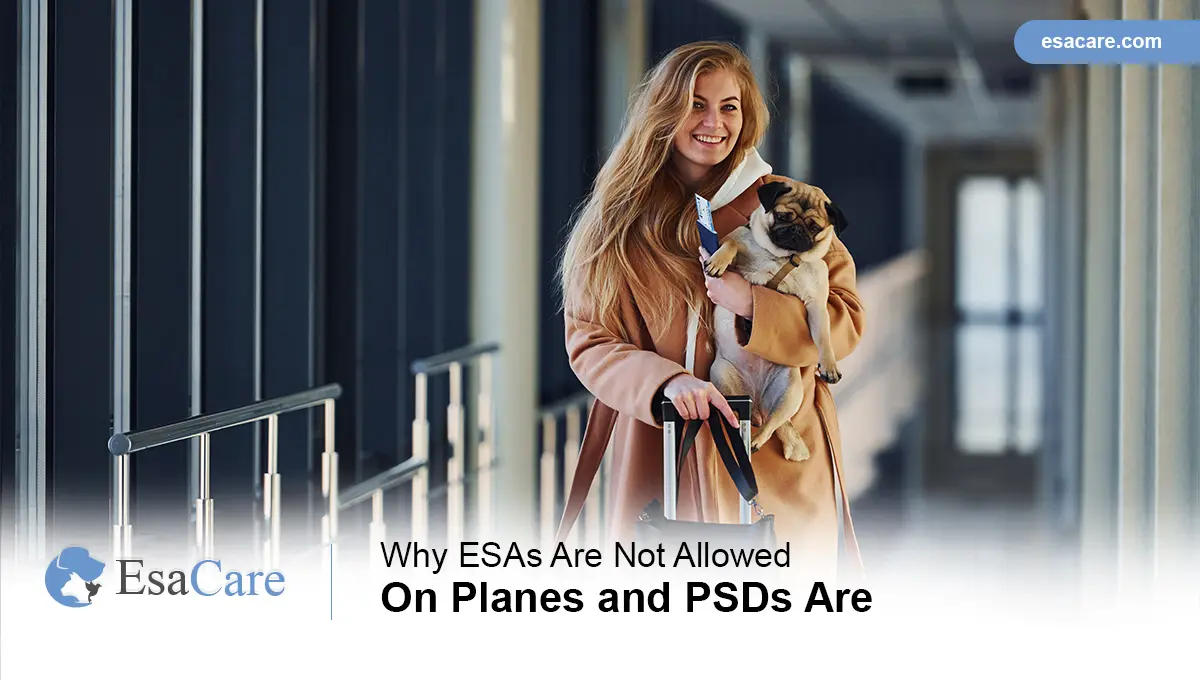 For centuries, animals have helped humans in different ways. Dogs, for instance, have been used to help round up livestock and lead those with visual disabilities. Nowadays, animals are incredibly useful for managing mental and physical disabilities. Regarding mental disabilities, emotional support animals (ESAs) and psychiatric support dogs (PSDs) are the most commonly used.
Traveling with your ESA has never been easier – Experience it through our services.
PSDs are service dogs that assist people with psychiatric disabilities like PTSD by handling tasks like security checks, blocking them from danger like traffic, grounding them during a panic attack, reminding them to take medication, and preventing destructive behavior. On the other hand, ESAs give comfort and emotional support to people with psychiatric disabilities and those without. These animals undergo no specialized training to handle specified tasks related to psychiatric disabilities.
One of the leading questions people have is why ESAs are not allowed on planes while PSDs are and which airlines allow emotional support animals. Below are a few answers to these questions to help you understand what to expect when traveling with your PSD or ESA.  
Which Airlines Allow Emotional Support Animals
?
ESAs are among the best companions for people who fear flying and need something to calm them on flights or people with psychiatric disabilities. There was no question of which airlines allowed emotional support animals in the past because they were considered essential for managing different issues in passengers.
Sadly, the age of flying with ESAs freely is slowly ending as new rules by the Department of Transportation (DoT) come into effect. The rules follow complaints by travelers over the years on poorly trained or behaved pets on flights that travelers brought into the cabin as ESAs. In other cases, passengers brought unusual creatures like peacocks, pigs, and monkeys on planes as ESAs, thus making other passengers quite uncomfortable.
Changing the Air Carrier Access Act on the transportation of service animals is meant to make flying accessible and safe. Most people ask, ''are emotional support animals allowed on planes currently?'' Though the DoT no longer requires the accommodation of ESAs by airlines, passengers with PSDs can continue flying without an extra charge and restrictions placed on pets. Thankfully, some ESA-friendly and disability-progressive airlines still accept ESAs on their flights despite the lack of a legal obligation to do so.
What Are The ESA Rules For Airlines?
A service animal is now defined as one that is individually trained to perform tasks that benefit the handler with a disability. Emotional support animals are no longer grouped as service animals, so some service animal flight rules will not apply to them. Though the DoT no longer requires that airlines allow emotional support animals for passengers that need them, the airlines that still allow ESAs have a few rules for them.
You need an ESA letter from licensed mental health professionals to fly with your ESA. The professionals fill out forms that the airline will provide. In most cases, you should hand in these forms at least 48 hours before your flight. Moreover, most airlines restrict the number of ESAs per passenger to two.
Having an ESA does not mean that you have to leave it at home because of the ban on emotional support animals flying. You can fly with it on most flights as a pet. Unfortunately, this means that you will not enjoy some privileges of flying with an ESA, such as protection from unfair pet deposits, breed or size restrictions, and airline fees ranging from $25-$175 per flight.
Get your ESA certification by clicking the button below.
When flying with your ESA as a pet, most airlines require the animal's vaccination and quarantine records. They also require a size-appropriate, well-ventilated carrier for most animals. Your ESA will be required to spend the entire flight in its carrier when traveling as a pet. This carrier is often added to your carry-on baggage allowance, so plan for its weight appropriately. Moreover, most airlines will specify that they will only allow pets that are well behaved during the flight, and they can refuse disruptive animals.
If you opt to travel with your ESA as a pet, you would wish to pick the most pet-friendly airline. Some of the most pet-friendly airlines include:
American Airlines

United Airlines

JetBlue

Frontier Airlines

Allegiant Airlines

Delta Airlines

Southwest Airlines
Remember that some airlines might not allow pets to fly in the cabin because of COVID-19 restrictions. With these stringent rules for pets, looking for which airlines allow emotional support animals when traveling with an ESA is the best choice for you.
What Are The Types Of Emotional Support Animals?
If you have been asking what animals can be emotional support animals, any domesticated animal can qualify as an ESA. You should only ensure that you get the highest levels of companionship and emotional support with the animal you choose. When thinking of flying with an ESA, the animal should be manageable in public so that you do not become a nuisance to other plane passengers. Moreover, even if some airlines allow emotional support animals on board, they will not allow any animals that directly threaten the safety and health of other passengers.
Below are a few extra steps you can take to ensure that you have no problem flying with your ESA:
Get a seat with as much room as possible so that your ESA remains comfortable and is less stressed during the flight.

Ensure the animal is in good health before the flight.

Call the airline and check for any specific requirements when traveling.
With the information above, your questions on what to expect when flying with an ESA have hopefully been all answered. Even after finding which airlines allow emotional support animals and booking your seat, it is crucial to have your ESA letter to be allowed to travel with your animal and enjoy the privileges available to ESAs. Walking from one office to the next looking for a licensed mental health professional for your ESA letter can be a hassle.
Carry an authentic ESA letter to travel with your pet – Click the button below.
Final Thoughts
Thankfully, you can now get your ESA letter from the licensed mental health professionals at ESA care. The process only involves filling out a health questionnaire online, choosing your plan, paying, and waiting for a licensed mental health professional to contact you via video call at a convenient time for you. Upon getting approved, the ESA letter is sent as a PDF copy, while a physical copy is mailed to you.
Get your Emotional Support Animal Letter today by booking an appointment at ESACare.