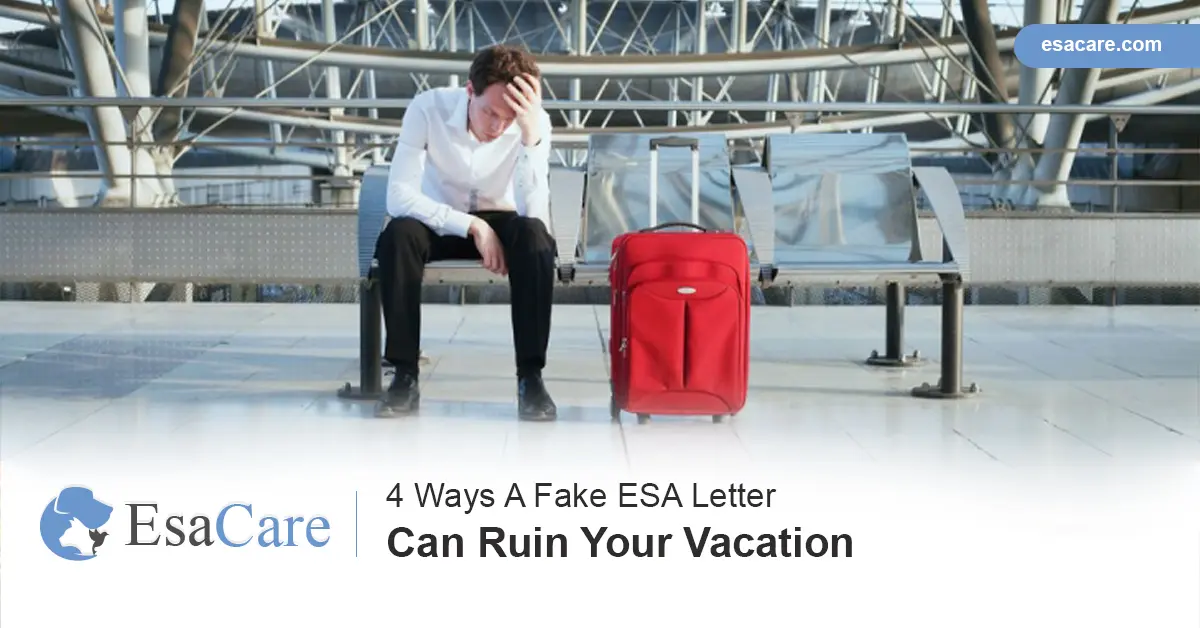 If you or your loved one is living with a mental or emotional disorder, you are probably aware of how complicated things can be. Such a disability affects different aspects of the patient's life, and the path to finding the right treatment option is not always easy. Sometimes, family members, friends, and therapists' support is not always enough to make the person feel better. At such a point, getting an emotional support animal with the guidance of a licensed doctor becomes a better option. 
Get an ESA letter today to enjoy the perks of having your emotional support animal close to you!
Emotional support animals are not just pets that tag along. They are animals that help us address our special needs by offering us comfort, support, and happiness. They relieve symptoms of our condition, helping us be at ease and focus on the positives. Now here's the thing, to own an emotional support animal, you need a genuine ESA letter. Sadly, some dishonest people are in the business of issuing out fake ESA documents. If you are planning a vacation but your ESA letter isn't legitimate, chances are you'll have a hard time. Here's how fake ESA documents can ruin your entire vacation.
Your Pet Won't Accompany You Inside the Plane's Cabin
Typically, when you want to travel, you'll pack your vacation bags, groom your pet, take your ESA letter, and head to the airport. They'll ask to see your travel documents, and you'll confidently submit them. But imagine being asked for your ESA letter and, after producing it, being told it's a fake? It's embarrassing, inconvenient, and frustrating. 
Now, the airline will request you get a real letter if you want to be accompanied by your animal in the cabin during the flight. That means you'll have to postpone your plans. If you still want to catch the flight without a letter, your pet will have to be placed in the luggage compartment. Neither of the two scenarios is ideal, and such incidences can instantly kill your eagerness to go on holiday.
You Can't Bring Your Pet Inside Your Hotel Room
Let's say you've found a way to get to your preferred travel destination without being asked for an ESA letter. Now, new challenges will arise when you want to enter your accommodation. Although many hotels are gearing towards becoming pet-friendly, some still don't allow pets to enter inside, while others have steep fees for pets. However, a genuine ESA letter means you can stay at any hotel (even those that are not pet-friendly) with no extra costs or barriers. 
If your letter is fake, you won't have the special privileges that a real ESA documentation comes with. You will have to find accommodation elsewhere. If you had booked the hotel in advance and you want to get a refund, chances are they won't return the full amount. Alternatively, you will have to let your pet sleep in a different compartment since it can't accompany you to your room – a pretty sad scenario.
Don't wait anymore – get your ESA letter in a few easy steps!
Some Attraction Spots will Deny You Access
When you go on vacation, you'll want to visit many places – beaches, historic buildings, souvenir shops, restaurants, and so on. Sadly, some places aren't so pet-friendly. While some businesses will usher you with open arms and even give your furry friend a treat, others will demand to see a genuine ESA letter before granting you and your pet access. It can be quite frustrating having to leave your pet at the door every time you want to shop for an item or take a tour of an attraction site.  
Legal Implications
Imagine going for a vacation only to end up being arrested? It's true. A fake ESA letter can land you in legal trouble. Many states are creating laws making it illegal to claim that your pet is an emotional support or service animal without the proper documentation. If your letter is found to be fake, you may be accused of pretending to be disabled and taking advantage of the rights that come with owning an ESA. The penalties for violating these laws vary from steep fines, jail terms to hours of community service. 
So, What's a Genuine ESA Letter and How Do You Get One?
A genuine ESA letter is an official document that is acquired through a licensed healthcare provider. It can be a licensed psychologist, mental health counselor, or psychiatrist. The doctor will screen you and determine whether you have a valid mental or emotional disability and then decide whether an emotional support animal can help you manage your condition symptoms. If they think an animal can be beneficial, they will prescribe an ESA as part of your treatment plan and process the ESA letter for you.
Travel with your pet with an authentic ESA letter – Click the button below.
Get a Genuine ESA Letter at ESA Care
With ESA documentation, you can travel and stay anywhere without facing discrimination because of your animal. It also shields you from paying pet-related fees. Since the ESA letter remains valid for only a year, you will need to renew it yearly. ESA Care is licensed providers who can help you determine whether an ESA is a good fit for your condition. We can help you get a genuine ESA letter or renew an expired one.
Feel free to book an appointment with us today!