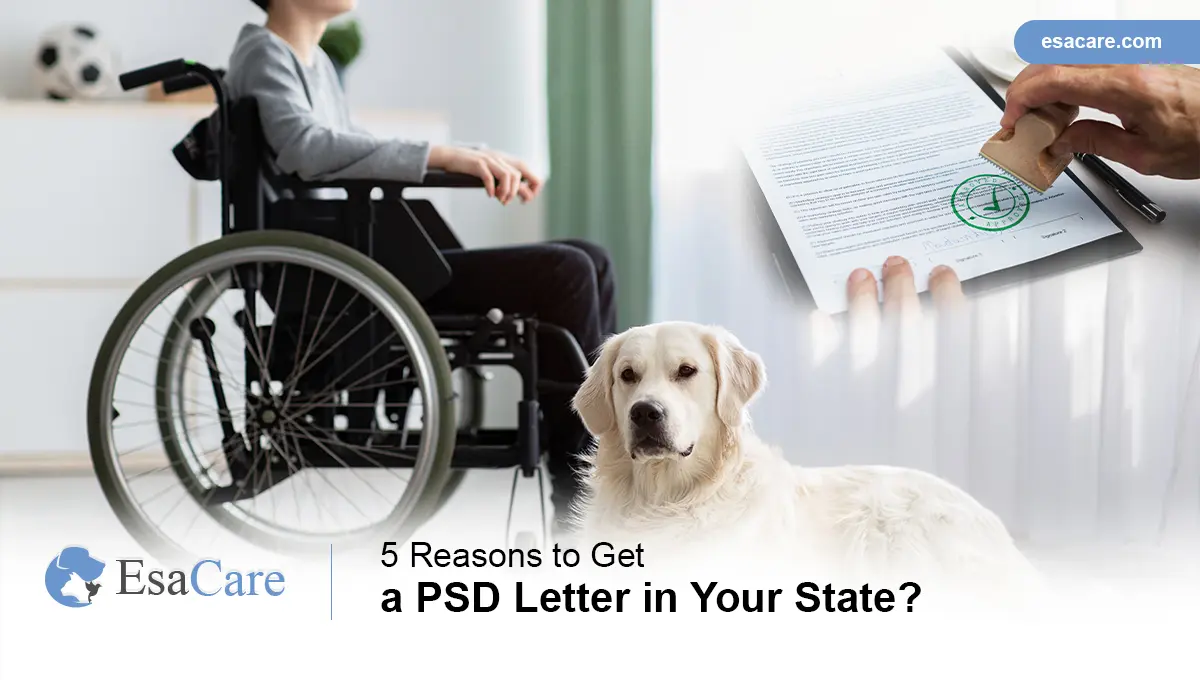 A psychiatric service dog letter is an official letter written and signed by a government-licensed health professional declaring that the dog assists a person suffering from a physical, emotional, or psychiatric disability. Health professionals authorized to write PSD letters include therapists, counselors, doctors, psychologists, etc. 
Conditions Psychiatric Service Dog Treats with their Presence –  Click the button below!
How to Get a PSD Letter
You must prove that you have a dog specifically trained to help with your disability to get this letter. You can't be issued the letter if your dog is not thoroughly trained and can perform particular tasks related to your disability. It is your responsibility to train the dog, so you can hire a dog trainer if you can't do it yourself. That aside, you'll also have to prove you have a disability that prevents you from performing specific tasks, necessitating the need for a PSD. 
To get a PSD letter:
Choose a State-Licensed Healthcare Professional
A licensed medical professional must write and sign your PSD letter to be recognized. Unfortunately, many people are masquerading as health professionals, but not. A qualified health care professional will assess your mental health and determine whether you suffer from one or more of the qualifying disabilities under the Americans with Disabilities Act (ADA). 
Suppose you can train your dog on your own, well and good. If not, you'll have to hire a dog trainer. The trainer must train the dog to help with the tasks your disability prevents you from performing. For example, the trainer can train your dog to help you press door buttons or even open doors for you. 
Request For a Psychiatric Service Dog Letter
Once a healthcare professional determines that you have a trained dog and a qualifying disability, you can ask them to write you a PSD letter to document their assessment.  
Who Can Write a Service Dog Letter?
A psychiatric service dog (PSD) letter should be written by a professional familiar with state laws relating to PSDs and conversant with your emotional and mental health state. A registered healthcare or mental health professional is the most suited to write a PSD letter after a thorough evaluation.
Note that some healthcare professionals aren't familiar with PSD requirements or laws. That's why your current doctor or psychiatrist may refer you to another specialist to write you the PSD letter. 
The good news is that, with the current technological developments, many healthcare professionals offer their services online, meaning you can apply for your PSD letter online without having to visit the doctor's office physically. 
What Qualifies You For a Service Dog?
It's essential to determine if you qualify for a PSD letter before applying for one. To be eligible for the letter, you must have an emotional or mental health problem under the Air Carrier Access Act (ACAA) and the Americans with Disabilities Act (ADA). A certified medical expert will have to assess your condition to determine whether you qualify or not.
As already mentioned, your health care professional will conduct a comprehensive assessment of you to determine whether you genuinely suffer from any of the above conditions. In addition, establishing whether your condition warrants having a PSD will also be necessary.
PSDs can help you to deal with PTSD. Click the button below to get your PSD letter.
Reasons Why You Need to Get a PSD Letter in Your State
Getting a PSD letter comes with many benefits. Besides being a legitimate document claiming that your disability qualifies you for a PSD, it will also offer you some rights not enjoyed by those who don't have the letter.
The top five benefits of having a PSD letter for dogs include:
1. Allows You to Live Anywhere
With a PSD letter, the Fair Housing Act will protect you, meaning you'll be allowed to live anywhere with your dog, regardless of its breed, age, or size. Also, the Act protects you against paying any deposits or fees to your landlord to allow you to live with the dog.  
The landlord may ask for the PSD letter, but beyond that, they can't ask any more questions regarding your health condition. For example, the law prohibits a landlord from asking for proof of your medical condition or whether the dog has been trained to assist you. 
It's worth mentioning that hotels are also obligated to accept PSDs, but it's best to call first and confirm because some hotels may have reservations. 
2. Fly With Your Dog
Armed with your PSD letter, you can travel with your dog on any airline without paying anything, no matter the dog's weight, size, or breed. PSDs are protected under the Air Carrier Access Act, which forbids airlines from treating people with disabilities unfairly. For this reason, all that will be required of you is to complete and submit the Service Animal Transportation Form not less than 48 hours before you fly.
3. Take Your PSD to Your Workplace
You'll only be allowed to have your service animal at the workplace if you have the necessary documents like the PSD letter. In this case, you'll need to train the dog to get along well with your colleagues and help with your work-related tasks. In addition, a PSD is necessary at the workplace because it can help you in case of an emergency. 
4. Public Access Rights
With a PSD letter, you can walk with your dog everywhere, including restaurants, stores, malls, hotels, museums, and other public places. But, again, you'll have to train your dog to behave well in such public areas. A PSD can guide you and help you move quickly in crowded places. 
5. A PSD Letter Gives You Peace of Mind
Having a PSD letter means your dog can live with you and accompany you wherever you want to go. This will give you peace of mind knowing that you always have a true friend who can help when the need arises.
Wherever you are, a PSD can help you in the following ways:
Can call your appropriate services and contacts in case of an emergency.

Guide you in crowded areas and buffer you against the negative stimuli associated with large crowds.

Block your repetitive or destructive behaviors.

Interrupt your moments of emotional overload or dissociation.

Provide pressure with licking or pawing to calm you down during moments of crisis or panic attack.

Remind you to take your medication and even retrieve it for you.

Press doorknobs or open doors for you.

Alert you in case of emergency.

Alert other people in case you need urgent medical help.
The list above is by no means exhaustive. There are hundreds of tasks a PSD can help you with. Even by keeping you company, a PSD is good for your health.
Get a PSD letter today to enjoy the perks of having your psychiatric service dog close to you!
Helping Thrive with a Psychiatric Service Dog
If you suffer from a mood disorder, bipolar disorder, autism, severe anxiety, chronic depression, or other psychiatric disorder, you'll need a psychiatric service dog. The dog must form part and parcel of your life and treatment program. However, to enjoy the benefits of having a service dog, you must have a psychiatric service dog letter from a doctor. 
Make sure you have the letter from a licensed medical professional and, once you get it, carry it wherever you go. If you need a PSD letter, you can contact EsaCare.